Axarquia B&Bs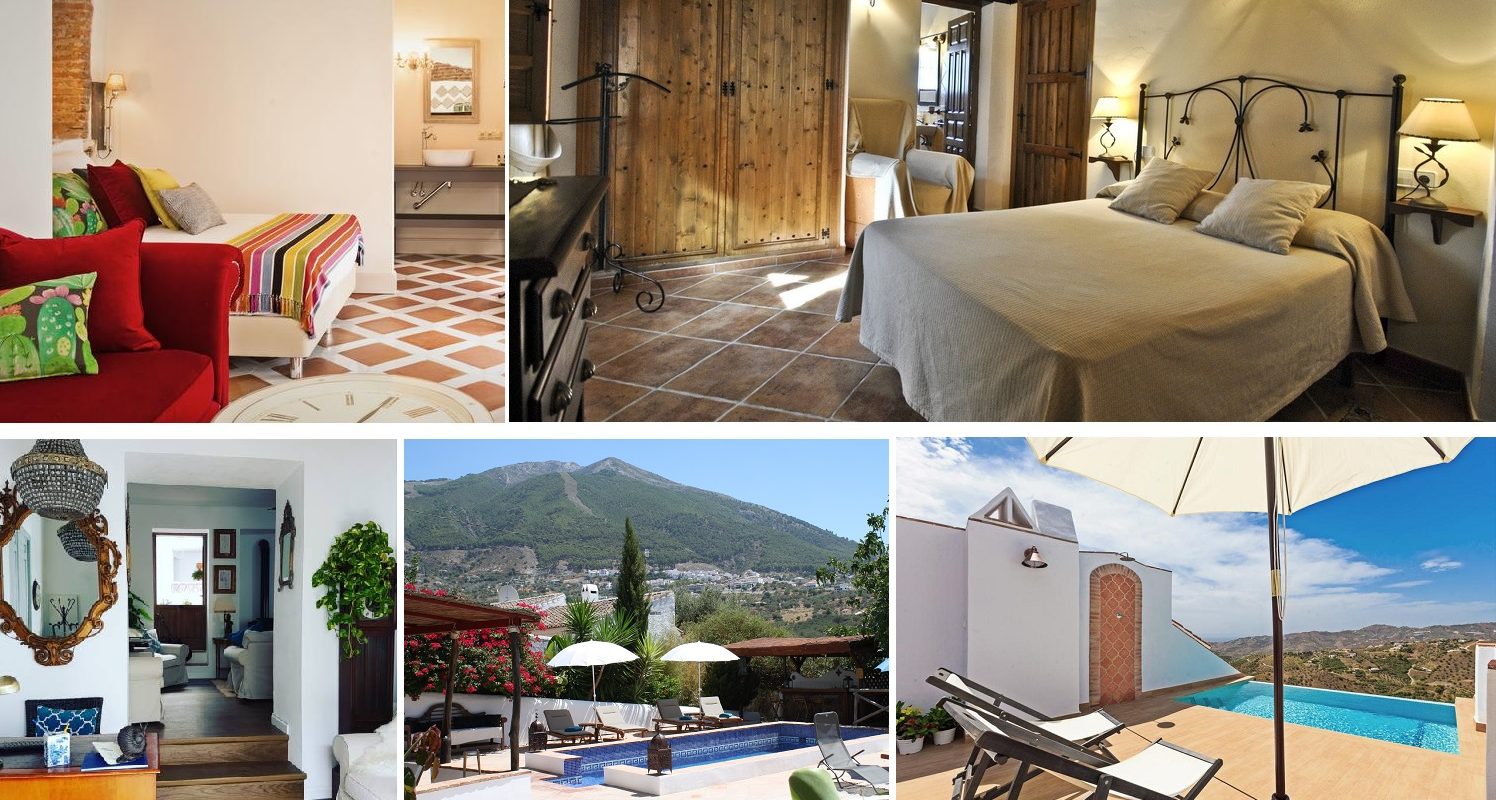 Whitewashed houses, hints of decorative Spanish encaustic tiles, terracotta bricks from local river clay and cascading fuchsia bougainvillea are the hallmarks of an Axarquia village. Traditional, sleepy and vibrant (sometimes all at once) the white villages of the Axarquia offer visitors beauty, charm and a taste of authentic Andalucian rural life.
The region's historical roots lie in Moorish Spain, and in some villages there's still evidence of this. Church towers converted from minarets and open central patios of old houses can be seen through doorways while exploring. The area is famed for its cycling, hiking, fresh produce and favourite meat, kid.
And if all that sounds like reason enough to plan a trip, here's our pick of a few of the very best, and most inviting, B&Bs in the Axarquia.
Cortijo Las Monjas, Periana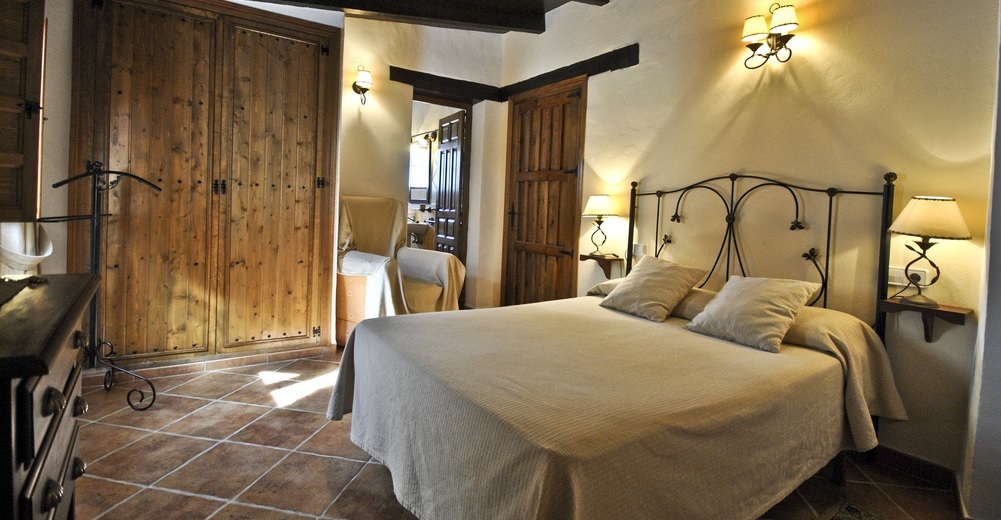 This  farmhouse in the hills between Periana and Alfarnatejo in the north-east of Malaga Province has been restored with love and care. Traditional terracotta tiles, white walls and splashes of colour make for tasteful rustic interiors.
It's divided into six one bedrooms apartments all with their own ensuite bathroom, fully equipped kitchen, living/dining room with log burning stove for cosy winter months and private terrace. An extra bed or cot can be arranged if you're travelling with children. The incredible mountain views can be admired from the rooms and beside the pool.
Prices: range from €60 to €90 per night or €225 to €495 for a week per apartment.
Address: Ctra. Riogordo – Alfarnatejo MA-4102, Km 7.1, 29710 Periana, Malaga; lasmonjas@cortijolasmonjas.com; Cortijolasmonjas.com.
---
La Vista, Competa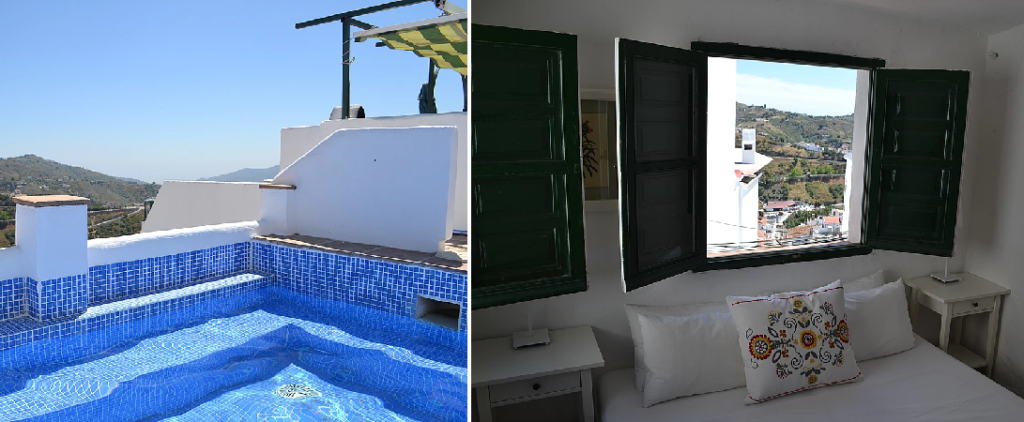 This typical village house in the centre of Competa is 200 years old, and the thick walls and higgledy-piggledy layout are testament to its age.
The four ensuite double rooms are simply and neutrally decorated, and offer lovely views out over the village. The rooms are named after Andalucian cities. Seville and Cordoba can be made into twin beds, sleeping two people separately, and the Malaga room can have an extra bed, sleeping 3. The final room, Granada, has its own entrance from the street. Each room has an electric fan and heater, hairdryer, and tea and coffee making facilities. There's a rooftop dipping pool, complimentary WiFi and five terraces with views from the mountains down to the Mediterranean.
Prices: start from €55 per room per night.
Address: Calle Panaderos, 43-45, 29754 Competa, Malaga; Lavistacompeta.com.
---
La Cultura, Cútar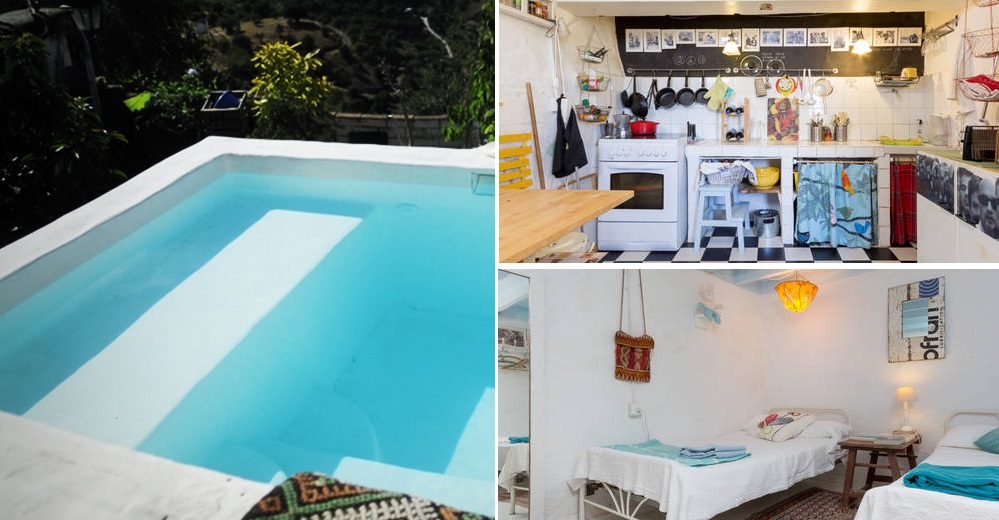 Nothing immerses you immediately in Andalucian life quite like a village setting. La Cultura is a bohemian, ecological B&B, self-catering, or customised all-inclusive guesthouse in the charming small village of Cútar. An artists' retreat, they hold workshops to inspire, collaborate, re-energise, rest and create through art, food, nature and culture.
There's a guest kitchen and dining room, dipping pool, terrace and studio space. The whole house is given over to art, and is eclectic and creatively decorated. If you're a writer, artist or musician this is the B&B for you.
Prices: From €39 per person. Artists' retreat from €225 per week.
Address: Calle Cura 8, 29718 Cútar, Malaga; info@laculturara.cc; Lacultura.cc.
---
La Calera, Cútar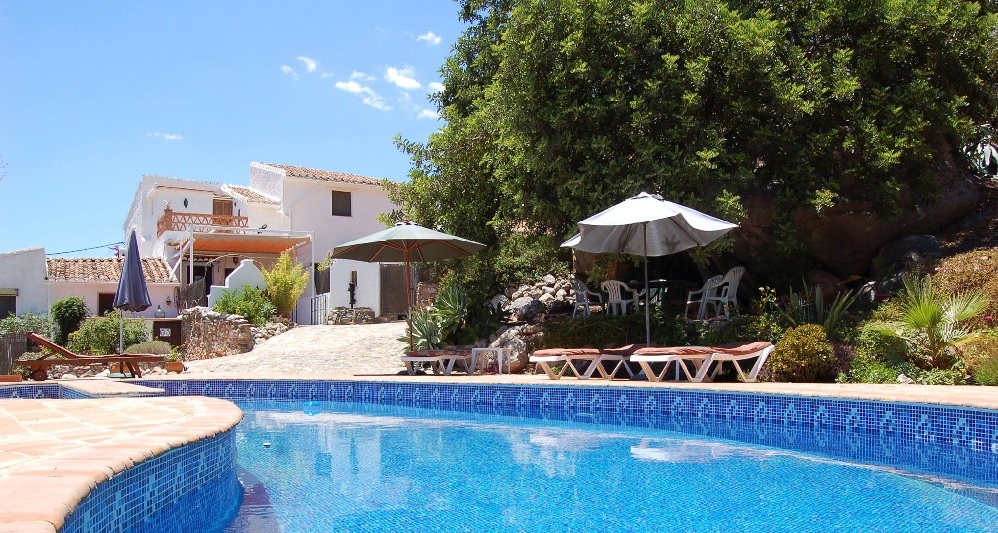 Surrounded by countryside 4 kms from the main road, this old traditional Spanish farmhouse is in an idyllic setting.
It has been renovated into three self-contained rental properties: Casa Algarrobo, the largest, and two one bedroom cottages, Casita Buho Real and Casita Gorrion. The main house has three bedrooms (sleeps 7) and two shower rooms, indoor and outdoor private dining, BBQ, private terraces, kitchen and comfortable living room. The cottages (one sleeps 2, the other 3) along with a kitchen, living rooms and shower rooms, have wood burning stoves and private terraces. The major pluses are the lovely communal pool, incredible views and a rural setting that's ideal for hiking enthusiasts and cyclists or a week of flop and drop rest and relaxation.
Prices: Casa Algarrobo (sleeps 8) from €360 per week for 2 guests. Casita Buho Real (sleeps 3) from €23 per person per night (3 night minimum stay). Casita Gorrion (sleeps 2) 23€ per person per night (3 night minimum stay).
Address: Buzon 28, Loma Leon, Benamargosa, 29718 Cutar, Malaga; Lacalera.co.uk.
---
Miller's of Frigiliana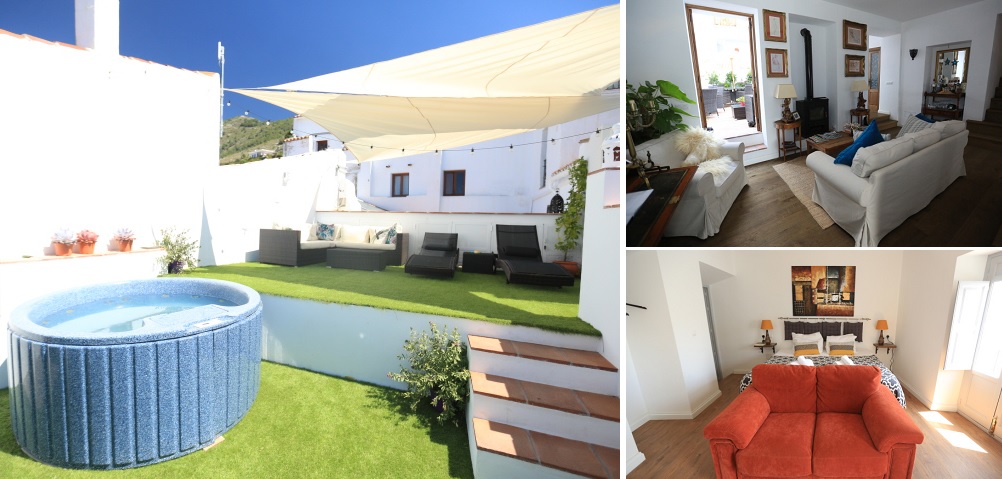 A touch of effortless style has been created in the centre of Frigiliana. With 5 bedrooms and 2 suites all individually decorated and coming with beautiful ensuite bathrooms, Miller's has the look and feel of a chic boutique hotel rather than a quaint village B&B. There's a patio/courtyard that's ideal for breakfast, and a rooftop Jacuzzi for relaxing and admiring the view. On cooler evenings in autumn and winter you can get cosy in front of the log burner with a wine or a gin (yes that Miller's) from the honest bar. Whether you want hiking, yoga, riding or Spanish lessons, it can be arranged for you over the course of a stay.
Prices: From 65€ per room per night. The whole house can also be rented sleeping 18 people from 600€ per night.
Address: Calle Real, 74, 29788 Frigiliana, Málaga; Millershotels.com.
---
El Torreon 109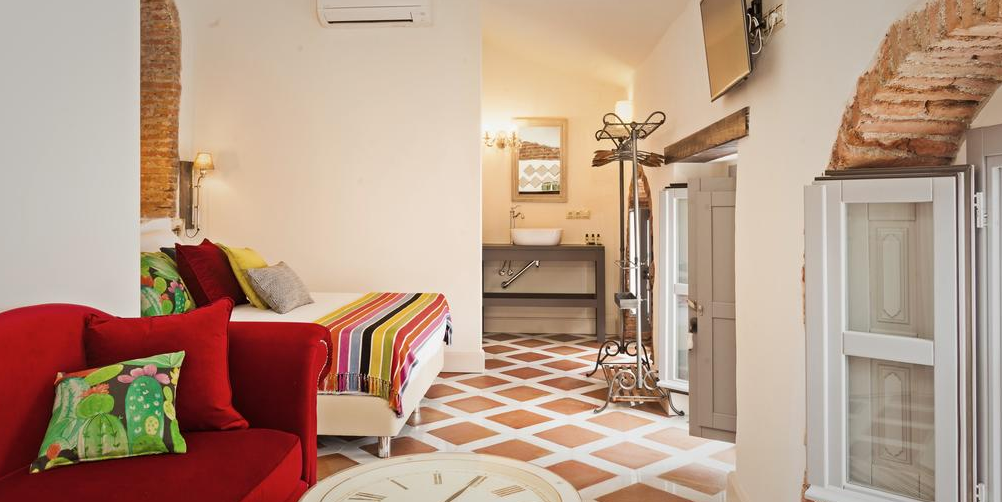 Another gorgeous boutique B&B with ultra-chic interiors and period features in the heart of Frigiliana, El Torreon 109 has been thoughtfully designed and sympathetically renovated. Bright and bold accents sit alongside muted tones and the traditional earthy brick work. Stylish light-filled bedrooms with ensuite bathrooms, A/C and TVs, and an incredible infinity rooftop pool make this one of the more luxurious small, family-owned places to stay in the Axarquia.
Prices: From 90€ per room per night.
Address: Calle Real 109, Frigiliana 29788, Malaga; Torreon109CharmingBB Facebook.
---
Casa Utopia

Surrounded by countryside near the village of Alcaucin and Lake Viñuela, and just 15 minutes from the nearest beach and 10 minutes from a beautiful national park, Casa Utopia is in a great location. A villa in a traditional 'cortijo' farmhouse style, the four bedrooms with modern ensuite bathrooms are generous in size, with some being ideal for families as extra beds can be added. The rural setting feels idyllic when relaxing by the pool or sitting with a book while the sun goes down. There's an honesty bar and the owners are super-friendly and knowledgeable on the area.
Prices: From 79€ per room per night.
Address: Calle las Escalerillas 3 (8.79 mi), Alcaucín 29711, Malaga; Casaruralutopia.com.
If you'd like to experience a break in the Axarquia, please contact us to arrange your stay.