Beaches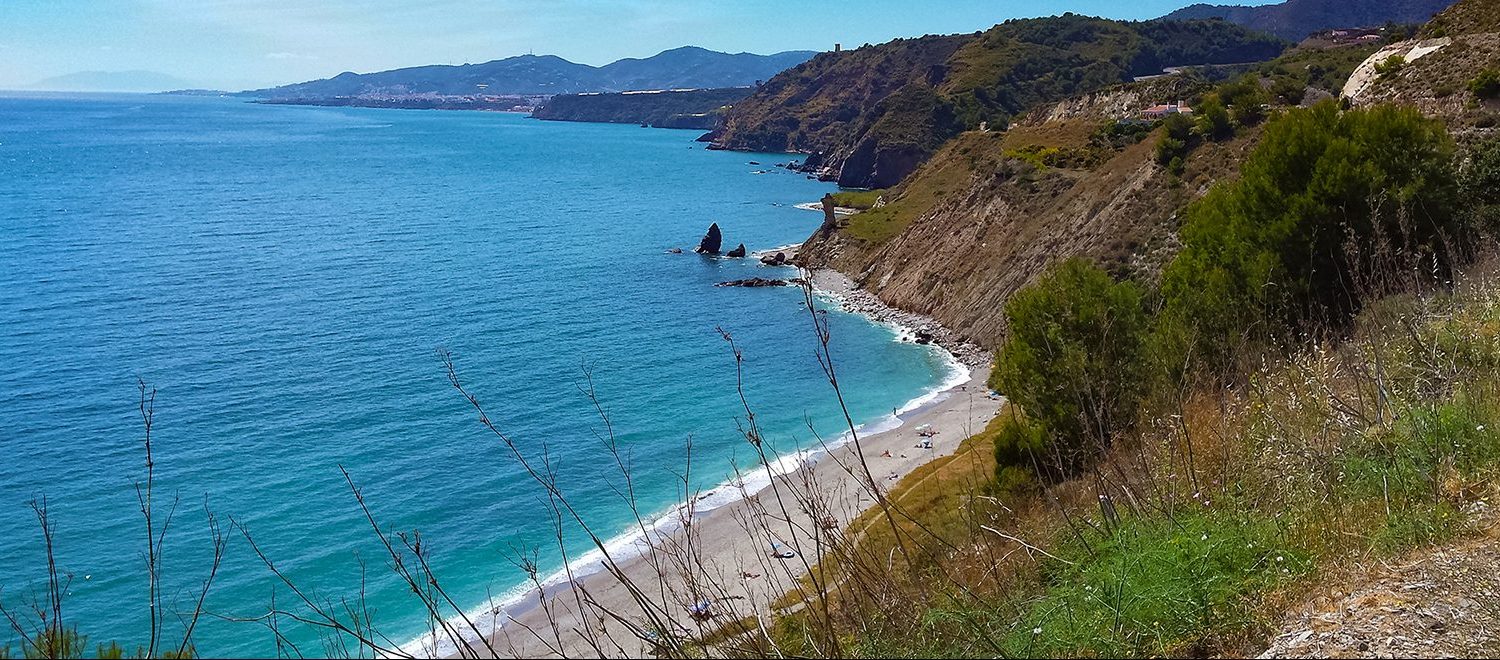 Stretching from Nerja in the east to Rincon de la Victoria in the west, in amongst the towns the coastline east of Malaga is largely rugged, natural and little developed.
There's a strip of sand to suit everyone along the 25 kilometres of coastline surrounding Velez-Malaga. There's rarely a coastal town that doesn't harbour an urban beach, giving you perfect access to all amenities throughout the day. Alternatively, if you have access to a car then the real gems can be discovered just outside of the towns.
Here's our pick of some of the best beaches around Velez and to the east of Malaga…
Urban Beaches
Torre del Mar
The beaches surrounding Torre del Mar are some of the best equipped in the area. The Town Hall work hard at ensuring both sand and sea are clean, and lifeguards are consistently in place along the sea front for safe swimming. Facilities here are excellent; disabled friendly with changing rooms and walkways, meeting points for lost children, lockers and showers. A lovely coastal path made of flattened sand stretches the entire length of this beach and makes for a fantastic walk or a jogging route should you want to take some exercise. If you're visiting during the summer, there are activities for children on the beach day and night.
Torre del Mar is perfect if you want to spend just an hour or two on the sand, or want easy access to restaurants and bars. By day or night there are four beach clubs that have relaxing hammocks or daybeds, masseuses, good food and cocktails to while away many an hour. Check out Cafe del Mar, Berebere, Bahia de Tanit and Pantai for casual beach clubs.

Caleta de Velez
Two beaches, Playa de las Palmeras and Playa de las Piramides, are separated by an old fishing port and modern marina. East of the fishing port is Playa de las Palmeras which is beautifully pristine and can be quieter than neighbouring Piramides.
Despite being just 1km down the road from Torre del Mar, this beach could not be more different from its bigger brother and it's quiet in a way that you'd otherwise only expect to find after a drive along the coast. There's one particularly good restaurant which is opposite the marina – El Camarote (Address: Urb. Puerto Caleta, 1, 29751 Caleta de Velez; Tel: 952 51 18 31.)
Benajarafe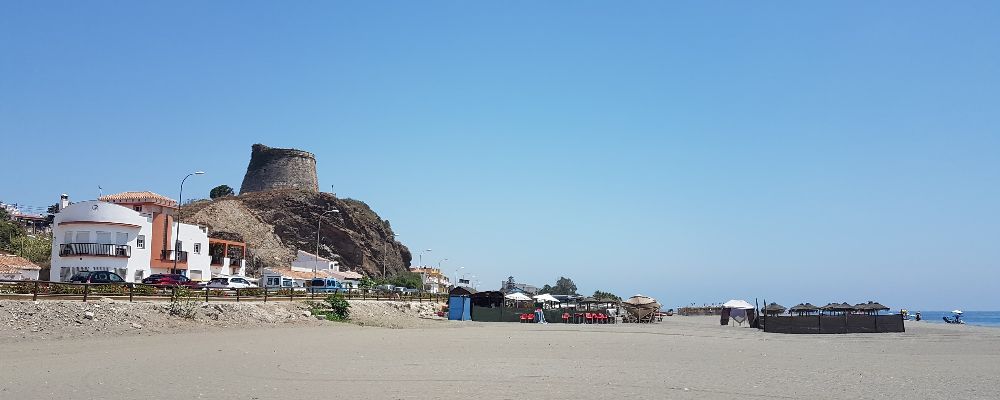 One of our favourite urban beaches, this playa is located next to the town of Benajarafe. This beach has stringent environmental controls and is cleaned on a nightly basis. There are beach-side dressing rooms, showers, footpaths and playgrounds to keep little ones entertained all day. This is one of the widest beaches in the Axarquia, so there's always plenty of room.
This sandy beach is popular in the summer months but never really gets crazily busy – the photo above was taken mid-July, mid-week. There's a small, but very good, selection of places to eat that ranges from the quirky (La Negra) to the more traditional (Rocinante). This would be our top tip if you want to have a fun-filled family day at the beach, or try water sports such as jet skiing, parascending or a good old-fashioned banana boat.
Mezquitilla & Lagos
A smaller beach than most along this part of the coast, it's largely reserved for the use of locals, which makes it the ideal place to have an authentic Andalucian day at the beach. This pebble beach is great for families with sunbeds for rent and amenities to hand. In the busier months, when the number of visitors can be high, it still retains a calmer, quieter atmosphere.
For an urban beach, the sea here is clearer than at other parts of the coastline owing mainly to the presence of the pebbles over sand.
Torrox Beaches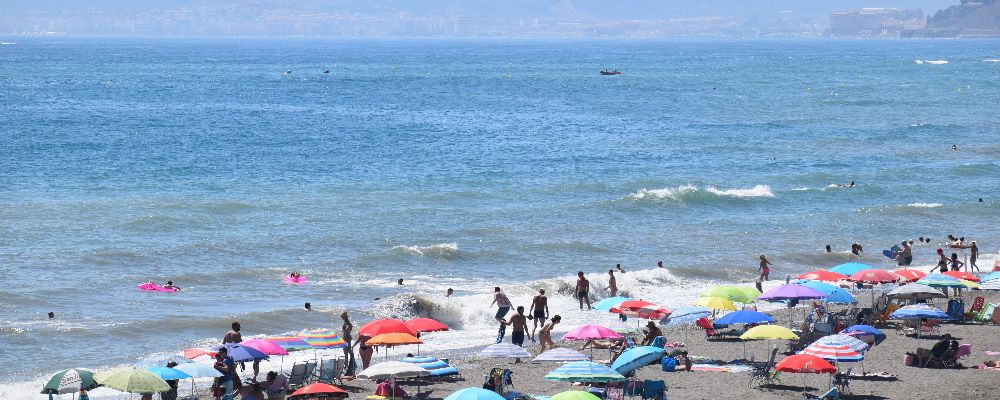 Just outside of Torrox town when heading toward Nerja on the N-340 coast road you will find some of the most windswept and wild beaches around this part of southern Spain. These beaches provide a refreshing contrast to most of the others in the Axarquia.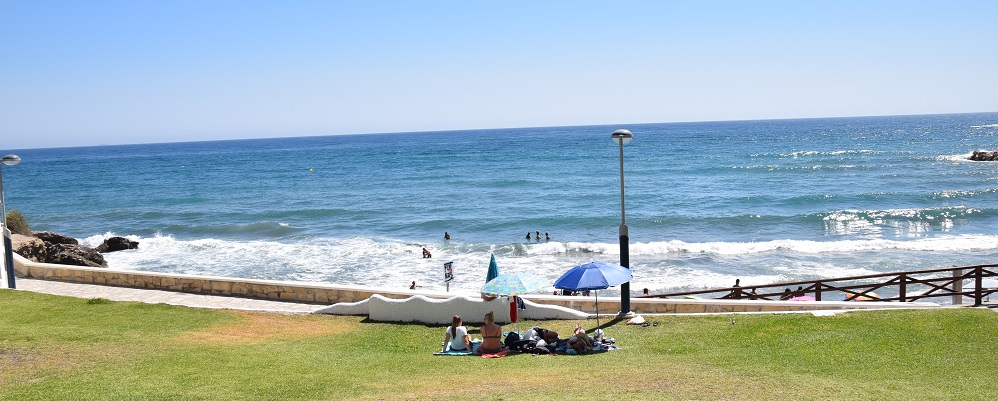 Playa Ferrera and El Peñoncillo are situated either side of Torrox's lighthouse and have all the amenities you'll need to keep a family fed and watered for the day. But the real beauty in this coastline lies in the dozens of smaller, pebble beaches in coves that lie on the stretch between Torrox and Nerja towns.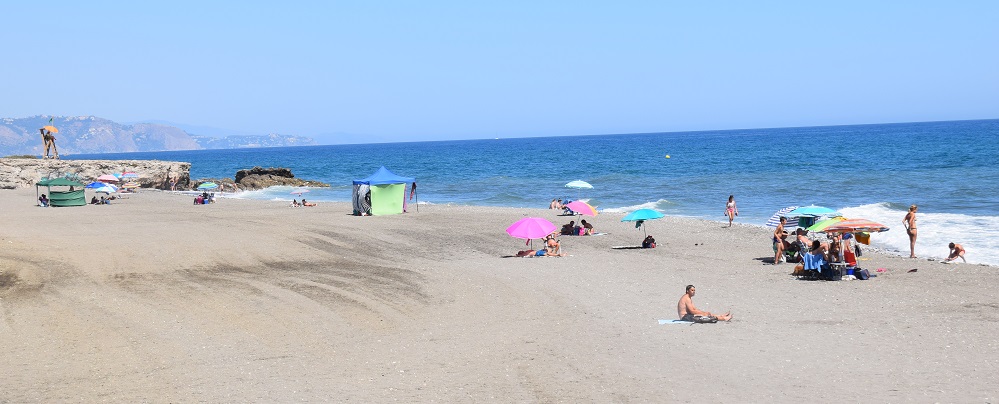 A few of the larger examples of these are Calaceite beach (see photo below), El Cenicero, El Morche, Chica beach, Rio Torrox (see photo above) and Wilches beach. Amenities are fewer on these beaches because of their more isolated nature, but all are still accessible from the N-340. If you want a cove all to yourself, then keep an eye out when driving for the particularly small beaches and you may get lucky.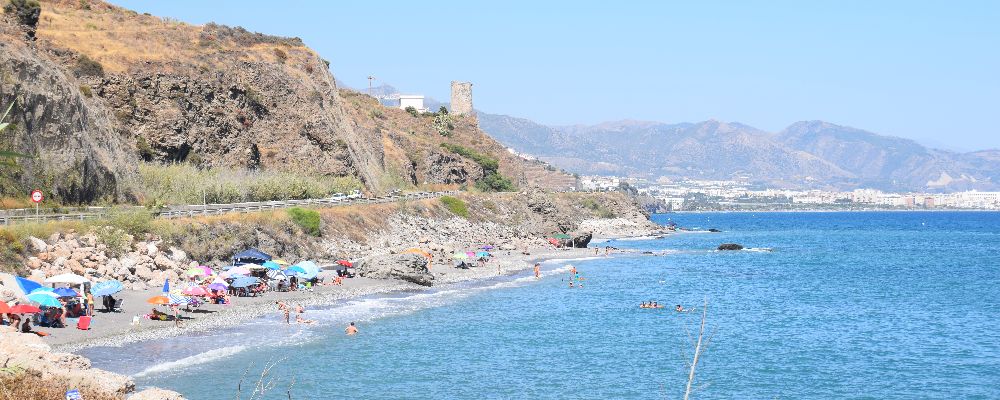 Rincon de la Victoria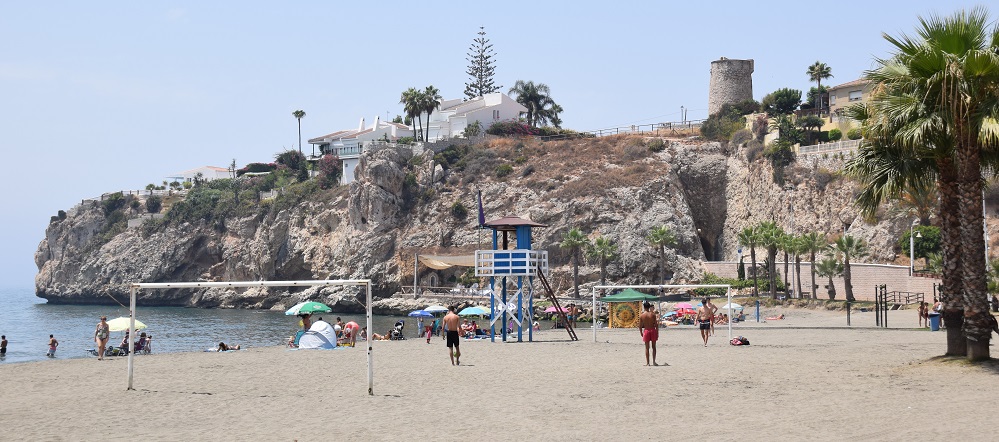 This town has an 8km stretch of beach, making it one of the nicest urban beaches on which to spend the day. It has plenty of facilities with restaurants, play areas, supermarkets and an attractive promenade. There's also a great coastline walk through old railway tunnels at Cala de Moral. This is a great beach for taking part in water sports, which makes it ideal for families. This beach is also incredibly close to Malaga, making it a great beach to use to break up a day trip to the city.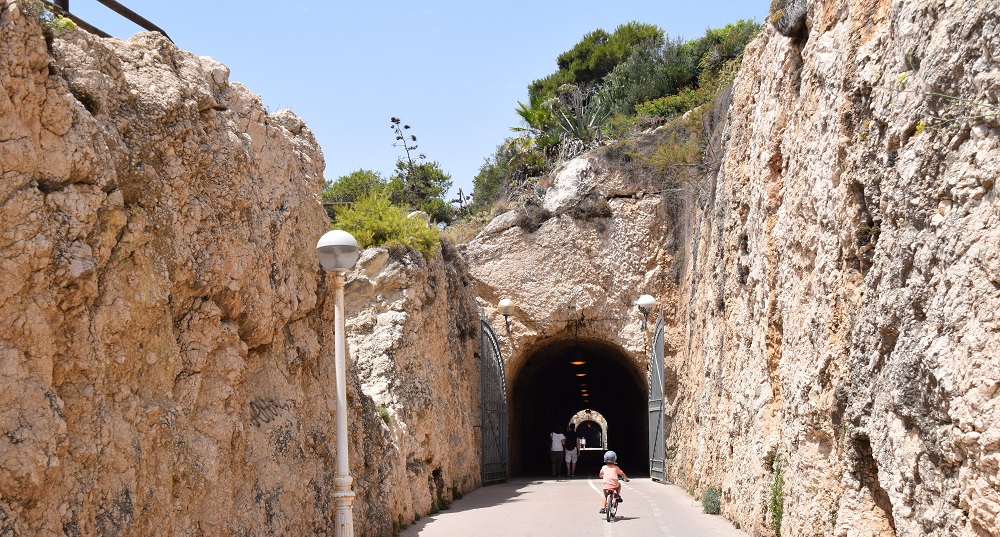 Nerja Beaches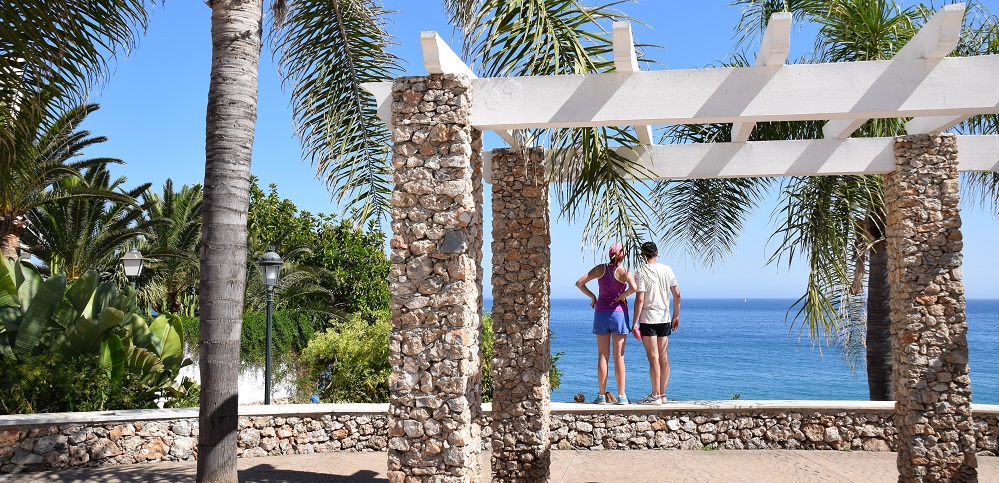 Playa de Maro
Perhaps the most famous of all Nerja beaches, Maro was recently voted the second best beach in Spain. Backed by cliffs and rarely too busy, this beach strikes a perfect balance between tourist amenities and tranquil local beach. The water sports on offer are more geared toward paddle boarding than jet skiing (arrange lessons here: Malaga-aventura.es). Snorkelling is excellent around the cliffs and this sand and pebble beach boasts some of the clearest waters in Andalucia. You can even swim with dolphins if you're incredibly lucky.
Parking can be tricky and you'll nearly always have to walk down to the beach. There's a car park in Maro, approximately a 15-minute walk down – and possibly more back up! If you pay €1 you can drive and park beside the road on the way down to the beach.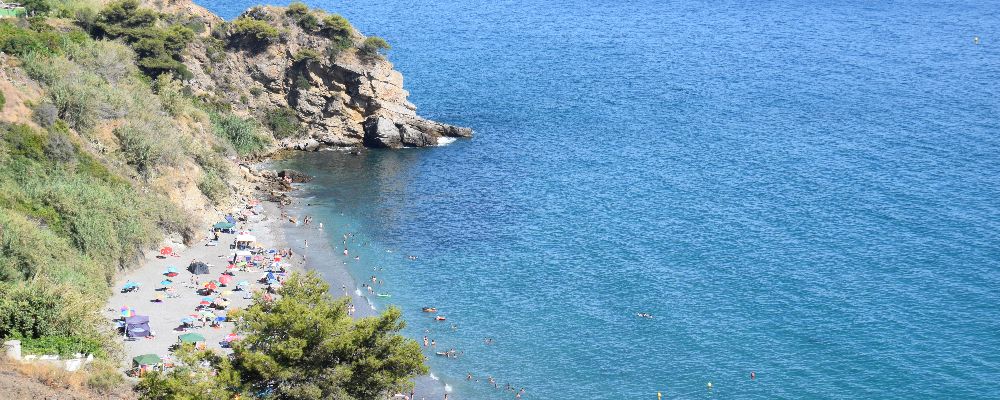 Playa de Burriana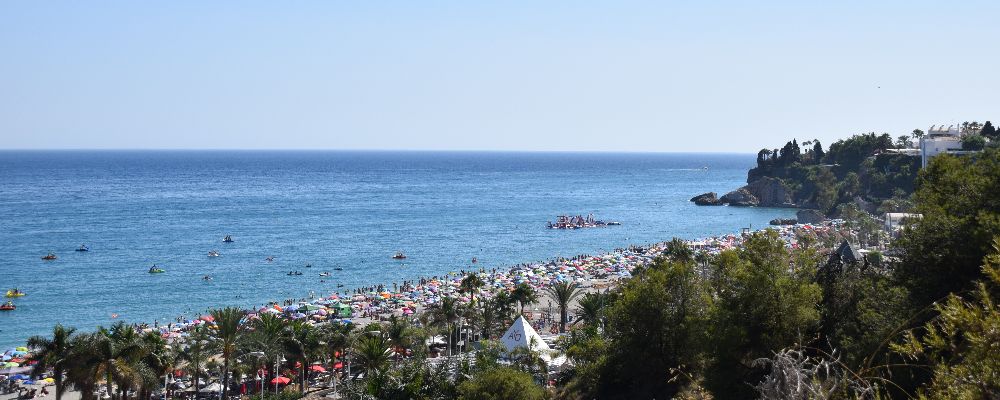 In Nerja itself is Playa de Burriana. This wide beach is a perfect spot if you want to be at the beach and have all the facilities on hand. The sea is wonderfully clear due to the mix of sand and pebbles, and water sports are easily arranged. There's a promenade alongside the beach with everything on offer, from authentic seafood and unfussy service to bars offering food with a taste from home (and sports playing on the TV to match) and shops to have a browse. There are also play parks in the sand for children and sun loungers and beach beds to rent for the adults.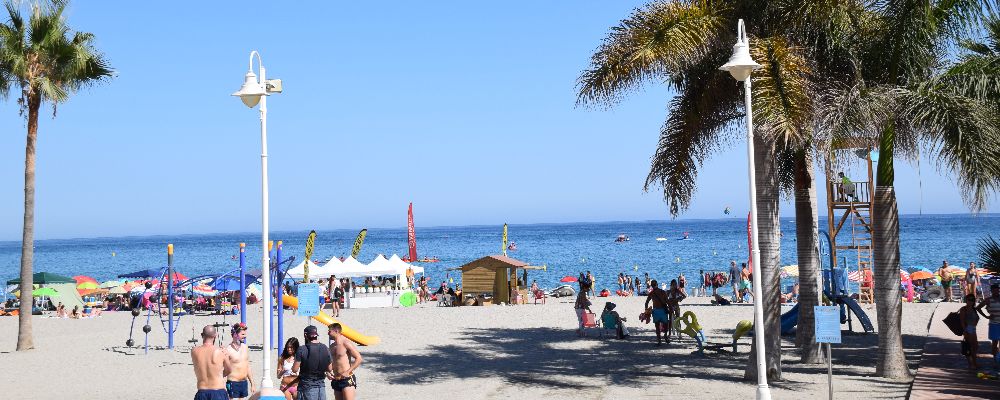 Playa de la Torrecilla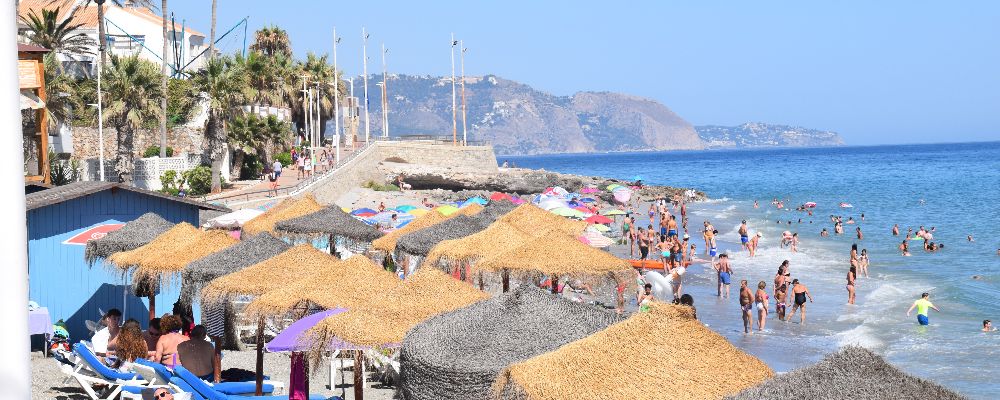 Playa de la Torrecilla is located at the south end of Nerja, and is a great option if you need to be close to the amenities on offer in town. As a result of this it can be quite busy in the summer months (the photo above was taken on a Saturday in July). This dark sand beach has lifeguards at all times and so is a great place to come with young children. The beach is lined with restaurants so it's very convenient for lunch and drinks. There are several places to rent parasols and beds, too.
Playa de Calahonda
The beach in Calahonda is another iconic Nerja beach, and seemingly the one chosen by many postcard vendors. A tiny beach tucked in between two cliffs and sporting a photo-friendly fishing hut, it's a lovely place to spend a day. From Nerja centre, head to the Balcon de Europa and walk to the left of the tourist office. The stairs here lead down to the beach. Nearest parking is the Balcon de Europa underground which is well signposted from the outskirts of Nerja.
Playa de Carabeillo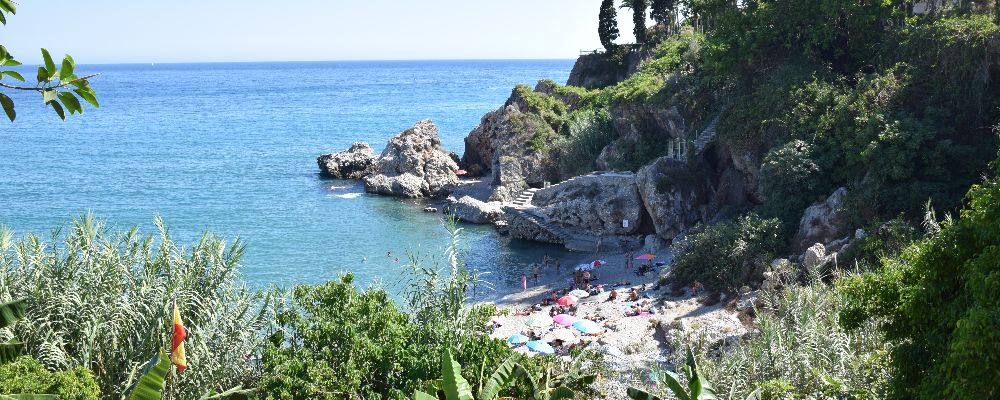 This beach is another picture-postcard cove in Nerja town centre. This is a small beach so during the summer months it can get crowded (the photo above was taken in July on a Saturday). It's a short walk uphill for restaurants and bars but the path is accessible. Parking is in a huge carpark minutes walk away on Calle Prol. Hernando de Carabeo, 1; follow the signs for the Parador Hotel from the main road.
Playa el Playazo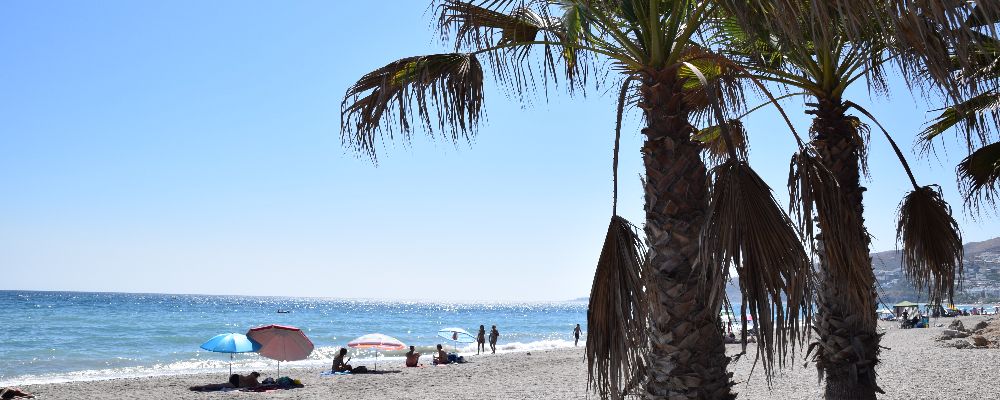 Between Torrox and Nerja there's an open, relatively wide stretch of beach that's somewhere between an urban and rural beach. There are showers and small very low-key chiringuitos (beach bars) but you'll have to take your own towels, chairs and parasols as there aren't places to rent these.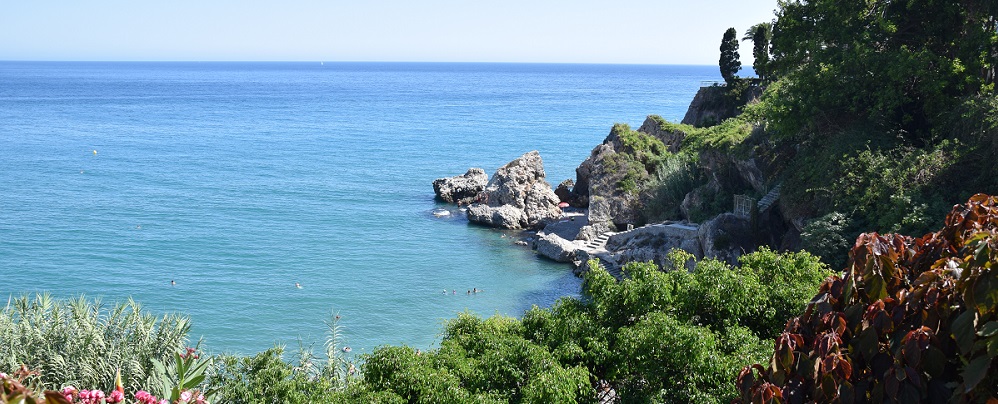 Many of the beaches around Nerja town along this coastline can be hard to access (Playa de Maro is a good example), with steep climbs a necessity and changing tides cutting off your exit. If you are a family group or have limited mobility then be sure to check online first whether or not the beach you are heading to is suitable. There are also many 'clothing optional' beaches around Nerja, and if these take your fancy then be sure to check out La Caleta de Maro, Las Calas del Pino and Playa de Alberquillas. All located within the Maro natural reserve, the beaches are pristine and the water is as clear as any you'll find on the coast.
Rural Beaches in the Axarquia
To distinguish between a beach in a town with many amenities and some of the best scenic beaches with few or no facilities we've listed some rural beaches below. These are a little more wild and natural than the urban beaches above.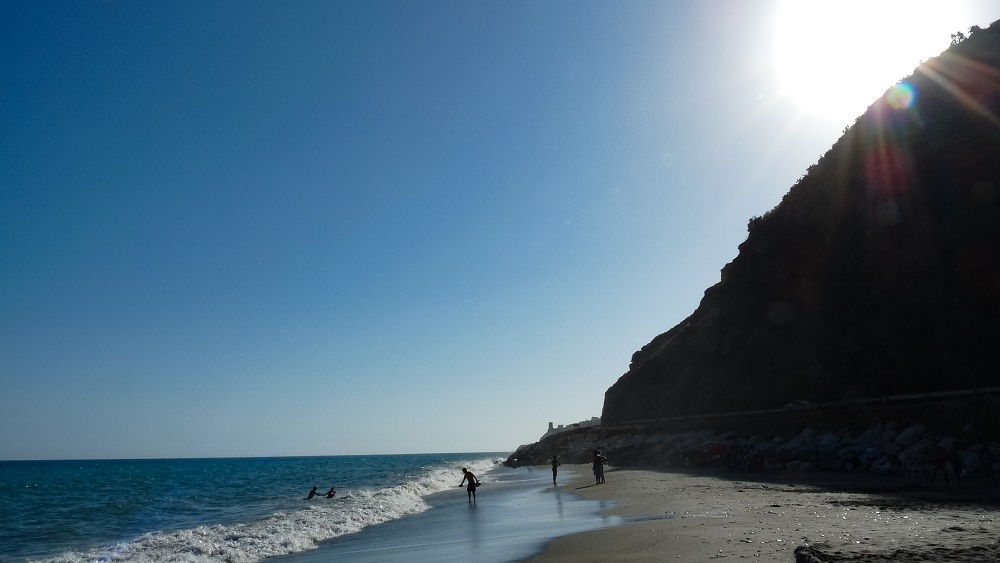 Chilches & Benagalbon
Situated between Malaga and Velez, in the height of summer this 1.5km long, sandy beach makes a nice, quiet break from some of the busier urban beaches. Just 10m wide, it sits next to a backdrop of hills making it a picturesque place to spend the day. There are some lovely places to have lunch along the coast of Chilches and Benagalbon – one of our favourites is La Calma Playa in Benagalbon.
To get to Chilches, take the coastal road N-340 and park in Las Palmeras Garden Centre. From here it's a short walk to the beach. For Benagalbon beach there's parking along the roadside.
Almayate & Valle Niza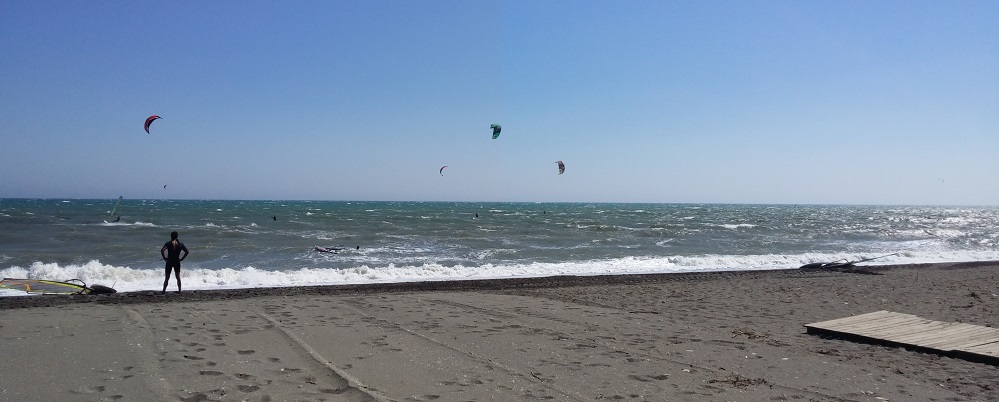 Only accessible with a car, put in the effort to find these beaches and you'll find the most pristine stretches of sand on the coast. Part of this playa is designated as a nudist beach. Off the beaten track, you do not have access to the choice of restaurants and bars that are found on many other beaches near Velez, but there are chiringuitos (beach bars with BBQs) dotted along this stretch so drinks and lunch are on hand. Expect a quiet, tranquil place to spend the day and some relaxed beach restaurants (favourites being El Hornillero and Restaurante Playa Fenicia). If you're a windsurfer, this is the place to come when the conditions are right.
To get here drive along the A-340 coastal road and look out for signs advertising beach bars to find the beaches.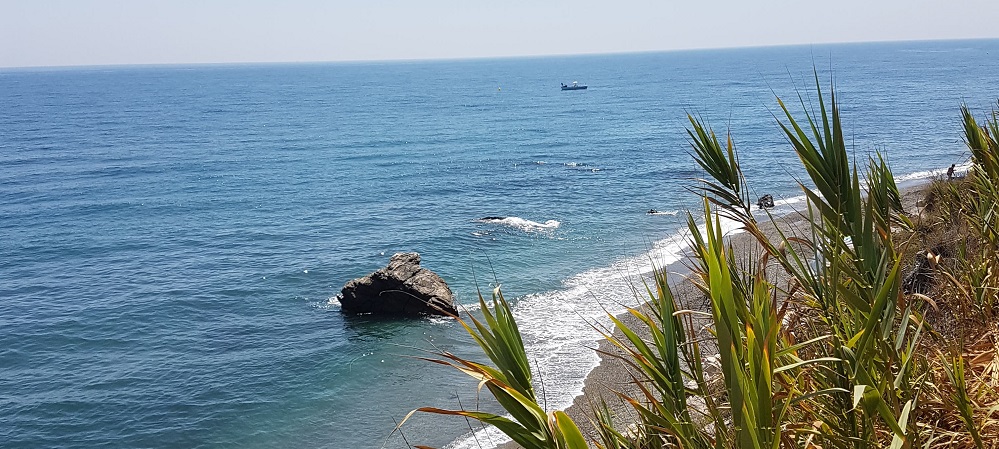 For other rural beaches, see Playa de Maro, Calaceite, El Cenicero, El Morche, Rio Torrox and Wilches above.
We hope you find the perfect beach for you and have plenty of fun in the sun and sea.