Torre del Mar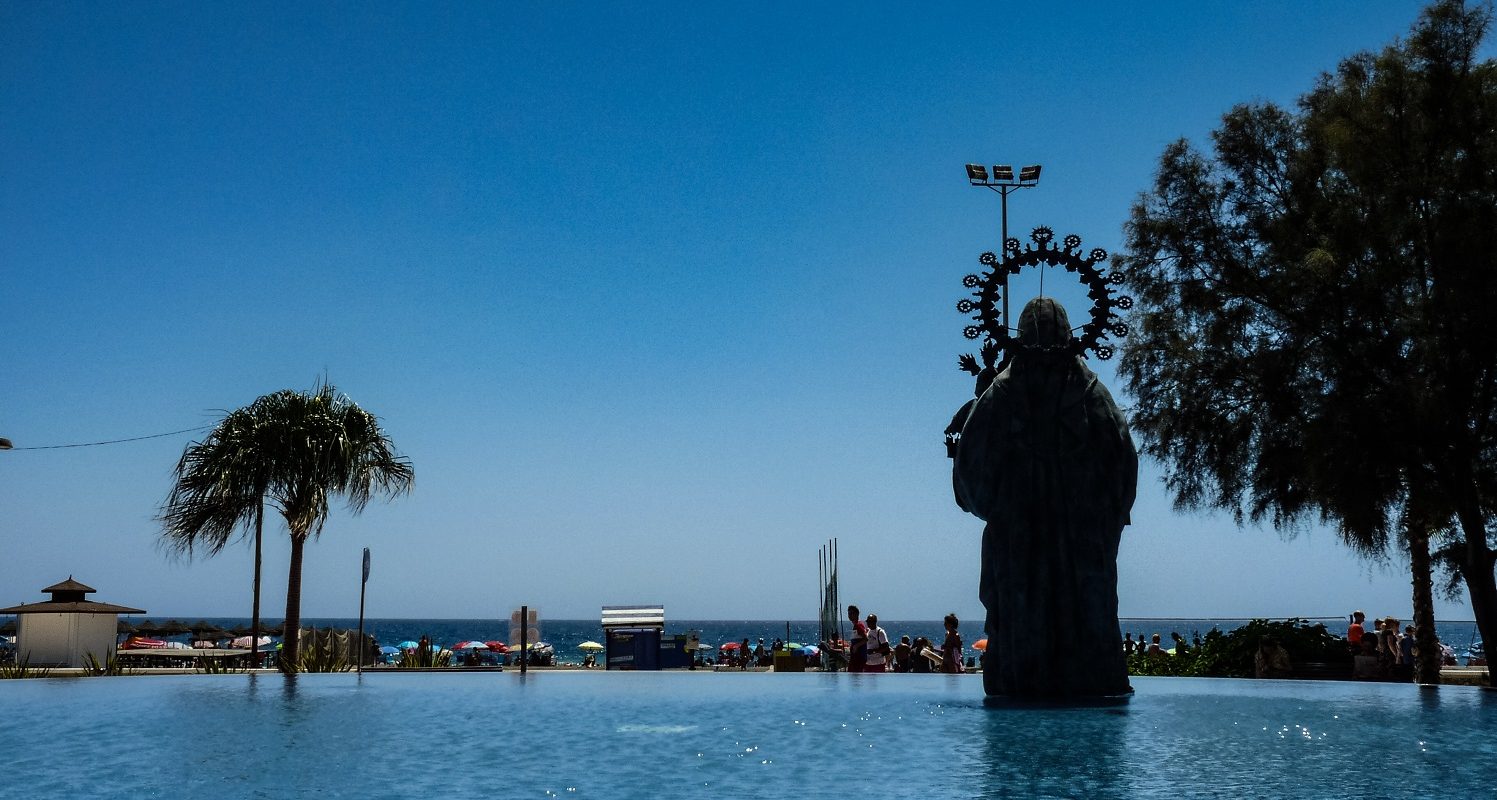 The coastal town of Torre del Mar has a relaxed retro charm to it. Developed throughout the 60s, 70s and 80s it's a great option for sun-seekers but without the tacky tourism some coastal places adopt. 
What Is There To Do?
Torre del Mar's long promenade, the Paseo Marítimo, runs alongside the beachfront with a great cycle and running lane interspersed with playgrounds and fountains.
1. Relax on the Beach
On the beach itself there are volleyball courts, football, gyms, a running track, sun loungers and all the changing and showering facilities needed pre- and post-swimming or sunbathing. The council organise a whole schedule of events and activities during the summer to keep you entertained on the beach at Torre del Mar if you're wanting a bit of variety to the routine of sunbathing and swimming. These activities vary from story telling to competitions and live music to dancing classes.
2. Hire a Peddle Vehicle
There are a couple of places to hire family or kids peddle vehicles on the sea front. There are cycle routes along the promenade where children whizz around on all manor or funky go-karts and electric vehicles.
3. Hire a Bike
You can hire a normal or electric bike and discover the area on two wheels. There is an established cycle path which is flat along the coast to get the heart pumping. Top tip, cycle to Caleta de Velez about 4km away. It's a lovely little neighbouring port village and have a drink at El Camarote.
Bike hire: Bike To The Future, Calle Pintor Cipriano Maldonado, 5 N, 29740 Torre del Mar, Málaga, Bike-to-the-future.com
4. Play Padel, Basketball or Football
You can rent the padel, football and basketball courts which are buzzing with activity as the sun goes down. Padel is a very popular sport in Spain and it's played all year round mainly in outdoor courts. Along the sea front there are several courts for hire. These courts are predominantly for residents and you need booking in advance.
5. Go to a Water Park
Aquavelis water park is open from Mid June to September. It has lots of slides, a wave pool, virtual reality room and two pools for young children.
Calle Ruta del Pomelo, s/n, 29740 Vélez-Málaga, Málaga. Aquavelis.es
For more things to do in the area around Torre del Mar see our 50 Things To Do in the Axarquia page.
6. Get Lunch at a Chiringuito (Restaurant on the Beach)
Dotted along the beach old fishing boats have been ingeniously turned into BBQs where fresh fish are cooked. These beach restaurants are known as chiringuitos. Sardines, seafood and other meats are skewered and the grilled against hot coals (see above). It's the perfect lunch to devour whilst getting some respite from the Andalucian sun beating down on the beach.
7. Chill Out at a Beach Club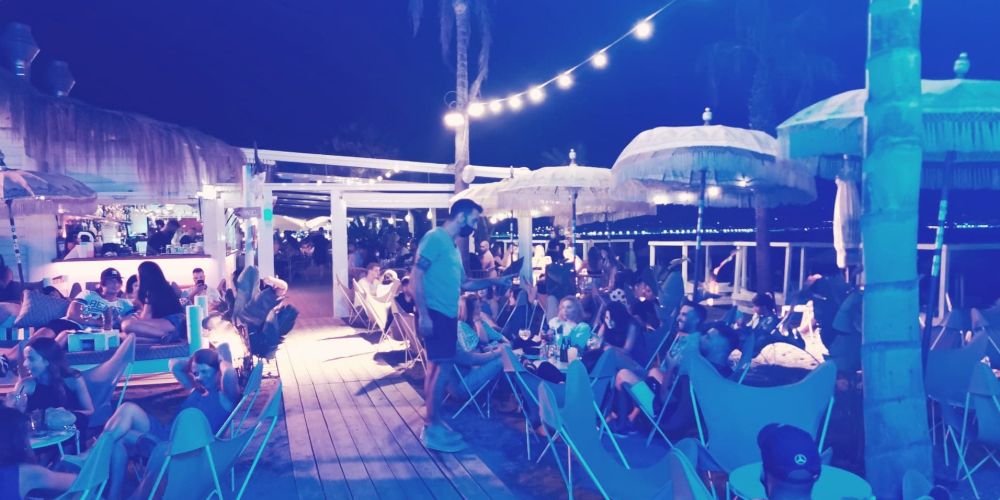 There are several beach clubs (i.e. bar/restaurants on the beach with music, sunbeds and waiter service) along the coast at Torre del Mar. Berebere (pictured) and Bahia de Tanit are the two main beach clubs of note. Sunbeds can be hired from 5 euros (depending on the time of year), the kitchens are open all day, there's live music, masseuses, children entertainers and a overall generally great atmopshere.
Where is Torre del Mar?
Part of the Axarquia area of Malaga province, it sits between Malaga city and Nerja. It has 4kms of coast and it's neighboured by Caleta de Velez and Almayate.
Best Time to Visit?
The Summer
During July and August Torre del Mar caters for tourists mainly from inland Spain – Cordoba, Jaen and Madrid. Population numbers quadruple. This might sound horrific but Torre del Mar has the facilities and space to accommodate this increase easily. The town is buzzing during the summer months in all the right ways. It's really a great multi generational family destination catering for all ages of children from babies to teens.
Beach Clubs and Entertainment
During the summer (from May to October) the beach clubs of Torre del Mar open for chilled out days on daybeds and hedonistic long nights. The three of note are Café del Mar, Bahia de Tanit and Berebere. They serve food all day, have a varied drinks menu and often have live music. As the sun sets they flex into late night open-air parties – check out their Facebook/Instagram pages to keep up-to-date with events.
There's free live music on the promenade most evenings as well as a summer craft market.
During the day there are all sorts of free activities to participate in from Zumba classes to story-telling.
Shoulder Seasons
Northern Europeans come south to look for warmer climes and blue skies. Torre del Mar is popular with these retirees or semi retired tourists. The town doesn't close down from October to April it just swaps flop and drop beach goers for sunseekers. You'll see the cycle lanes, beach running track and restaurant terraces being used by residents of Torre del Mar or these other visitors escaping the perma-grey.
Fiestas & Ferias of Torre del Mar
There is Noche de San Juan held to celebrate the summer solstice on the longest night of the year on 23rd June. Two popular events take place in July, beginning with the Weekend Beach music festival (Weekendbeach.es) and ending with the feria (big annual party, each town/city has one) which takes place towards the end of July.
On Noche de San Juan everyone heads to the beach to have a party. See more information here.
The Weekend Beach festival spans 4 days with over 33,000 people attending to hear some of Spain's biggest acts perform. See more information here.
The feria of Santiago and Santa Ana in Torre del Mar takes place over 5 days featuring the procession of the Virgen del Carmen, traditional folk dancing, performances, competitions, live music and a fairground.
Best Restaurants
There are a lot of restaurants in Torre Del Mar (it's a whole page in itself – watch this space for updates), here are a few that we visit and enjoy…
Berebere
This beach club has probably the best dining room/terrace experience in Torre del Mar. There's a log burning fire in the centre of the dining room for winter visits as well as a shaded terrace. They hire sunbeds too if you'd like to make a day of it. The menu is Spanish staples with the odd pasta/pizza/Moroccan/Mexican dish to add a hint of difference.
Address: Paseo Marítimo de Pte., s/n, 29740 Torre del Mar, Málaga. Open: Sun – Thurs 10:00 – 00:00, Fri & Sat 10:00 – 2:00.
Jordi Tapas
Jordi is set back from the beach, away from the beachfront bars. It's a hidden treasure of Torre del Mar serving delicious tapas, raciones and an extensive changing menu of specials. You can choose to perch at the bar, sit outside, or in the adjoining dining room. Be aware that it's super-popular and booking ahead is essential.
Address: 10 Calle Azucarera. Tel: 952 54 08 11. Open: Mon-Sat 12:00 – 00:00. Jordi Tapas Facebook Page.
Las Tablas
This wonderful restaurant is just off the main drag of Paseo de Larios and has a bustling local atmosphere. There's a long marble bar with stools to perch on, and tables both inside and outside. If you take a seat at the bar expect to get a free tapa with every drink; there's even a chance to choose from a changing menu up on the bar. The menu is packed full of local specialities including freshly grilled seafood, presa iberica (grilled succulent pork) and morcilla.
Address: 3 Calle Levante. Tel: 952 54 12 17. Open: Tue-Sun 12:30 – 16:00 and 20:00 – 00:00. Lastablasrestaurante.es.
Marisqueria El Yate
If you catch El Yate on a busy summer's evening it will most probably be spilling into the streets, with harried waiters running here and there. As the name suggests, it's a seafood bar (yate meaning 'yacht' in Spanish), dishes are simple with the likes of fish or shellfish, served with salad, chips and washed down with a glass or two of cold beer. It's got loads of Spanish charm, complete with low prices, unfussy food and atmosphere.
Address: 32 Calle Saladero Viejo. Tel: 952 54 07 74. Open: Thur-Tue 12:00 – 17:00 and 19:30 – 00:30. Marisqueriaelyate.es.
Taberna Típica El Pozo
Red and white polka dot table clothes and curtains welcome you to this small restaurant just off the seafront. It's a friendly dining room with seating also outside. The food is hardy and well cooked, scrumptious salads, bulls tail stews and other typically Andalucian dishes are on the menu.
Address: Paseo Marítimo de Pte, 27, 29740 Tel: 951 08 45 95
Where to Stay?
Accommodation options in Torre del Mar largely lack, well, style. There's no boutique hotels/B&Bs and very little design flair in apartments. However, there is a good line in nondescript, clean, functional places to stay and when you're outside discovering the Axarquia, relaxing on the beach or getting active what more do you need.
Hotel Miraya
A 2 star hotel that's on the sea front. This cheap and cheerful hotel offers basic ensuite rooms some with balcony.
Calle Patrón Veneno, 6, 29740 Torre del Mar, Málaga Tel:
952 54 59 69
BQ Andalucía Beach Hotel
Paseo Marítimo de Pte., s/n, 29740 Torre del Mar, Málaga
952 54 79 70
What to Expect from Torre del Mar
Torre del Mar is quite different in feel compared to Velez: aside from its coastal setting, it's made up of largely modern buildings. It's typical of many costa (coastal) towns in this area, with medium rise apartment blocks to cater for tourists and residents. Torre del Mar's beach is the closest one to Velez-Malaga and is easily accessible with lots of parking and regular buses to and from the town.
The number of winter inhabitants (25,000) quadruples in the summer months as largely Spanish tourists flock to its long sandy beaches to bask in the sun. Tourism has been the main income for the town since the 1960s.
Despite not having the historical and cultural attractions of Velez, Torre del Mar is a very pleasant and practical town which is great for families. There's a very well kept beachfront area making up 4kms that makes for a good way to spend an afternoon in the sun and sea with everything you need close at hand.
Useful Information
Tourist Information Office
Calle Poniente, 2, 29740 Torre del Mar, Málaga. Open: Mon – Fri 10AM–2PM & 5–9PM, Sat 10AM–2PM
Torre del Mar Bus Station
Velez has great transportation linking it directly to Granada and Malaga. However, to get to any of the towns up or down the coast you will need to call in at Torre del Mar. It serves as an easy place to use as a transport hub with buses going onto the beaches to the west including Torrox and Nerja, or further afield to Seville without having to change at nearby Malaga.
Calle Del Río, s/n, 29740, Torre del Mar, Málaga