Weekend Beach Festival

Summer comes around and the festival season springs into action. Our beautiful corner of Andalucia has no shortage of great music events – the biggest of the lot, though, is undoubtedly Weekend Beach Festival.
What is Weekend Beach Festival?
An annual music festival held at the beginning of July beside the beach in Torre del Mar (about 45 minutes from central Malaga). Two stages welcome crowds from all over Spain with a variety of music. This is what makes Weekend Beach special: music of all genres for all ages. Expect to see national and international names over 4 days. Past international highlights have been The Prodigy, David Guetta, The Offspring and Black Eyed Peas.
Where is Weekend Beach Festival?
Torre del Mar is a coastal town with shops, supermarkets, bars, restaurants, beach clubs and clubs. The town is easily walkable if you want to venture out from the festival park, campsite and beach area. Torre del Mar has a long, very lovely boulevard which goes from the small fishing village, La Caleta, in the east, to the edge of Torre del Mar to the west. This main promenade is called Paseo Maritimo de Poniente.
The festival ground is beside the beach to the west of the edge of the town. Find the lighthouse on Paseo Maritimo de Poniente; with it behind you and the sea in front, walk right until the boulevard ends and you'll see the festival area. Simple!
When is Weekend Beach Festival 2022?
6th – 9th July 2022
Who's Playing in 2022?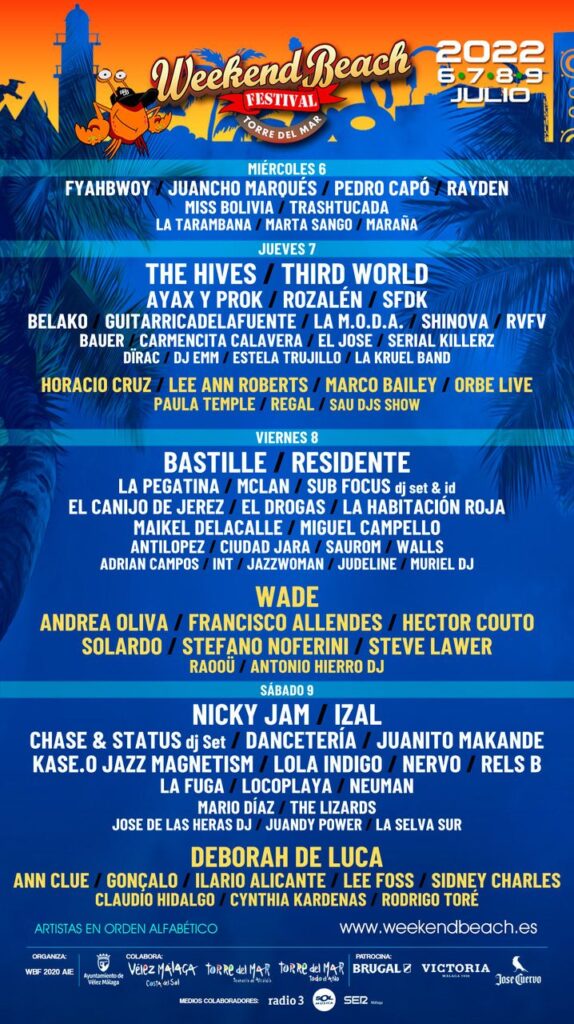 How Much Are Tickets?
Weekend Festival Ticket – 69,00 € (+ 6,90 € fee)
Weekend Festival Ticket + Camping – 89,00 € (+ 8,90 € fee)
Weekend Festival Ticket (Under 18yr olds) – 69,00 € (+ 6,90 € fee)
16 and 17yr olds need to provide written permission from their legal guardian. Under 16yr olds must be accompanied by an adult if the adult isn't a legal guardian written consent must be provided from the child's legal guardian.
Weekend Festival Tickets (Under 18yr olds) + Camping – 89,00 € (+ 8,90 € fee)
VIP Weekend Festival Ticket – 100,00 € (+ 10,00 € fee)
Only for over 18yr olds, Access to VIP areas, Parking and a Weekend Beach goodie bag.
VIP Weekend Festival Tickets + VIP Camping – 120,00 € (+ 12,00 € fee)
Campsite pitch for tent – 25,00 € (+ 2,50 € fee)
Pitch for a camper van or caravan – 65,00 € (+ 6,50 € fee)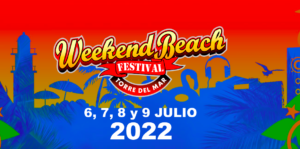 Where to Stay?
The campsite is 10 metres from the entrance to the festival park – how's that for convenient? It has everything you'll need in terms of facilities.
Where to Eat?
There's a food village inside the festival park with international cuisine in the form of food trucks. There are also many restaurants around the festival park; beach bar and restaurant, Bahia de Tanit is the closest to Weekend Beach (two minutes' walk).

More Information
Tickets usually go on sale in October. For more information and to buy tickets, see Weekend Beach Festival website.