What's On in April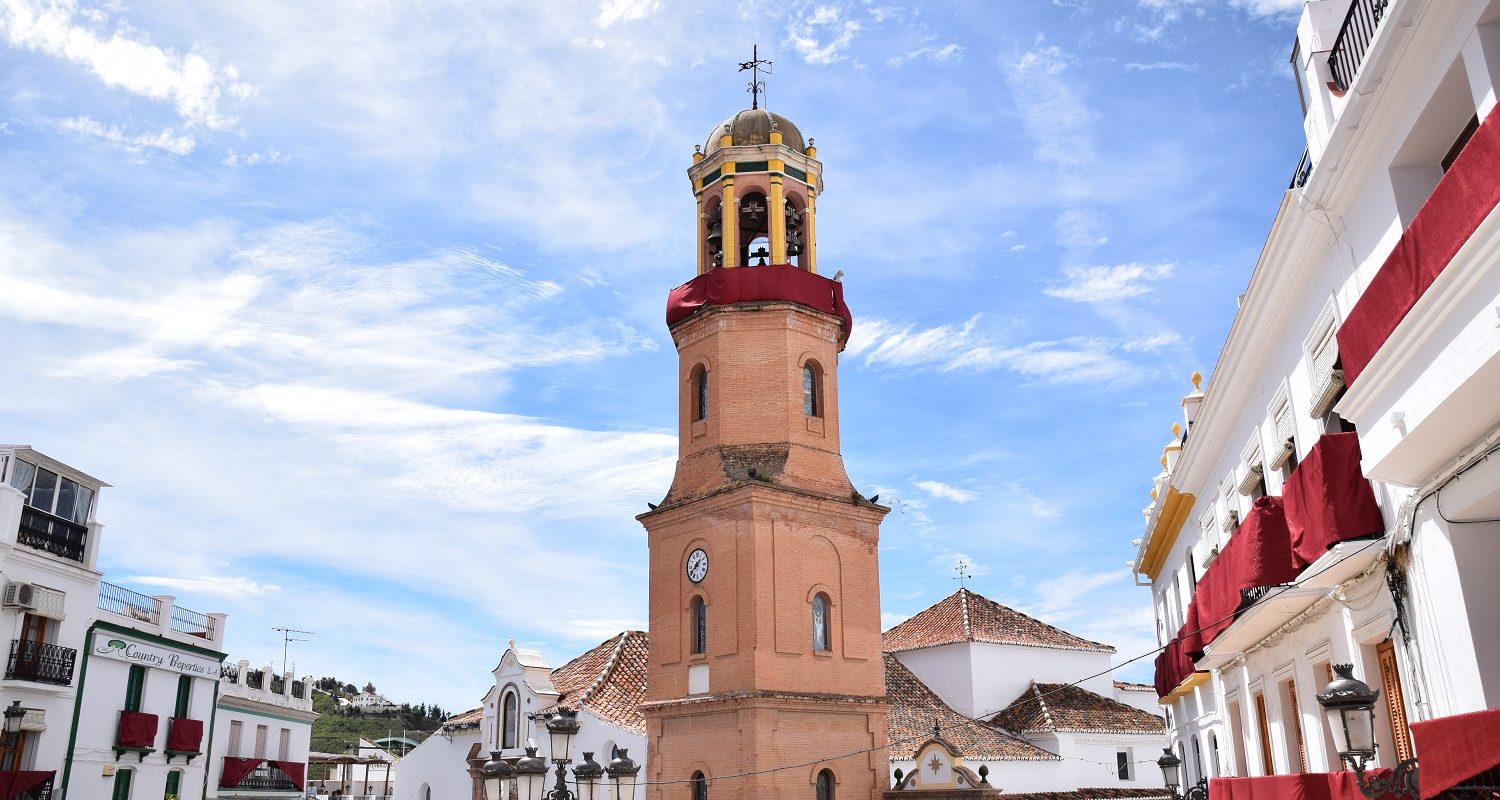 After all the Easter fanfare of March you'd think that things might settle down a bit in April. Well, that's most definitely not the case. Fun children's events, food fiestas, flamenco, art and fitness are all on the agenda for spring-like April in the Axarquia.
Food
Velez-Malaga's Tapas Route – 13th – 29th April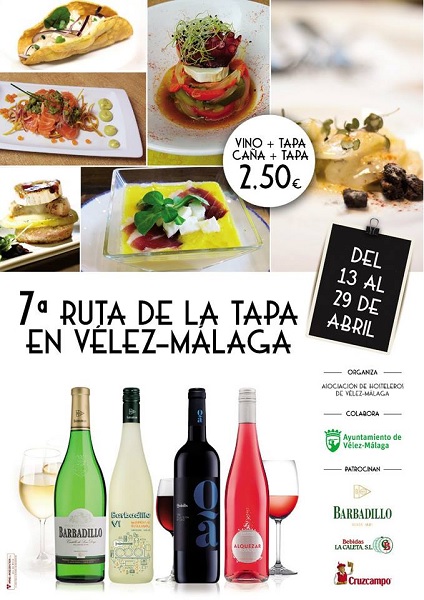 Grab a tapas route passport from Velez's tourist office (Plaza Carmelitas) and collect stamps for every tapas you try, then vote for your favourite. A great excuse to visit all the bars and restaurants in Velez and sample their signature tapas.
When: 13th – 29th April
Dia de Morcilla, Canillas de Aceituno
Another one for the foodies is the annual festival of morcilla in picturesque Canillas de Aceituno. The festival, which is in honour of the Virgen de la Cabeza, revolves around the consumption of morcilla ('black pudding' in English) for free. For more information, read more.
When: 29th April from around 9.30hrs
Fitness
Torre del Mar Run 'Carrera Color en la Playa' – 8th April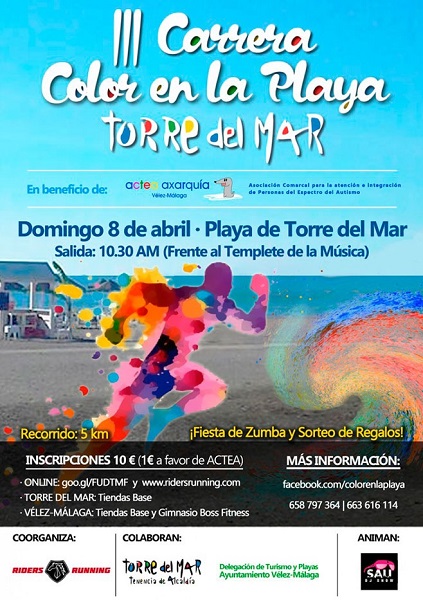 A charity fun run over 5km in Torre del Mar with added explosion of coloured powder for the competitors.
Cost: 10€ (1€ of which goes to ACTEA Axarquia).
More information: Facebook.com/colorenlaplaya
Torre del Mar Run 'Carrera Urbana Ciudad de Torre del Mar – 15th April
A 10km run for adults and 800m for children. The children's run starts at 10.00hrs and adults at 11.00hrs
Where: Vals Sport
Cost: 5-10€ depending on age
More information: Campeón Shop (Vals Sport Axarquía) and in Velez-Malaga, Bar Los Rombos or www.tiendascampeon.es.
Flamenco
Flamenco Abierto with David Palomar – 6th April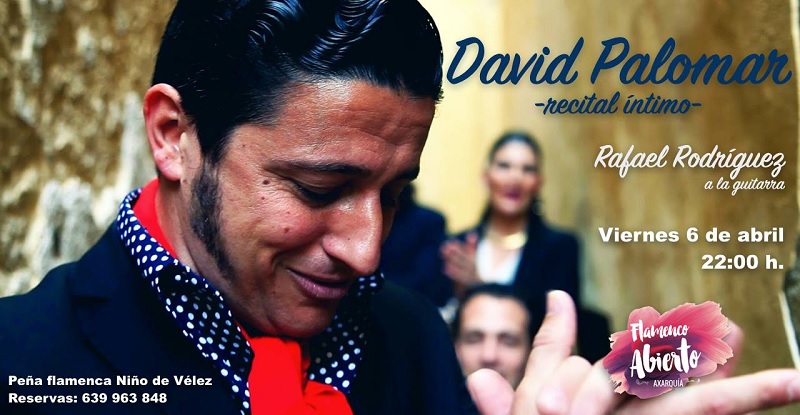 David Palomar is a multi award-winning singer and recording artist, and something of a household name in flamenco circles. He's also never sung in Velez before, so it'll undoubtedly be a sell-out. Get those tickets early, in other words.
If you've never visited the flamenco club in Velez before, there's a bar with subsidised drinks as well as a blackboard of food to choose from to nibble on before the flamenco or during the interval.
Entrance: 15€. To book your tickets, call 639 963 848 (Es) or 651 332 750 (Eng/Fr) or head over to the Flamenco Abierto Facebook event page.
Starts: 22.00hrs
Address: Peña Flamenca Niño de Vélez, Calle Tejeda, 10, Velez-Malaga
Flamenco Abierto with Juan Carlos Carranque – 13th April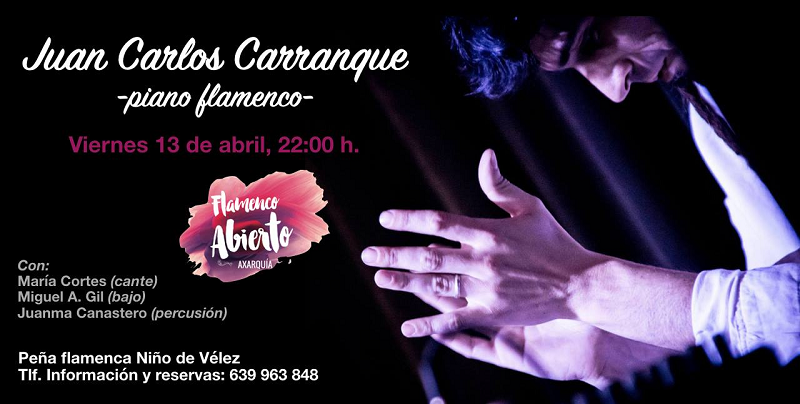 Juan Carlos Carranque is a renowned artist from Malaga who performs, a little unusually, flamenco piano. Twisting jazz standards into flamenco palos using song, bass guitar, percussion and piano we're in for a musical treat.
Entrance: 10€. To book your tickets, call 639 963 848 (Es) or 651 332 750 (Eng/Fr) or head over to the Flamenco Abierto Facebook event page.
Starts: 22.00hrs
Address: Peña Flamenca Niño de Vélez, Calle Tejeda, 10, Velez-Malaga
Dance Company of Antonio Guerra – En Buena Compañia – 20th April
The most technically accomplished male dancer (and dance school owner) from Velez-Malaga is putting on a full flamenco show in the main theatre. This will be a great evening of flamenco dance.
When: 20th April at 21.00hrs
Cost: 12€
Address: Teatro del Carmen, Calle Pancho Lopez, 1, 29700 Velez-Malaga
Things to Do with Children
Paleontology Workshop – 7th and 8th April
A children's workshop on mummification and Egyptology for 4 to 10 year olds.
Where: MVVEL (Museo de Velez-Malaga, Calle Dr. Eduardo Jimenez Poey, 1, Velez-Malaga)
When: 7th and 8th April 10.00-13.30hrs
Cost: 10€ plus 1€ for materials
For more information and inscription visit: www.latermicamalaga.com
Puppet Show – Peneque El Valiente – 14th April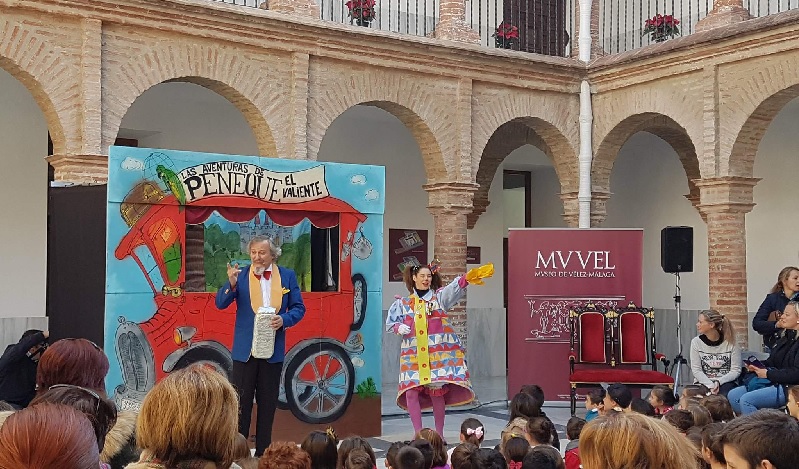 This entertaining puppet show of Peneque and his adventures get children screaming at the characters. It's a great family show which leaves you smiling from ear to ear. Held in the central patio of Velez-Malaga's museum there's plenty of space for children and adults to enjoy the show.
Where: MVVEL (Museo de Velez-Malaga, Calle Dr. Eduardo Jimenez Poey, 1, Velez-Malaga)
When: 14th April at 12.00hrs
Cost: Free
Fiestas
Competa Art Walk – 1st – 4th April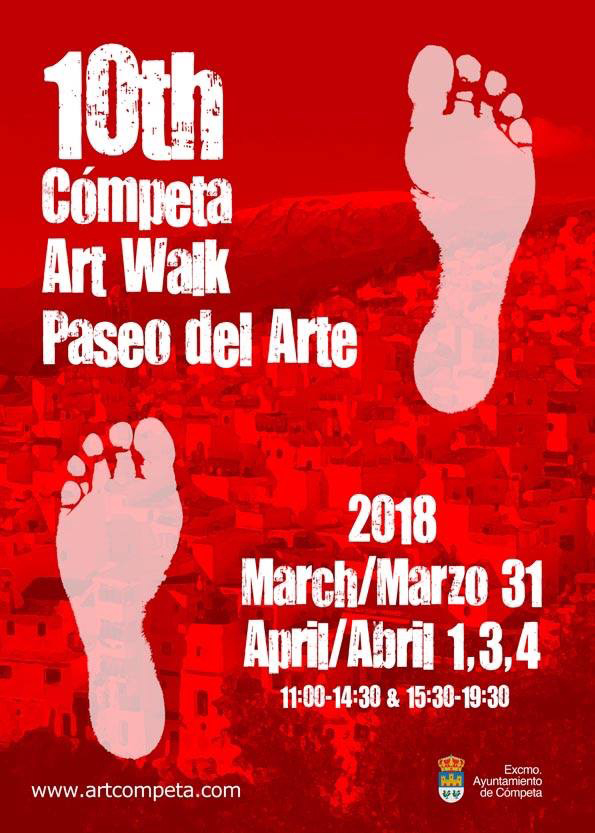 Enjoy walking around the beautiful white village of Competa and visiting different studios, homes, B&Bs and workshops full of art. Meet the artists themselves, get involved with a workshop and have a shop too.
When: 31 March – 1, 3, 4 April
Nerja Residents' Day – 8th April
A month without a fiesta or feria in Andalucia is unheard of and April is no different. This festival is a afternoon for all residents of Nerja and visitors. There's music, dance, food stalls, information stalls and it's an all round great get-together.
When: 8th April, starts at midday and goes on all afternoon.
Where: Plaza de España, Nerja
Ongoing Events & Exhibitions
Plan A Tours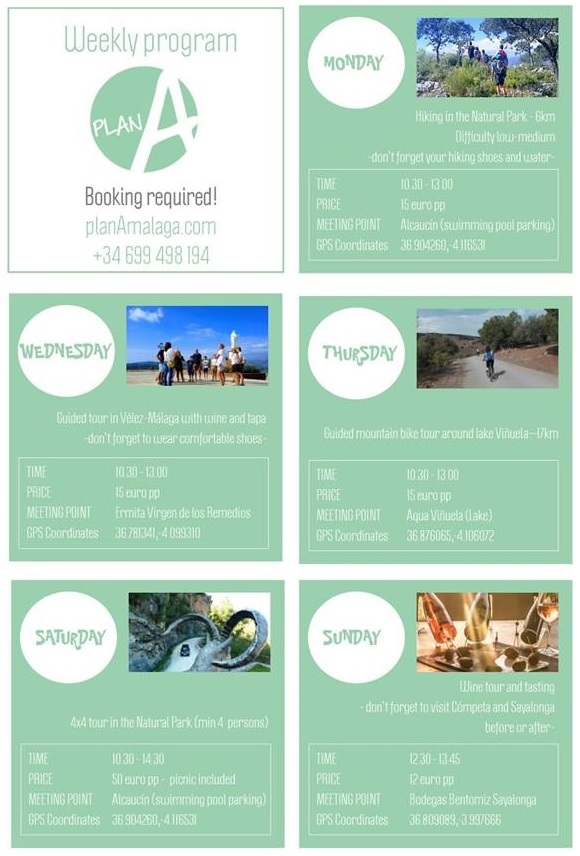 Plan A are a local tour company who offer a variety of tours around the Axarquia. Their energy and enthusiasm is contagious, and we can recommend their tour of Velez-Malaga on a Wednesday. It's a great introduction to the town, where you'll visit most of the major sights, get a bit of history and meet people too. As well as town and village tours they do guided outdoor pursuits like hiking, cycling and horse riding in the Axarquia.
Cost: From 12€ per person
To book: Planamalaga.com
Eco Market – Every Saturday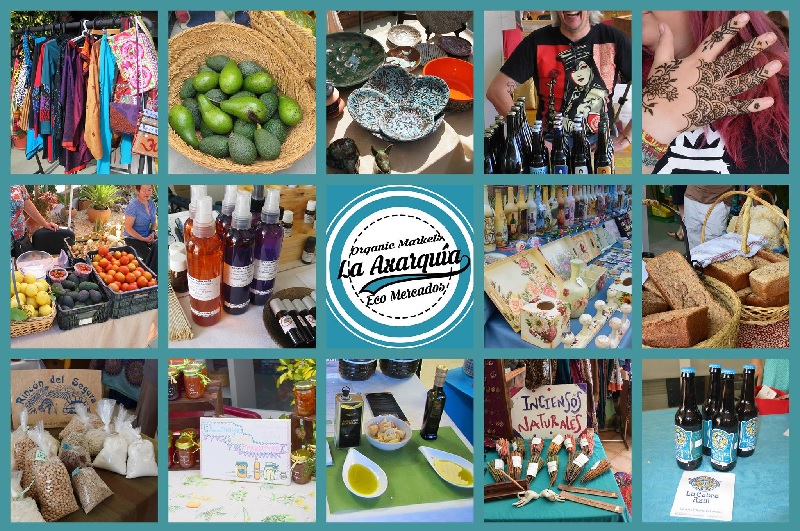 On Saturday mornings next to Lake Viñuela there's an eco and organic market. There are stalls with fruit and vegetables, essential oils and cosmetics, preserves, jewellery, patchwork crafts, cheese, beans and pulses, wine, olive oil, herbs and spices as well as a cafe and snacks (in the form of truly delicious empanadas). Why not buy local and buy fair?
When: Every Saturday from 10-14hrs
Where: Viveros Algarrobo (Garden Centre), Carretera A356, Km 39 Carretera de Vélez- Málaga a Viñuela, Km39, 29712 Viñuela, Málaga.
For more information: Axarquia Eco Markets
Meriendas Flamenkas
A weekly Sevillanas dance class. If you'd like to join in with the dancing during feria here in Andalucia or fancy beginning the journey to learn flamenco, Sevillanas is a good place to start.
What: One hour dance class, a tapas and a drink all for 8€
When: 17.00hrs every Friday
Where: Bodega Mi Flamenka, Avenida Doctor Marañón, 1, 29740 Torre Del Mar
For more information check out their Facebook event, Meriendas Flamenkas.
Like our pick of what's on in April in the Axarquia? For more of the best things to see and do in the area, keep checking our Facebook page.