What's On in November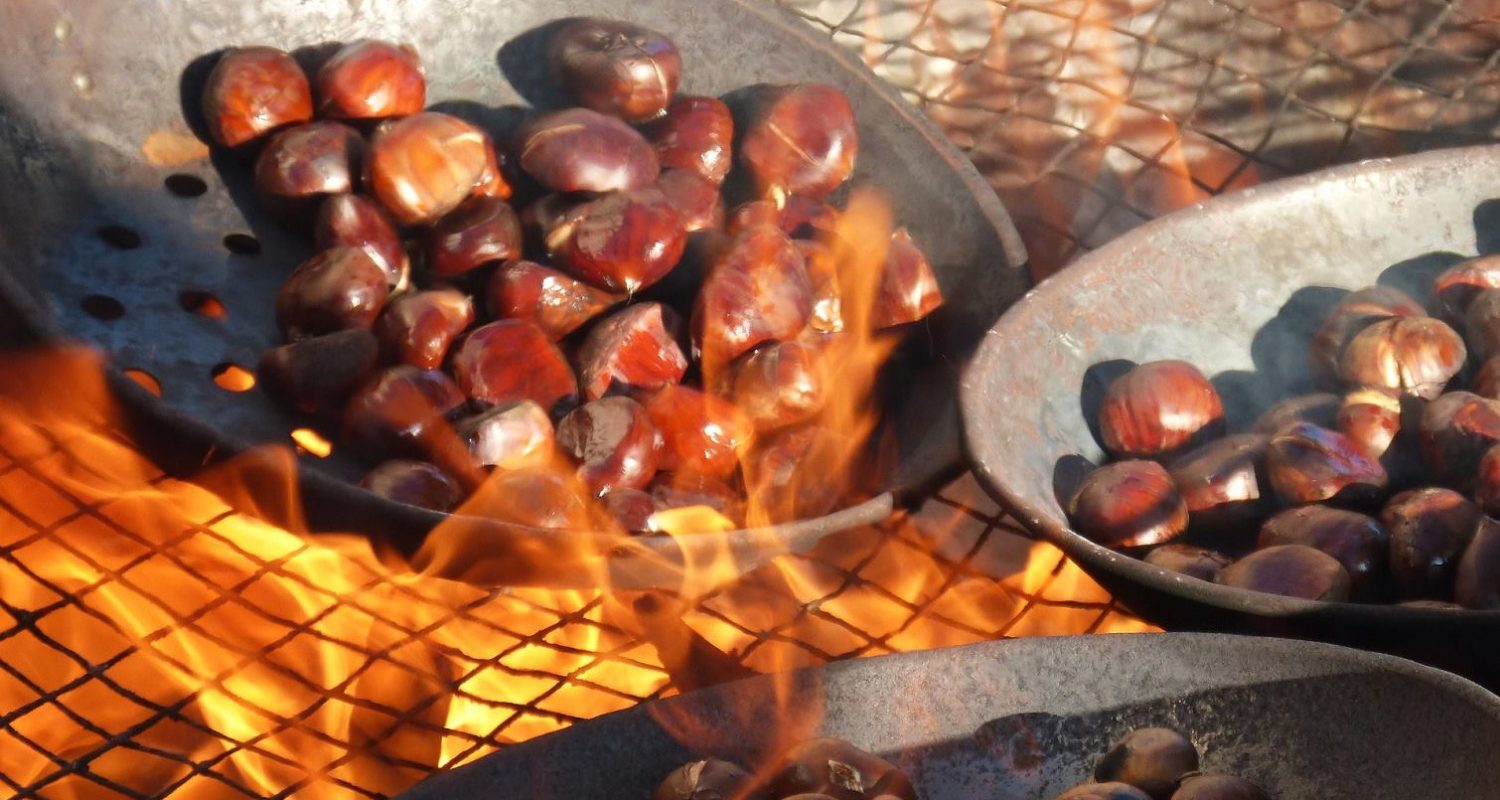 After the frantic pace of late summer and early autumn in Velez-Malaga, things slow down a little during November and December. However, there are still plenty of exhibitions to see, music to hear and sports to participate in during winter.
Here's our pick of a few of the best things to do in November…
Art Exhibitions
Naturaleza y Retratos Imaginados en Encáustica
This collection of work from the artist Concha Coll uses the interesting medium of encaustic painting – also known as hot wax painting.
When: Until 10th November
Where: El Posito, Plaza Constitucion, Velez-Malaga
Hours: Tues-Sat 10-14.00hrs and 18-20.30hrs
El Universo Mágico of Antonio Hidalgo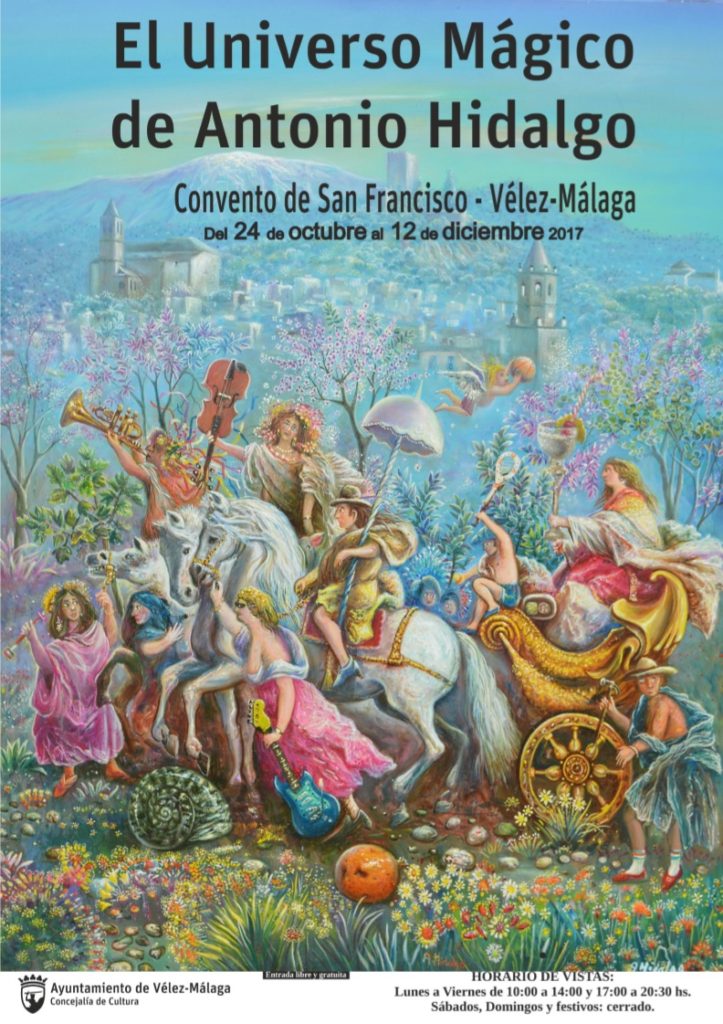 Antonio Hidalgo is a painter and sculptor from Velez-Malaga. One of the town's most famous living artists, he's famed for his dreamlike, surreal works in oils. He was Evaristo Guerra's apprentice, studied in Granada, lived in Madrid and Barcelona, and in 2009 had a street in Velez named after him – Calle Pintor Antonio Hidalgo.
When: Until 12th December
Where: San Francisco Event Space in the Convent of San Francisco, Plaza San Francisco, Velez-Malaga
Hours: Mon-Fri 10-14.000hrs and 17-20.30hrs
Entrance: Free
Music Recitals & Talks
If you're proficient in Spanish – or looking to improve – every Thursday during November there are music recitals and talks on history and archaeology.
2nd November: "Eduardo Ocón. Una visión de su obra a través del piano". (Enrique Bazaga (piano) and Francisco Martínez González (speaker) will perform and present music by Eduardo Ocón, a local composer from Benamocarra.)
9th November: Lecture by Bartolomé Mora Serrano on "Historia y arqueología de la moneda púnica de Malaka"
16th November: Concert of Spanish and Ibero-American classical songs by the group Dúo Cantares
23rd November: Lecture from María Eugenia Aubet Semmler on "Tiro y la colonización Fenicia en el Mediterráneo"
30th November: Concert "La experiencia y la fuerza de una tierra: Andalucía" by Malaga Tuba Quartet
Where: MVVEL, Mvseo de Vélez-Málaga, Antiguo Hospital San Juan de Dios, 1 Calle Dr. Jiménez Poey, Velez-Malaga
Start time: 20.15hrs
Entrance: Free
Music & Dance
Every Friday: Flamenco Abierto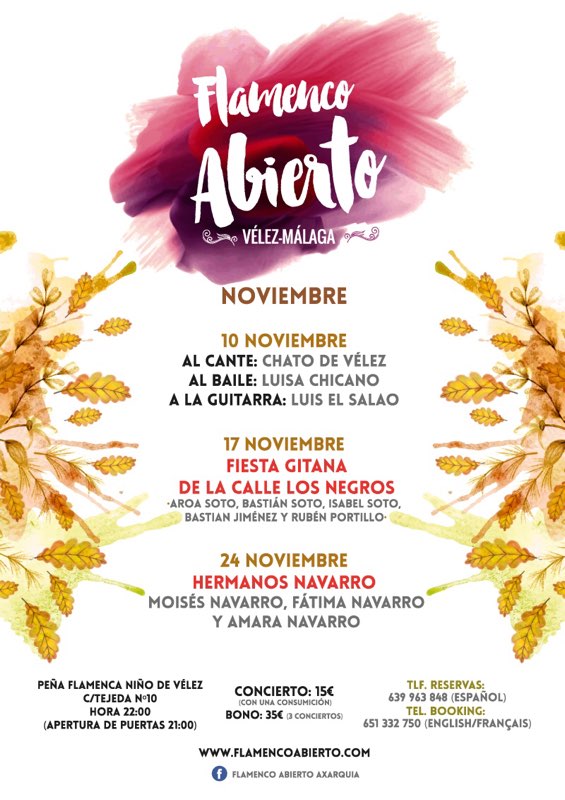 Flamenco has many guises and Flamenco Abierto is working hard at bringing Andalucia's greatest art form to the sell-out crowds in Velez in all its glory. This month, performing artists are: Jose Valencia (3 times winner of the best flamenco singer of the year at the Seville Bienal), a lively gypsy group from Calle los Negros in Malaga (a personal favourite) and Chato de Velez. We'll see you there.
11th November: Up and Coming Band Competition Final
The three finalists (Clusterfucks, Fulanoides and Musicómanos) battle it out to be the winner of best new band. After the winner is announced local bands Break the Senses and Down the Sunlight take to the stage, too.
Where: Plaza de la Constitución, Velez-Malaga
Start time: From 12 noon.
Entrance: Free
Active Highlights
18th & 19th November: Comares Zip Wire
One of the longest zip wires in Spain is in Comares and it's open this weekend. It takes 15 minutes and has fantastic views across the Axarquia, and you can choose to go down solo or in a pair.
Cost: 30€
Reservations: 697 218 289
More information: Facebook page.
12th November: XXXIV Carrera Urbana y V Carrera de la Esperanza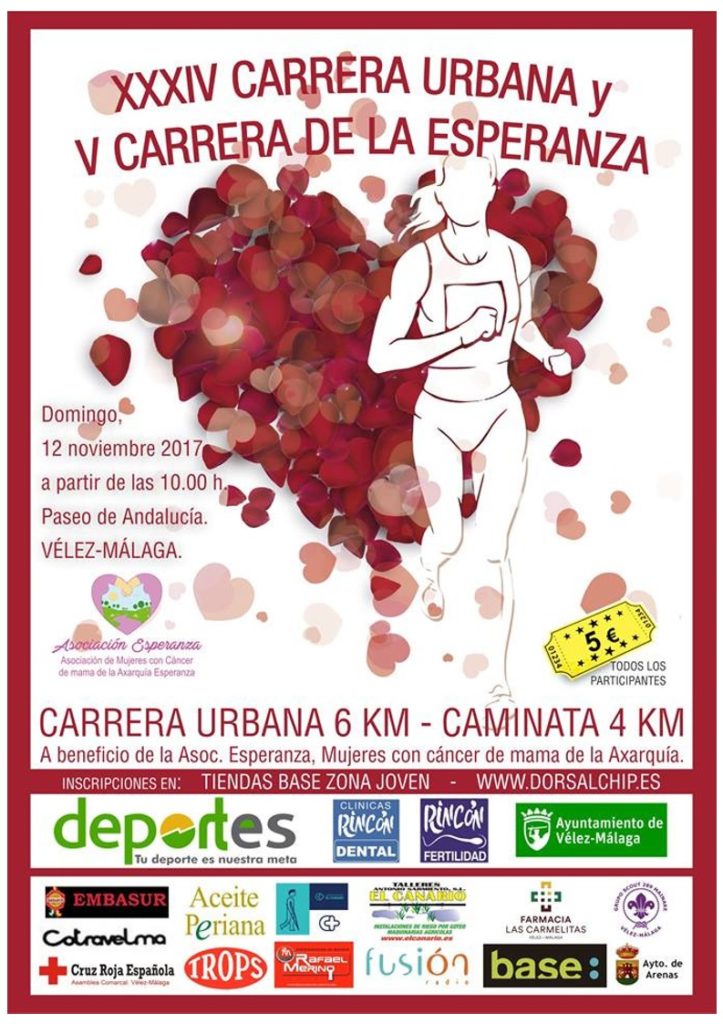 This 6km charity run – or 4km walk – in aid of breast cancer awareness (charity: La Asociación Esperanza. Mujeres con cáncer de mama de la Axarquía) gets underway from Paseo Andalucía in Velez.
Starting time: 10:00h
Cost: 5€ in Deportes Base (Velez-Malaga) in cash or Dorsalchip.es for card payments. Inscriptions open 8th November and must be before the race date.
More information: Dorsalchip.es.