Agriculture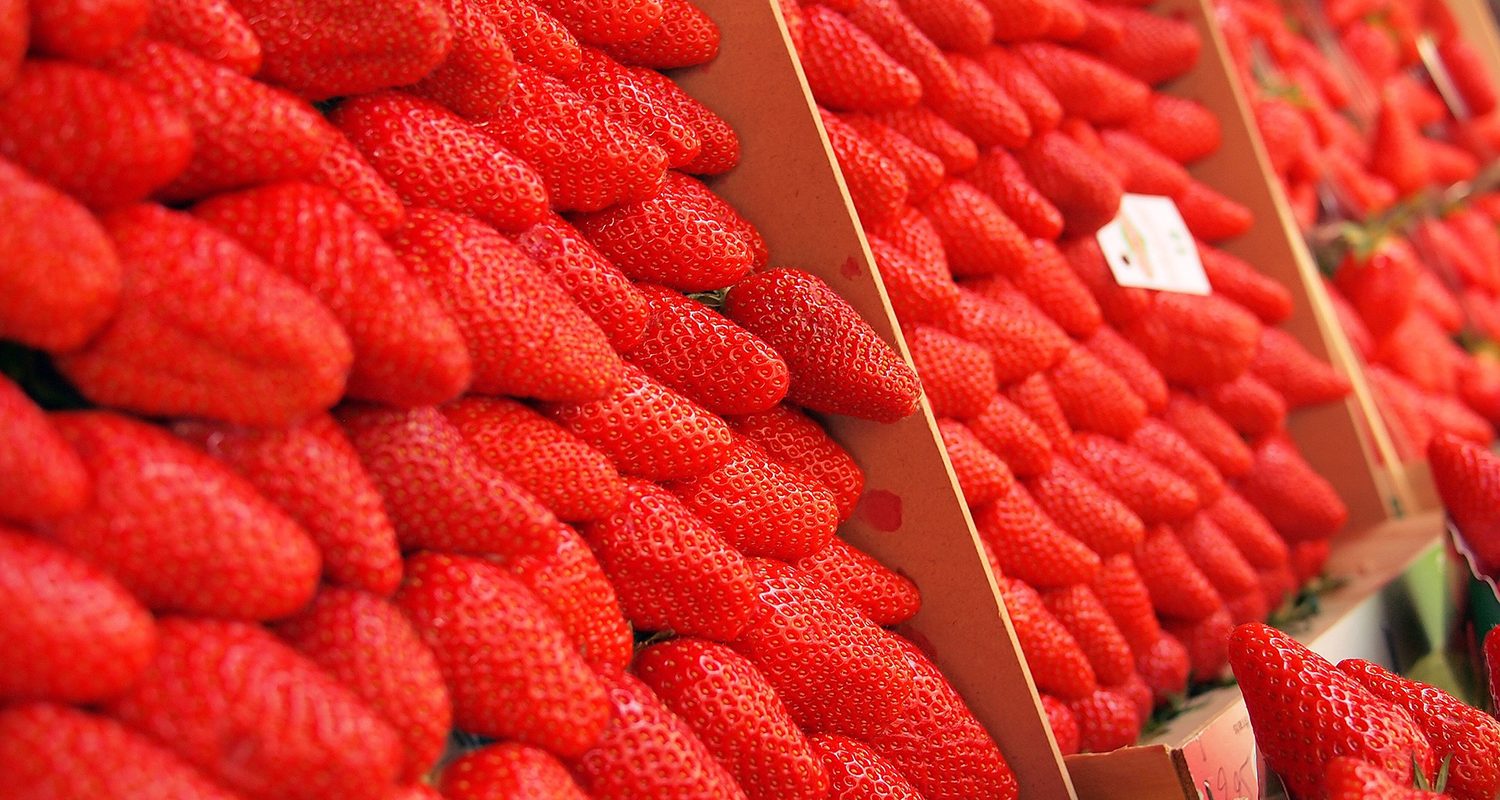 Andalucians have been cultivating the land and fishing the Atlantic and Mediterranean seas for millenia. When the Moors invaded in the 700s they improved farming methods and introduced new flavours and produce.
These days Velez-Malaga is home to a thriving farming and agricultural economy. Owing to the fantastic year-round climate Velez specialises in the growing of sub-tropical fruits and vegetables, exporting avocados and mangoes to over 30 countries.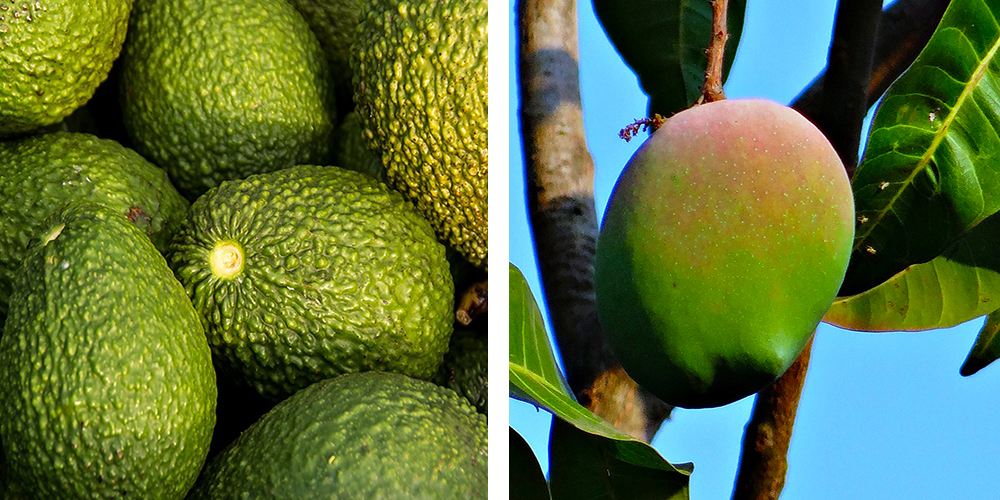 As a result, these and many other fruits are readily available and deliciously fresh in the town's shops, restaurants and markets.
An Introduction to Malaga Wine
The wine from Malaga province has, up until recently, been known solely for its sweet varieties. Known as 'vinos de Malaga', some of the best of these syrupy, warm-coloured dessert wines are produced in the Axarquia with grapes from land just outside Velez-Malaga.
However, no longer are the wines from Malaga Province solely sweet. In recent years fine reds and drier whites have started to come out of the same bodegas previously famed for their rich dessert wines. Experimentation in rootstocks such as Merlots, Chardonnays and Cabernets – twenty varieties in all – are being tried throughout Malaga Province. This ability to create differing types of wine has seen a real resurgence in wines from the area with even new bodegas opening.
Denominacion de Origen – A Quality Stamp for Produce in Malaga
Denominacion de Origen is a nationwide regional stamp for food products in Spain – it denotes locality and quality. So just as only sparkling wines produced in the Champagne region of France can bear the name 'Champagne', so too can a Sherry can only come from the Sherry Triangle and a 'vino de Malaga' can only come from Malaga Province. So it's always good to look out for this when looking for wines of the area.
Beyond that, an independent agency called Sabor a Malaga (Saboramalaga.es) has taken on the task of promoting local food and produce. If it's produced locally with local ingredients then it will have the Sabor a Malaga stamp of approval.
Vines, Grapes & Raisins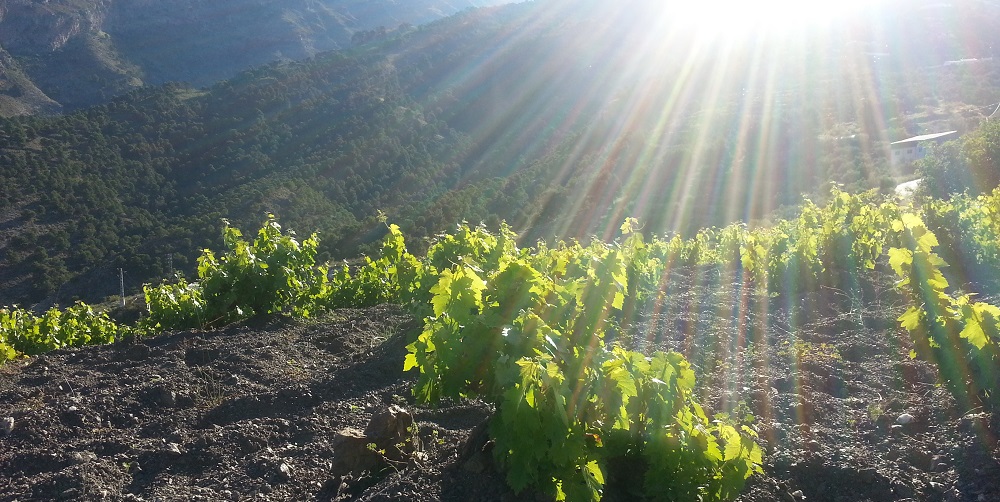 Vines
The vines for local wines here are kept very short and are planted on steep hillsides. The reason for this is to withstand the change in temperatures, from the extreme heat of summer to the damp of winter (moisture won't sit on the grapes as it drains away).
The vines are kept very short which makes backbreaking work for the pickers come the summer. All grapes in the Axarquia are still picked by hand. Mules are often used, too, as the hillsides on which the grapes grow are so steep that other forms of transport are simply not viable.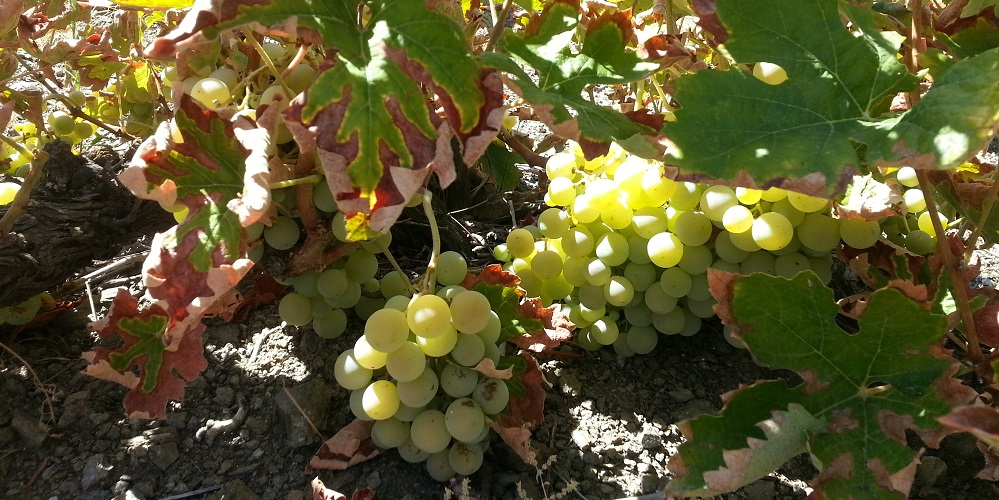 Raisins
Local farmers split their harvests for wine and raisins. Axarquia Moscatel raisins are something to behold: large moist and fruit-like, they're truly delicious. To dry out the grapes and make raisins, the grapes are laid out in the sun and air on 'paseros'. You will see these shallow rectangular beds throughout the countryside of the Axarquia, often next to a farmhouse or small shelter.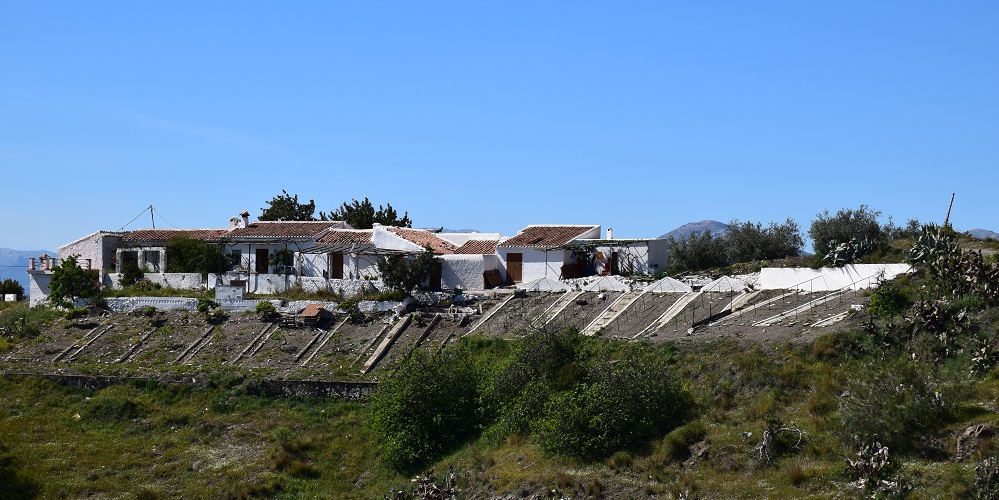 Grapes
The grape varieties used for Malaga sweet wine are Pedro Ximénez, Moscatel de Alejandria, Moscatel Morisco, Doradilla, Romé and Lairén. The two most common are Pedro Ximénez and Moscatel. Wines from the Axarquia are amongst the few which do not need any sugars added, as all the sweetness is natural.
BODEGAS BENTOMIZ
Set into a steep, vine-covered hillside and covered in local slate Bodegas Bentomiz is everything you'd expect from a modern winery. They work with Tempranillo, Petit Verdot as well as the local Romé and Moscatel grapes. Their wines are sold under the Ariyanas label and include reds, whites, rosés and sweet varieties.
They open for guided tours, tastings and lunch during the summer and we highly recommend it. It's delicious as much as it's interesting. The co-owner is the chef and he has been taught by one of the best chefs in the area, Juan Quintanilla from El Sollun in Nerja.
Finca El Almendro, Pago Cuesta Robano, 29752 Sayalonga, Malaga. Tel. 951 38 67 06. Bodegasbentomiz.com.

BODEGAS JORGE ORDOÑEZ
The bodegas of one of the oldest wine producers in Malaga is in Velez-Malaga itself. They produce wines from Pedro Ximénez, Moscatel and Garnacha grapes. With the dynamic owner, Victoria Ordoñez, driving things forwards in recent years its wines – from sweet to dry – have begun to appear on the wine lists of some of the world's best restaurants, and its Botani has won multiple awards.
More information: Jorgeordonez.es.
Feria de la Granja
During the Feria de San Miguel in September there is usually an agricultural feria, too. This is held next to the cemetery on the outskirts of town. Here you'll see livestock, horses, mules and a few countryside stalls selling tack and hunting equipment. There are often competitions and prizes for livestock and horse riding.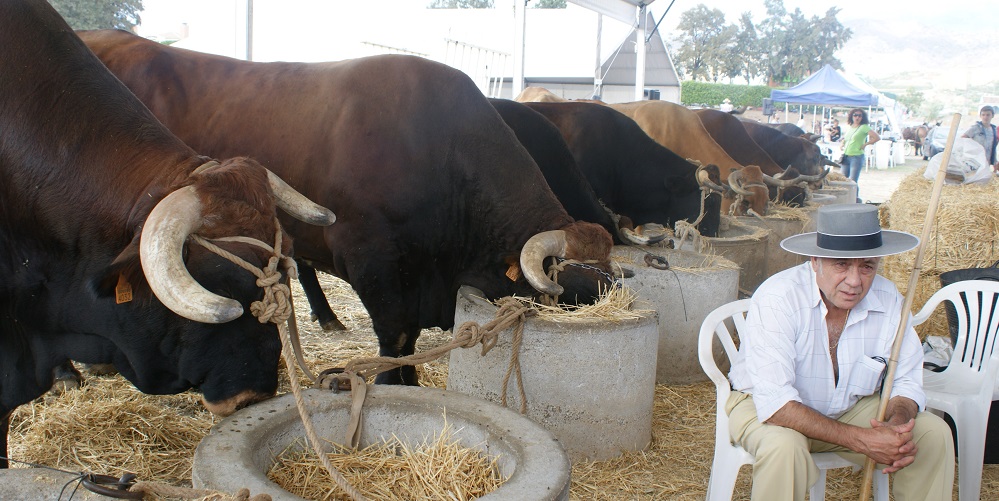 Commercial Agriculture
For commercial purposes, get in touch with any of the below:
Trops
Address: Poligono Industrial El Trapiche. Tel: 952 50 07 00. Trops.es.
Reyes Gutierrez
Address: Apdo de correos 65 Camino de Malaga. Tel: 952 50 56 06. Reyesgutierrez.com.
Frutas Montosa
Address: Finca El Molino, Valle Niza. Tel: 952 51 35 33. Frutasmontosa.com.