La Viñuela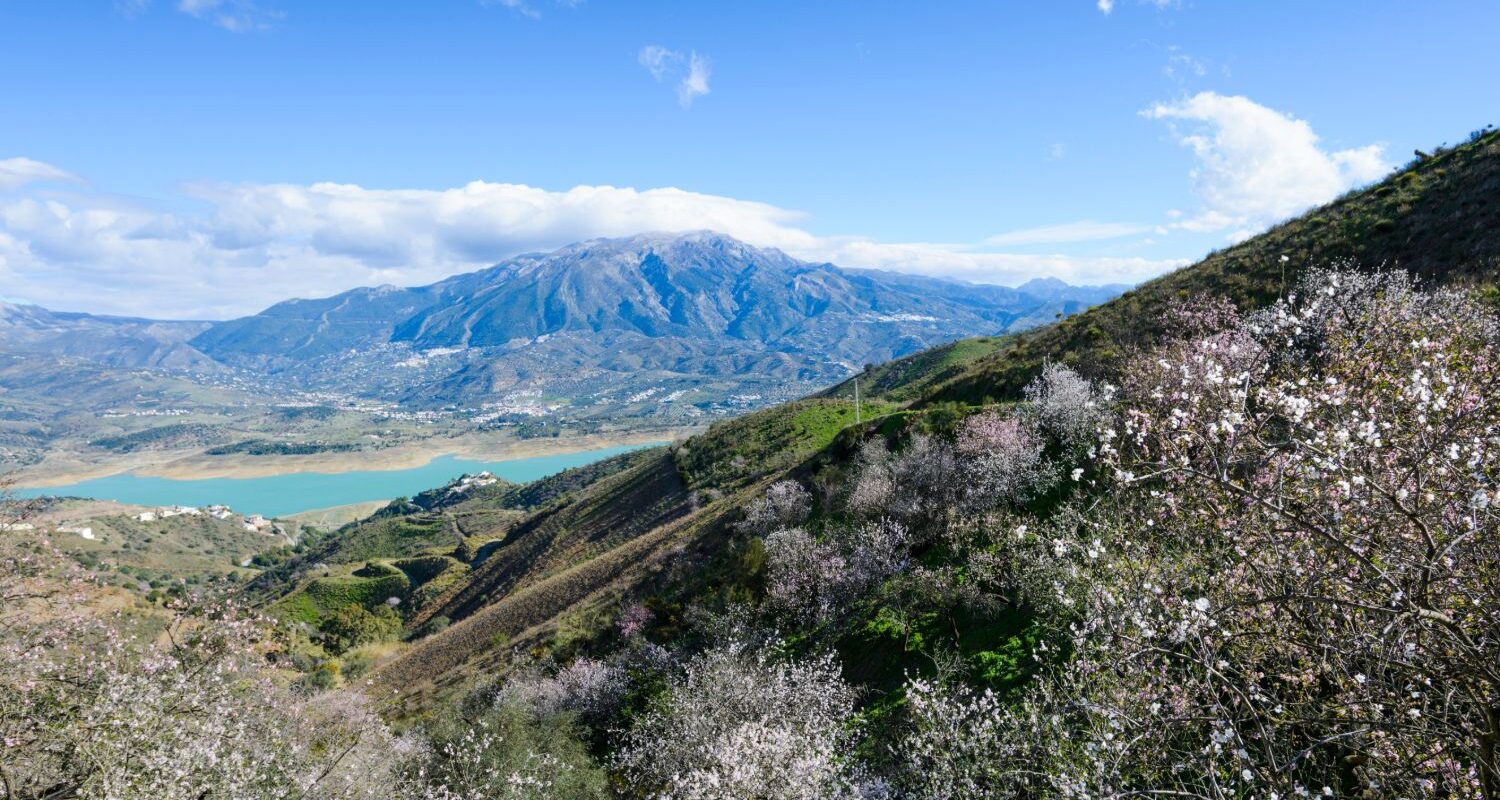 With its handful of hamlets dotted around a stunning turquoise reservoir in the shadow of the peak of La Maroma, La Viñuela is the geographical heart of the Axarquia.
La Viñuela Village
The village of La Viñuela was originally a muleteers' stop on the long, hot and winding road from Velez-Malaga to Alhama de Granada. And to this day a restaurant, Venta La Viña, stands on the site of the original inn where travellers would stop off to quench their thirsts.
Fast forward to the 21st century and modern-day La Viñuela is a sleepy little village of just under 2,000 inhabitants, that drops down gently to a babbling stream at the bottom.
There's a supermarket, doctor's surgery, pharmacy, children's play area, cafes and a handful of restaurants in the village itself – everything you'd need, really.
Things to Do in La Viñuela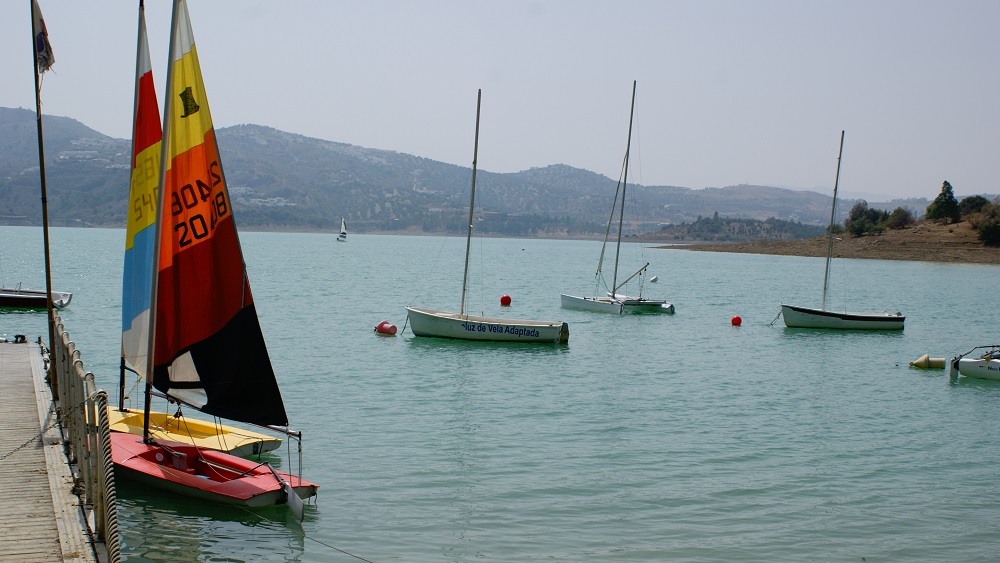 San José Church
In La Viñuela village San José church is a pleasant little place. While it's a primarily 18th-century structure, parts of it date back to the 16th century.
Walk the Ruta del Agua
From very near the Venta la Viña Restaurant in La Viñuela village there is lovely walk or bike ride to the lake. The views are pretty spectacular around the whole of La Viñuela and this route is no exception.
Cycle Around Lake Viñuela
A lovely thing to do as a family is take in the lake on two wheels. It's a fun route with only a low-entry level fitness needed.
Have a Picnic
There are lots of picnic spots around the lake. They have barbecue areas (where you can cook, outside of the dry summer months), tables and chairs in shady spots.
Carp Fishing
You have to obtain a licence from the Town Hall to fish in the lake. Once you have this, you can expect black bass, carp and lots of terrapins in Lake Viñuela.
Fun on the Lake
Aqua Viñuela (Aquavinuela-sports.com) offer a variety of non-motorised water sports.
You can do everything from taking a boat, kayak, paddle surf or pedalo out on the water, to hiring a bike and cycling around the lake.
A Tour with Plan A or Oletrips
These two tour companies offer lots of different activities around La Viñuela and the Axarquia – and further afield, too.
Plan A (Planamalaga.com), focus on active tours like cycling around Lake Viñuela (see the photo above), walking tours of Velez-Malaga, paragliding and catamaran trips.
Oletrips (Oletrips.es) on the other hand, have their own vehicle and focus on rural tourism, like goat herding, cookery classes and white village tours.
Visit the Folklore Museum
This small museum in the hamlet of Los Romanes is dedicated to the traditional music, dance and costume of Verdiales – a insight into the folklore culture of the Axarquia. You have to call to enter the museum as it isn't open all the time.
Calle Virgen de la Milagrosa, 29713 Los Romanes, Viñuela.
Walk from Los Romanes to Torre de la Atalaya
Beside the restaurant El Charco in Los Romanes there is a signpost explaining a walk to a old watchtower (Torre de la Atalaya). Once you start the route it's poorly signposted so either go with a local guide or look up the route on Wikiloc.com beforehand.
Jump in the Car to Visit Two Historic Sights
If you're a history buff, there are a couple of intriguing historic sites right on the doorstep that are well worth a visit.
Torre de la Atalaya is a 15th-century Moorish watchtower (pictured above), while the Castillo de Zalia (below) is a crumbling Moorish castle. Both have spectacular views.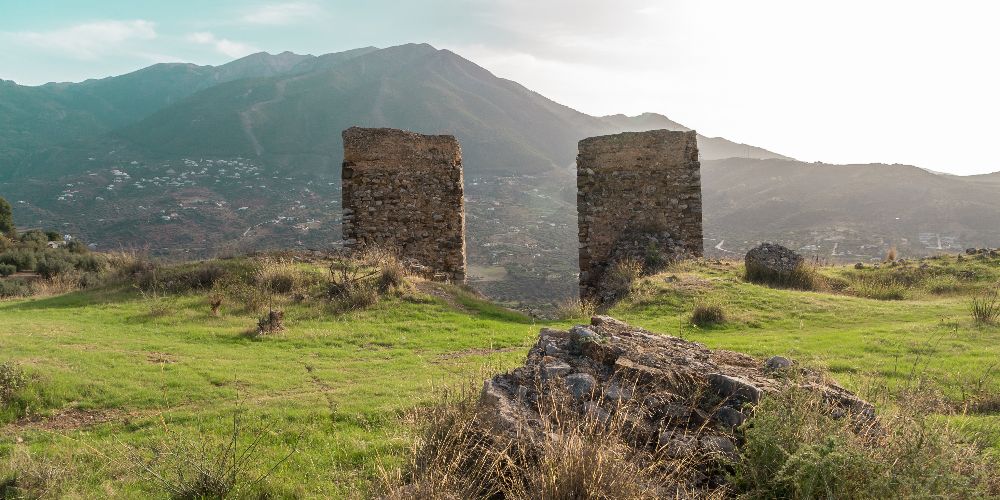 Hiking
There are any number of great walks in and around La Viñuela. But for the more adventurous, one in particular will really call: climbing to the top of the ever-present mountain of La Maroma.
There are several different routes to tackle, each of varying steepness/difficulty.
If you're a first-timer, though, we'd recommend the El Robledal – Alhama de Granada one. You can find out more with our guide here.
No matter how you come at it, the views from the top (see below) are absolutely spectacular.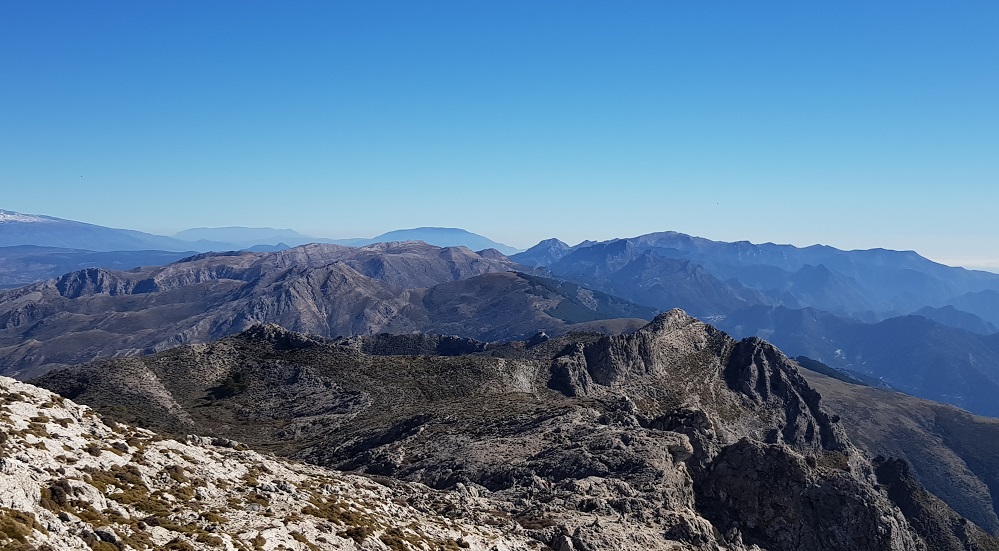 Restaurants in La Viñuela Village
Bar Restaurant La Viñuela
With indoor and outdoor seating this restaurant offers better than average casual dining.
Calle Helipuerto, 5, 29712, Viñuela.
Venta La Viña
The oldest restaurant in town, this is a Viñuela stalwart. A great choice for meat eaters, it's also got indoor and terrace dining available.
Plaza Andalucía, 1, Viñuela.
Bar Miguel
Stop here for a quick tapas or rocket fuel coffee to see you along the way.
Calle Pizarras, 38, 29712, Viñuela.
A Different Coffee
With amazing coffees, smoothies, cocktails and sweet treats, this is a great place for that Spanish tradition of coffee and cake late afternoon.
Calle Pizarras No 31, Viñuela.
Restaurants with Lake Viñuela Views
Hotel La Viñuela
This hotel has a restaurant with indoor and outdoor seating. The lovely terrace overlooking the lake is a great option for coffee, lunch or dinner with a sunset view – as per the above image.
Carretera de Vélez a Alhama, SN, 29712; Hotelvinuela.com.
Restaurante El Pantano
A large indoor dining room and terrace overlooking the lake. Expect large portions of hearty home-cooked meals.
A-356, 356, 29713 Viñuela; Elpantanorestaurante.blogspot.com.
Restaurante Asador El Camping
This restaurant and campsite offers tapas and a full menu with a terrace looking out over the lake and a huge dining room. It's next to El Pantano (above) and the offering is fairly similar: think traditional, rural Andalucian cuisine.
A-356, Km 30, 29712 Viñuela; Campinglavinuela.es.
Chez Epices
The best bet for a curry fix in the area. The authentic Indian food's good – with all the classic dishes present and correct – but the views of the lake are possibly even better.
Pantano de la Viñuela, Carretera Los Romanes, s/n, 29712.
Other Restaurants in La Viñuela
Restaurante El Horno
It doesn't look much more than a simple bar/cafe from the outside, but this is a surprisingly good bet. The menu features well executed classic Andalucian dishes, alongside the likes of grilled meats, slow cooked stews, paella and proper salads.
Cruzado de los Caminos, 29712 Viñuela.

Venta El Charco
There may be restaurants with better views, but this is probably the best food in the immediate area. A meat-lover's paradise, the portions are generous, service is excellent and it has a real buzz at the weekends (make sure you book…)
Calle los Ventorros, 2, 29713 Viñuela.
Lake Viñuela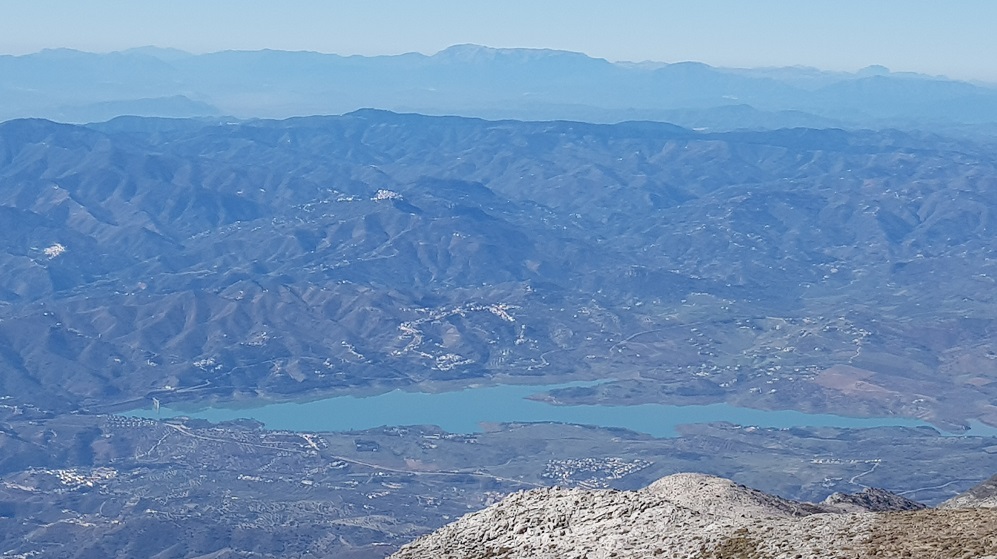 The name 'Lake Viñuela' – which was adopted by locals – is a bit misleading, as it's actually a reservoir ('embalse' in Spanish).
The 'lake' was created by the damming of the River Guaro in 1989, and is now filled by the rivers Sabar, Benamargosa and Salia.
Water levels fluctuate depending on the time of year – it's obviously usually at its lowest in the hot, dry sunny months – and the stage of the cycle of rainy/dry years.
Festivals & Times to Visit
One of the best times to visit La Viñuela is for the village's main festival, the Festival de la Pasa in mid-September.
Celebrating the annual grape harvest or 'vendimia', it's a lively couple of days which packs in tastings, various live music and dancing performances, a religious procession or two and, generally, one big party.
The village also has an annual feria (fete) in mid-July.
Hotels & Places to Stay
There's a small selection of hotels to choose from in and around Viñuela itself.
The most upscale bet is B Bou Hotel La Viñuela (pictured above – Hotelvinuela.com), a smart modern hotel with 37 rooms, some of which come with views out on to the lake.
The views from the restaurant and gardens are similarly spectacular (making it very popular for weddings). It also comes with a tiny spa.
At the other end of the spectrum, Camping La Viñuela (Campinglavinuela.es) offers sensibly priced pitches for tents and caravans by the side of the lake. They've also got a handful bungalows onsite and a restaurant with great views of the lake and La Maroma beyond.
Right between the two accommodation options is B&B Los Montes (Losmontes.be). This small, Belgian-owned rural B&B has a pool and a handful of pleasantly homespun rooms.
Living in La Viñuela
If you like the sound of moving to the area, there are several decent estate agents to choose from.
Villas for Sale
The price of houses varies greatly. Villas overlooking the lake (with the brooding La Maroma as a backdrop) almost invariably come at a premium. For houses in the villages and hamlets in La Viñuela, the prices of property for sale tend to be much lower.
If you'd like to see some villas for sale, check out a local expert Villa Solutions (Villasolutions.net). Based in Puente Don Manuel, they've specialised in the area of La Viñuela for the best part of two decades.
Villas to Rent
Long-term rentals can be very reasonable in the area of La Viñuela – particularly if you're looking for a village house. To find villa rentals, Casa Axarquia (Casaaxarquia.com) is a good place to start.
And Last But Not Least… Where is La Viñuela?
La Viñuela is in the Axarquia region of Andalucia in southern Spain.
It's 47km from Malaga city – and about a 50-minute drive from Malaga Airport.
The nearest beach at Torre del Mar is 19km away, while the largest major town, Velez-Malaga, is about 15-20 minutes' car drive from La Viñuela village.
The following villages are included in La Viñuela's municipality: Ermita Ramirez, La Aldea, Las Casillas, Loma de San José, Los Gómez, Los Millanes, Los Romanes, Mangamasa and Puente Alta.