Restaurants & Tapas Bars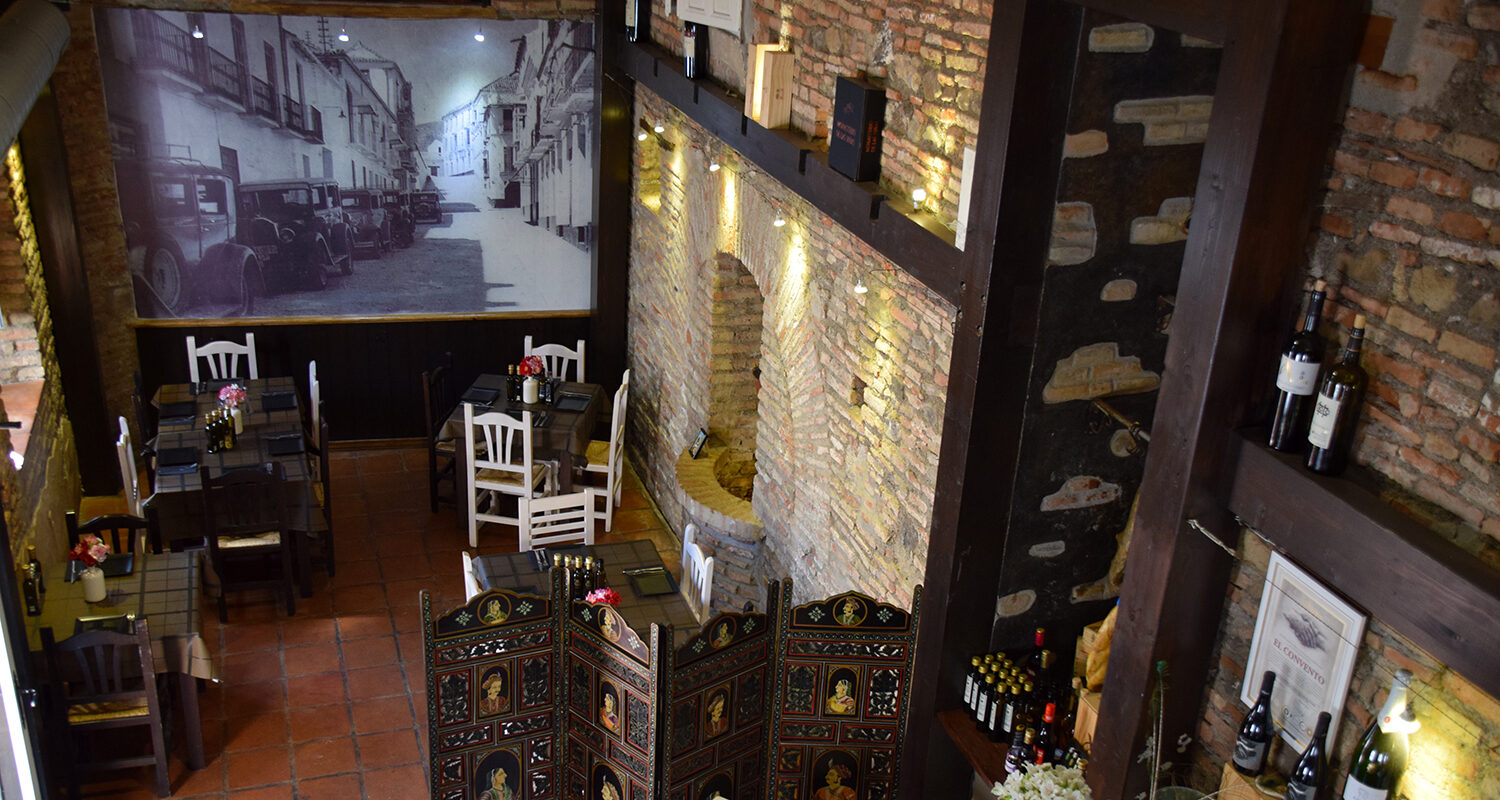 With local produce, traditional fare and a lively atmosphere, Velez-Malaga's restaurant scene is as affordable as it is inviting.
Restaurants & Tapas Bars in the Historic Centre of Velez-Malaga
Velez has a collection of great restaurants with most offering tapas at the bar for a cheaper price alongside a menu with more elaborate dishes.
Here's our pick of the best Velez-Malaga restaurants and tapas bars…
---
Café-Bar La Casa de Los Martínez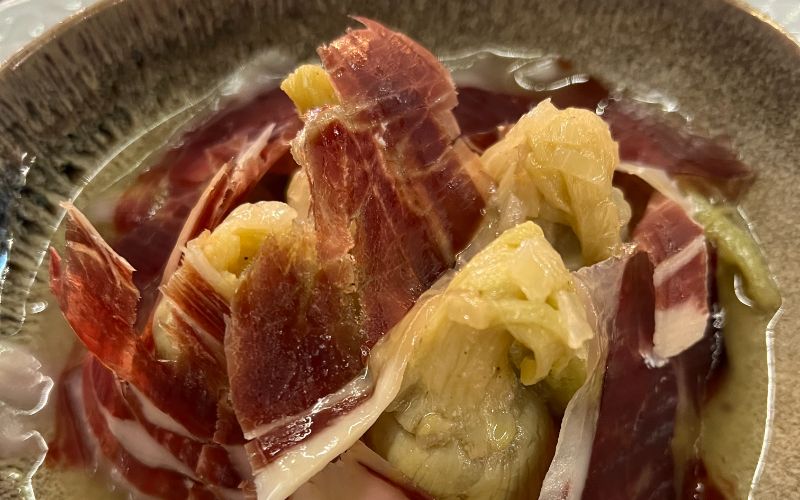 Taken over in 2022 and then again in 2023 this casual dining spot on the outskirts of the historic centre has quickly become one of our favourites. There's tapas at the bar, outdoor seating as well as a dining room. A flexible menu includes sharing plates, light bites and mains. Some of our favourites are the tacos of king prawns with wasabi mayo, the squid sandwich and the artichokes with jamon.
Address: Calle Cristo, 58, 29700 Vélez-Málaga, Málaga
---
La Sastreria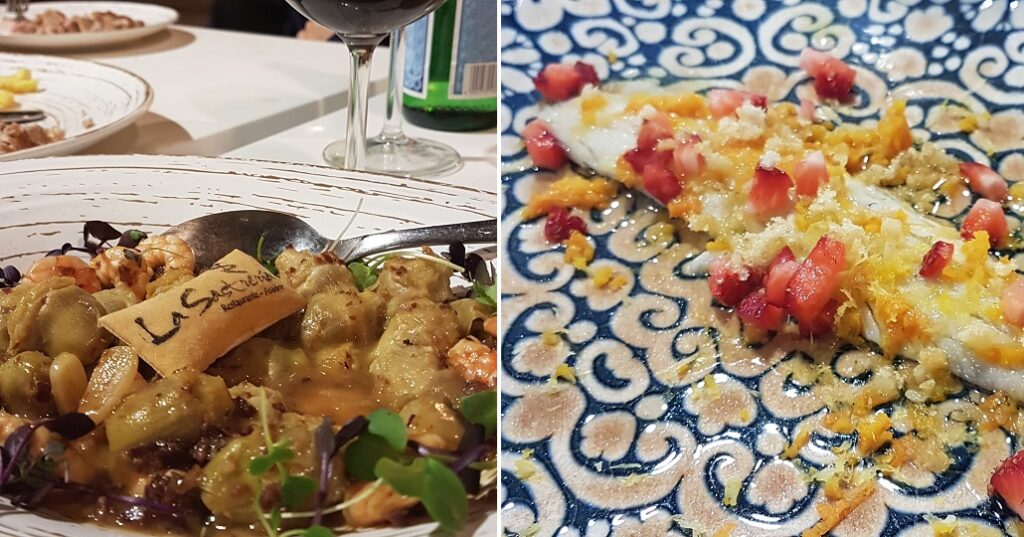 If you sit at the tables outside this is a perfect spot to watch the sun go down with amazing views over the main plaza, church and walls of Velez-Malaga. As well as the outdoor terrace (which spills into the lower part of the square on busier summer evenings) there's a very comfortable formal dining room and helpful staff on hand to recommend a dish or two.
Tapas is cheaper if you sit at the bar, where there's a small collection – we're particular fans of their salchichas (sausages in an onion sauce). The menu is generous and offers something for all tastes, although they specialise in meat with the likes of suckling pig, lamb and Iberian pork cuts highly recommended. Our other favourite dish is baby artichokes with king prawns – great for sharing. If you're a red wine lover, their wines by the glass are one of the best in Velez.
This place is good for families as it's on a square so lots of space.
Address: Plaza de la Constitucion. Tel: 952 54 91 64. Open: Every day 13.00 – 16.00hrs and 20.00 – 00.00hrs. Lasastreriaasador.es.
---
Tapería de Domi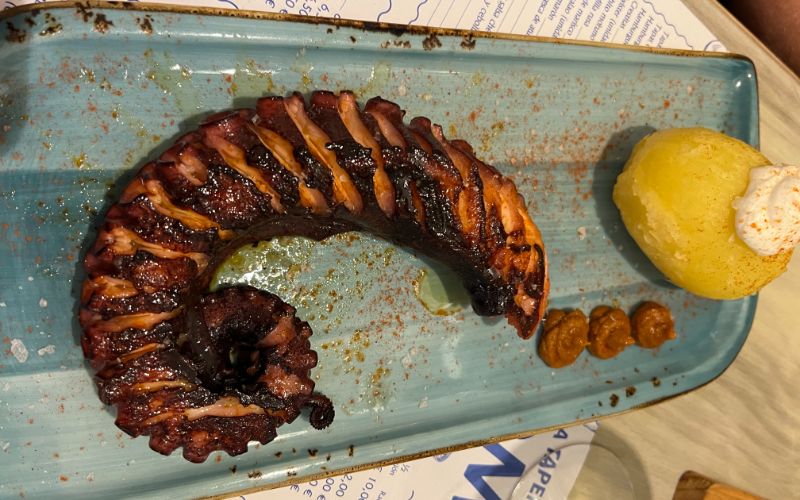 A welcome arrival on Velez's casual dining scene is this lovely place owned by a couple who are passionate about seafood and fish. Be sure to ask what they have in fresh that day and you won't be disappointed. There's bar seating, high tables inside and a terrace. Conveniently, it sits next to the CAC art gallery so a perfect spot for the summer Jazz season. Parking wise the nearest is the underground Parking Plaza del Carmen or road parking on Calle Alcalde Jose Herrera.
Address: C. Félix Lomas, 31, 29700 Vélez-Málaga. Tel: 686 88 17 33.
Open: Mon Closed, Tue-Fri 12.00 – 17.00hrs/19.30 – 00.00hrs, Sat 12.00 – 00.00 hrs, Sun 12.00 – 17.00hrs
Taberna Marinera Domi Facebook Page
---
Meson La Bohemia
La Bohemia is a welcoming little restaurant located on the popular street of Calle Montera. Its outside tables are a great spot to soak up the atmosphere and the last rays of the sun, or take a seat at the bar for a complimentary tapa with every drink. The tapas at the bar change daily but there's usually a selection of seafood, cold salads or hot fritters such as salt cod or croquetas. All are excellent.
The main menu covers traditional dishes of the area as well as some with a Moroccan influence including tagines. Portions are generous and great for sharing. The red wine menu is particularly good with bottles going up to 250euros!
Address: 2 Calle Montera. Tel: 622 68 96 71. Open: Weds-Mon 12.00 – 17.00hrs and 19.00 – 00.00hrs.
La Bohemia Facebook Page.
---
El Caserio de las Monjas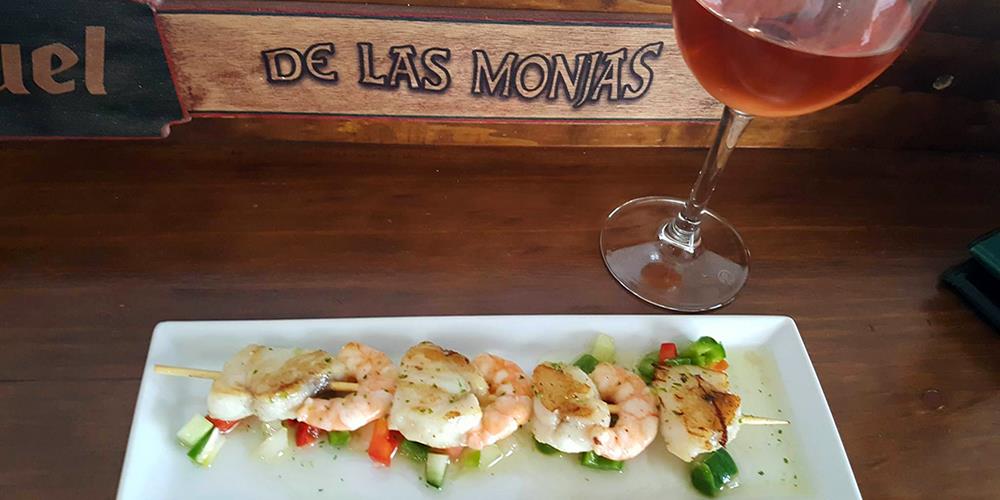 El Caserio de las Monjas has been one of the most consistently popular Velez restaurants since owners Txema and Mari moved it into its lovely townhouse setting. With two formal dining rooms, a bar area at the back and outdoor seating set in a pretty whitewashed courtyard or at the front there's plenty of space to choose from.
On the food front, tasty tapas at the bar on the front terrace – our favourites being the Morcilla de Burgos (black pudding from Burgos), the prawn and monkfish kebab (above) and the gildas (see below) – sit alongside an extensive menu. It's often busy with Veleños and getting a table can be tough, but order a drink and wait for a spot to open up and you won't be disappointed. The grilled meat and fish dishes are particularly good.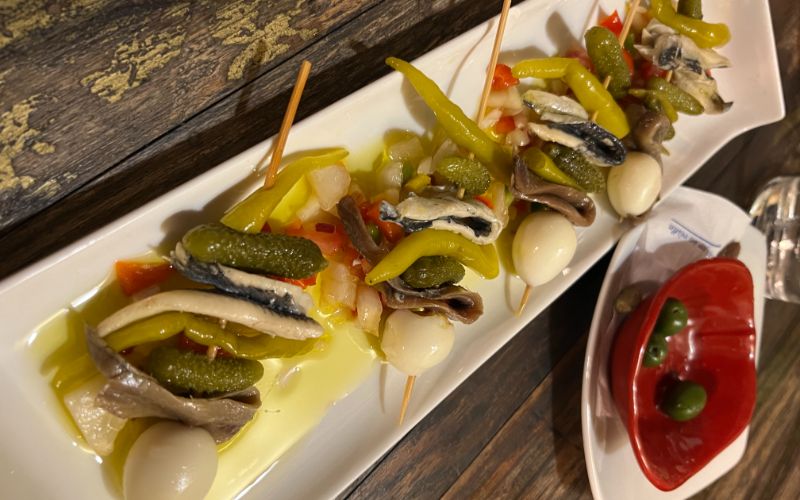 Address: 4 Calle Federico Tellez Macias. Tel: 952 55 73 63. Open: Tues-Sat 13.00 – 16.00hrs and 20.00 – 00.00hrs. Mon 13.00 – 16.00hrs and 20.00 – 00.00hrs in autumn and spring only.
El Caserio de las Monjas Facebook Page.
---
Marisqueria La Gamba Dorada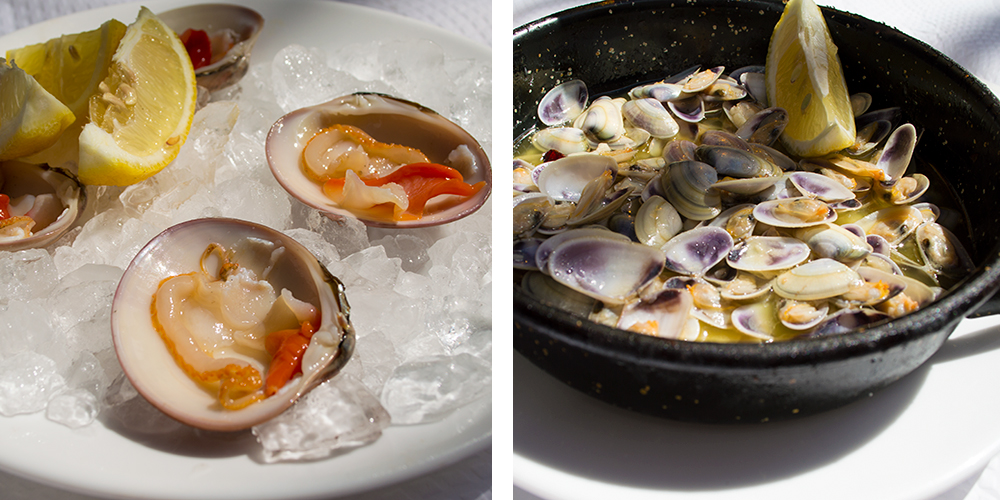 This ever popular fish and seafood restaurant is just a short walk from the busy street of Montera. As well as serving your usual tapa alongside a glass of cold fino they also have a wonderful menu full to bursting with the best seafood.
It's not fine dining, the interiors are a mishmash of styles and the lighting is almost neon, but it's great – noisy, bustling and a bit hectic. It's always busy in the evenings and diners pack out the tables, often sharing platters of seafood, salad and chips, passing around the plates so nothing goes untasted. A definite star in Velez's food scene, it's a must while you're in town.
Address: Calle Pintor Antonio de Velez. Tel: 952 50 14 69. Open: Wed-Mon 12.00 – 16.30 and 19.30 – 00.00hrs.
La Gamba Dorada Facebook Page.
---
People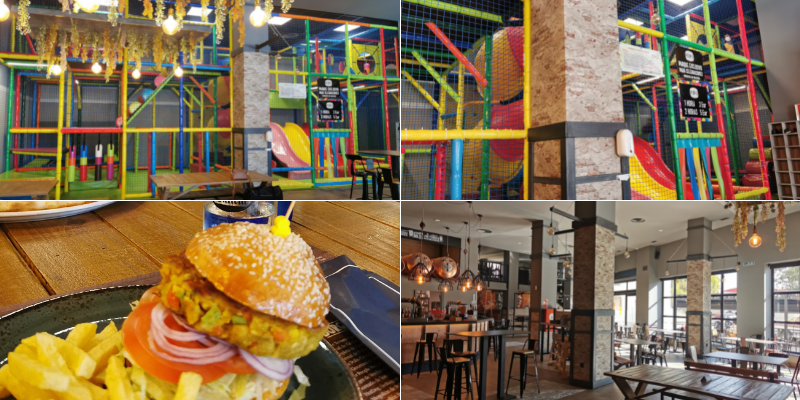 This great option for families has a soft play area at the back. The dining room is industrial style with varied seating from banquet style to high table. There is outdoor seating also on a street terrace. Food wise it's largely pizza and burgers with some Tex-Mex thrown in for good measure. Vegan options are limited to nachos and a veggie burger and vegetarians don't fair much better unfortunately. It opens at 16.00hrs so handy for an early supper if you're on northern European time.
Address: C. Rafael Alberti, 9, 29700 Vélez-Málaga, Málaga
---
Taberna Cruza la Calle
Sitting opposite La Gamba Dorada is one of the newest eateries in Velez-Malaga and it's very popular indeed. Effort has been made with the decor – we do like a pleasing on the eye dining room. It has an industrial nod with high tables and stools plus the whole of the front opens so it has a very friendly inside/outside design. The outdoor terrace is not the most beautiful place to sit in Velez however it has a buzzy vibe. We've been told that it's a great spot for lunch, there's tapas, plates and sharing plate options. The service was good and if you stick to the cold cuts (Jamon, cheese, sausages) you'll have a lovely time as it's a bustling little bar with a relaxed, casual eating vibe.
Address: C. Pintor Antonio de Vélez, nº6, 5ºi, 29700 Vélez-Málaga, Málaga
---
Bar La Peña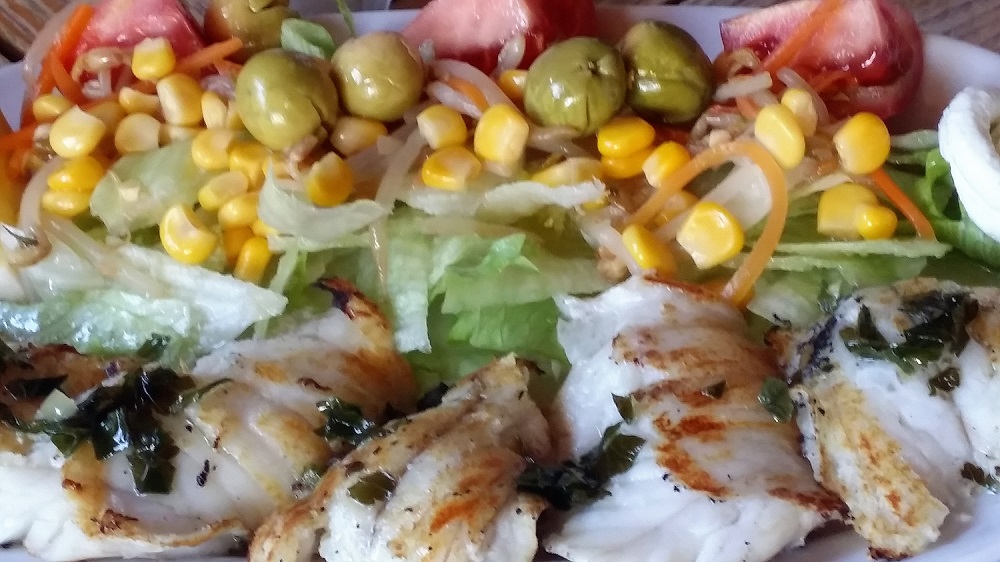 Bar La Peña gets particularly busy at lunchtimes with local workers heading to the bar for tapas and a cool cerveza. It sits conveniently just off Plaza de Las Carmelitas with the square to the front and a small courtyard to the back. If you have children it's a nice spot to let them burn off some energy.
The tapas on offer is a range of typical Andaluz dishes which change throughout the year depending on what's in season, and there's a menu (with plates and half plates) in Spanish and English. Expect simple, home-cooked food and good portions.
Address: 4 C/ Padre Tienda. Tel: 687 56 45 49. Open: Sat- Tue and Thu 11.00 – 17.00hrs/19.00 – 00.00hrs, Wed Closed, Fri 19.00 – 00.00hrs.
---
Bar El Rubio
A popular place, particularly for its fish dishes, Bar El Rubio serves breakfast, lunch and dinner. Glamorous it isn't, as its customers tend to be local agricultural workers, but it makes for a good pit-stop for a great value menu del dia at lunchtime.
The food is typical, traditional Malagueña fare. It's busy and bustling at lunchtimes and their lightly fried fish or baby squid is a forever favourite. Don't forget your anis shot to aid digestion before your meal!
Address: 14  Calle Alcalde Juan Barranquero. Tel: 952 50 12 13. Open: Mon-Sat 06.00 – 00.00. Sun 11.00 – 17.00. Bar El Rubio Facebook Page.
---
Casa Paqui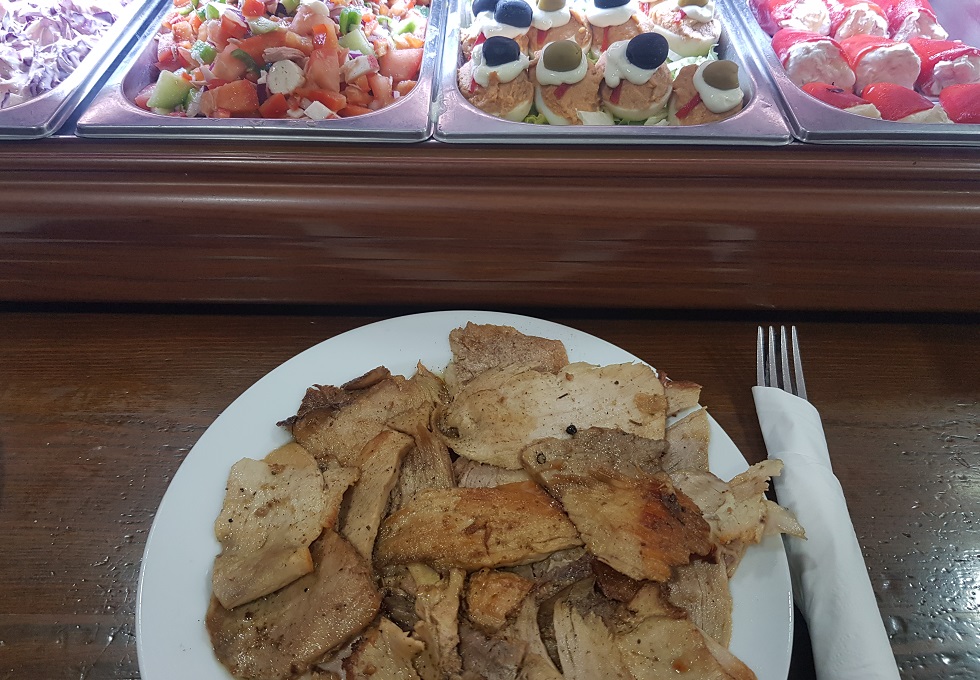 Casa Paqui is a firm favourite for those looking for a great bite to eat that doesn't cost the earth. You certainly wouldn't choose it for a sophisticated candlelit dinner: it's noisy, badly lit, located on a busy crossroads in a modern part of town and not at all pretty inside or out, but… the food is excellent and seriously reasonably priced.
In addition to the usual local staples, there's a tray full of fresh seafood to choose from. Or you can work your way through a selection of generous tapas portions of the likes of fried beans and ham, cuttlefish in sauce and Russian salad for the princely sum of 1€.
The real winner, though, if you're looking for a quick bite over a lunchtime couple of beers or a glass or two of wine, is the roast ham leg – which can be had on its own (as a ración/media) or, slider-style, in a bunch of white rolls to share.
Oh, and the staff are super-friendly, too. Top marks all round, basically.
Address: Calle Dr. Laureano Casquero 3-5. Tel: 952 50 30 26. Open: Every day 11.30 – 17.00hrs and 20.00 – 00.30hrs.
---
Restaurants Outside the Historic Centre of Velez-Malaga
Cortijo Bravo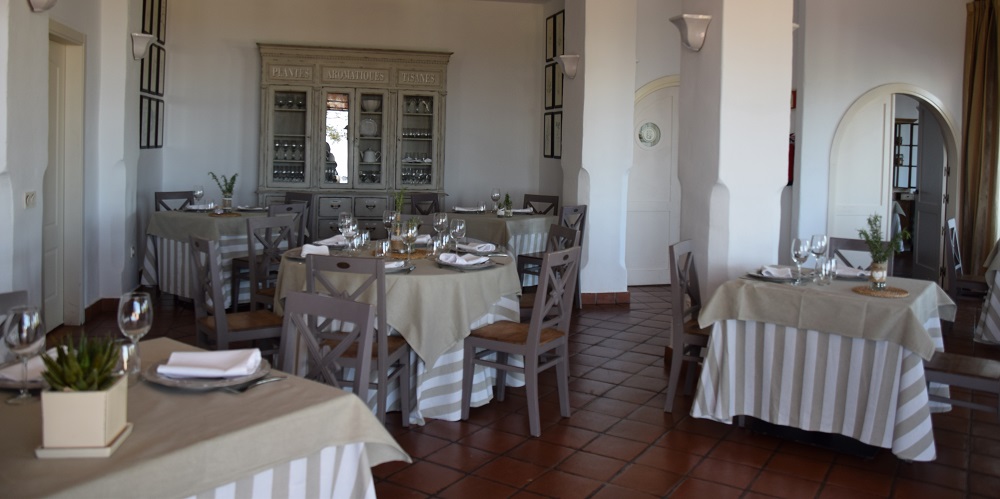 This boutique hotel is set in beautiful countryside with wonderful views over the valley and towards Velez. An old farmhouse and a beautiful building in its own right, it makes for a lovely setting for a meal. The food here showcases traditional Andalucian flavours and elevates them to the next level with modern cooking techniques.
Address: Carretera Velez-Benamocarra km. 1. Tel: 951 55 00 48. Open: Every day 12.00 – 16.00hrs and 20.00 – 00.00hrs. Hotelcortijobravo.com.
---
Restaurante Meson Los Migueles
Meson Los Migueles is an old-fashioned restaurant serving typical dishes of the area. Set on the long stretch of road on the way to Torre del Mar, it lacks curb appeal but for a lunchtime menu of the day it's hard to beat. It doesn't usually open in the evenings.
Address: 83 Avenida Vivar Tellez. Tel: 952 50 36 97. Open: Mon-Fri 13.30 – 17.00hrs, Sat/Sun 12.00 – 17.00hrs. Mesonlosmigueles.com.
---
La Ralea
This popular restaurant is situated in the rather uninviting setting of an industrial park. Although not a grand location, the local crowd take lunchtimes seriously, so it makes sense for a good restaurant to be located near to where many people work. To meet the needs of their clientele it offers a well priced menu of the day Monday-Friday and an excellent line in piping hot coffees and tostadas to start the day.
Address: 1 Calle Jose Rivera. Tel: 951 28 42 98. Open: Mon-Sat 06.00 – 16.00hrs and 20.00 – 01.00hrs. Sun 07.00 – 16.00hrs. La Ralea Facebook Page.
---