Frigiliana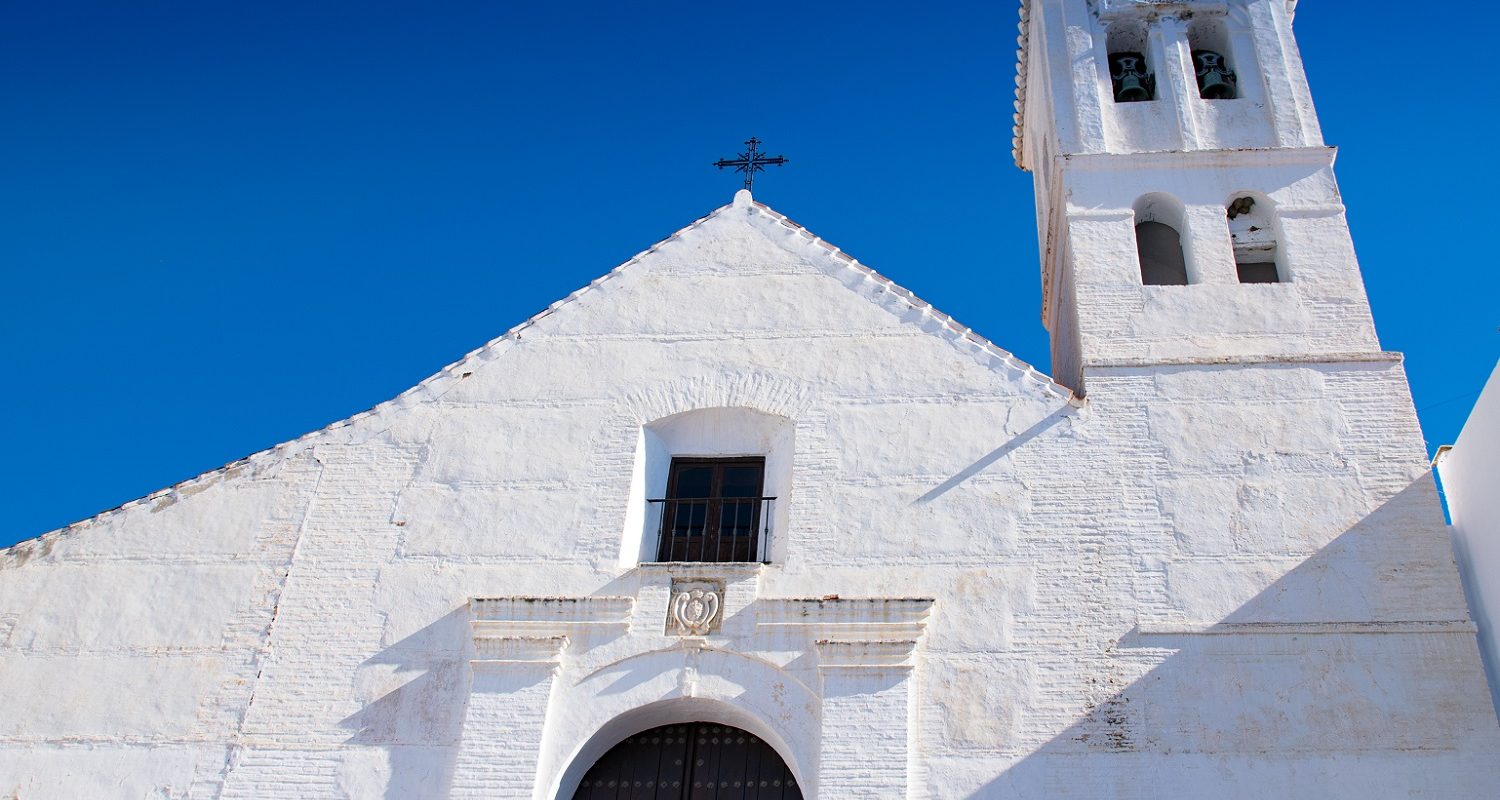 Tucked into the hills above Nerja, Frigiliana is the quintessential Andalucian white-washed mountain village. With stunning views, cascading flower pots and cobbled streets, it's very pretty, in an ever so slightly prettified way.
As we all know, if somewhere looks too good to be true it often is, and these type of villages can become overrun with tourists, leading to poor overpriced food and crowds at peak times.
Frigiliana, though, strikes a good balance in this respect. There are areas and restaurants that will leave you feeling a little disheartened, and your wallet a little lighter, but delve a little deeper and you can still find the traditional Andalucian village you've always wanted to visit.
Here are our top recommendations on what to do in a day in Frigiliana.
Take in the Views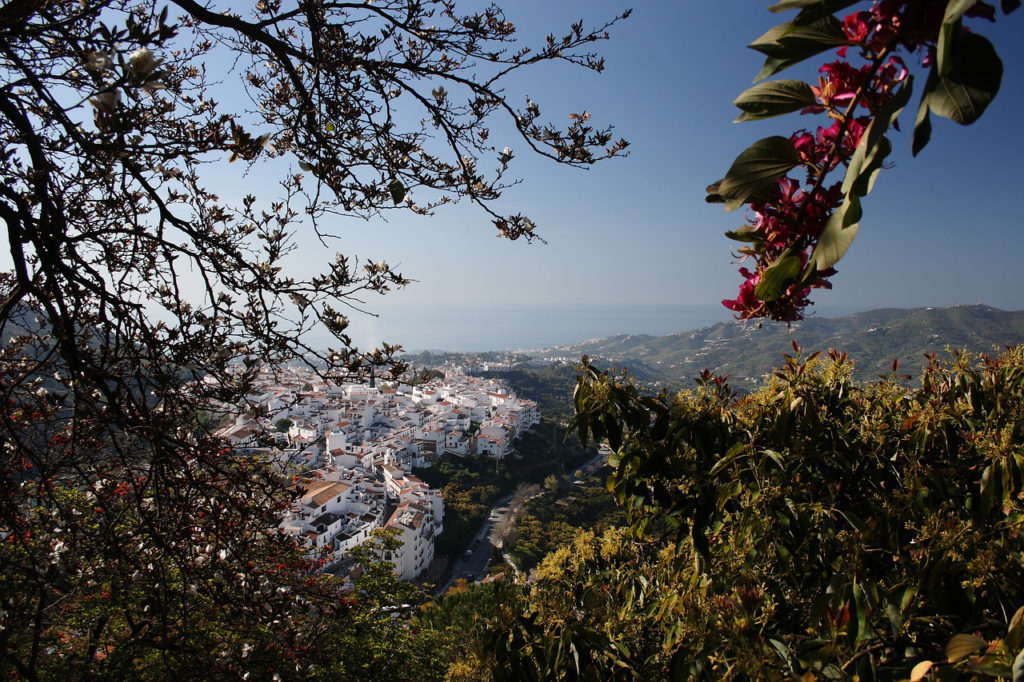 As your ears pop during the slow, winding road up from the coast, you'll become aware that the views back down toward the sea are the main draw of Frigiliana. On your approach to the village itself there's a whitewashed building with bright doors waiting for you to get the camera out. First impression: first-class.

Leaving the underground car park, you'll find yourself at the foot of Frigiliana's historic old village. Before you venture up into the village itself, turn around and take a while to really take in the breathtaking views. Throughout the day you'll find yourself catching glimpses of these vistas between the pretty old townhouses, and it never gets boring.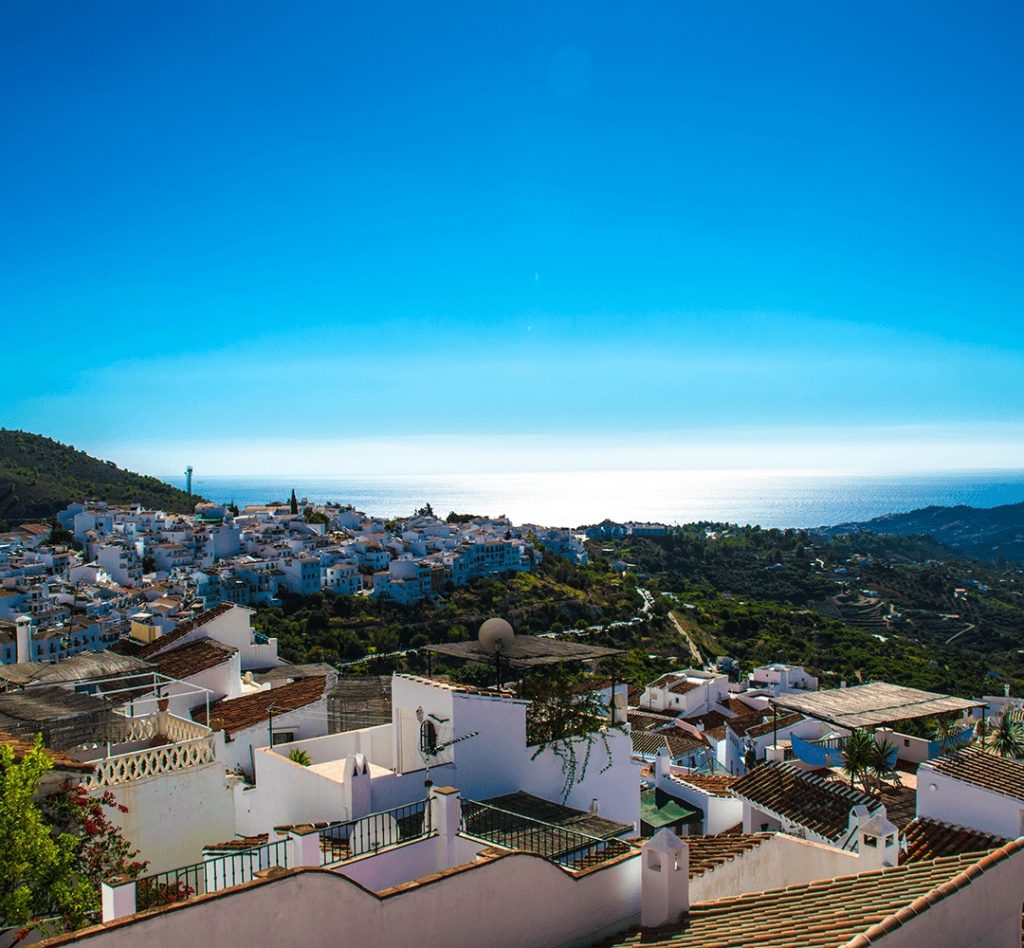 There are signs to multiple miradors (viewpoints) throughout the town. The more steps you can manage, the more likely you'll be rewarded with an even better view.
Many restaurants you'll see as you walk will advertise their roof terraces, which almost certainly afford a fantastic view, too. Stop for a refreshing drink, but be wary when ordering food – we've found that most of these bars cater almost exclusively for tourists and so the food is less likely to be the authentic Andalucian fare you're probably after.

The Casa de Apero
Built around a central patio, with brick pillars and decorative flushes it's a good example of an early 17th-century town dwelling. Originally a granary and stables and part of the Condes de Frigiliana Palace, it now serves as the tourism office, historical archives, exhibition hall, archaeological museum and library.
Wander the Old Narrow Streets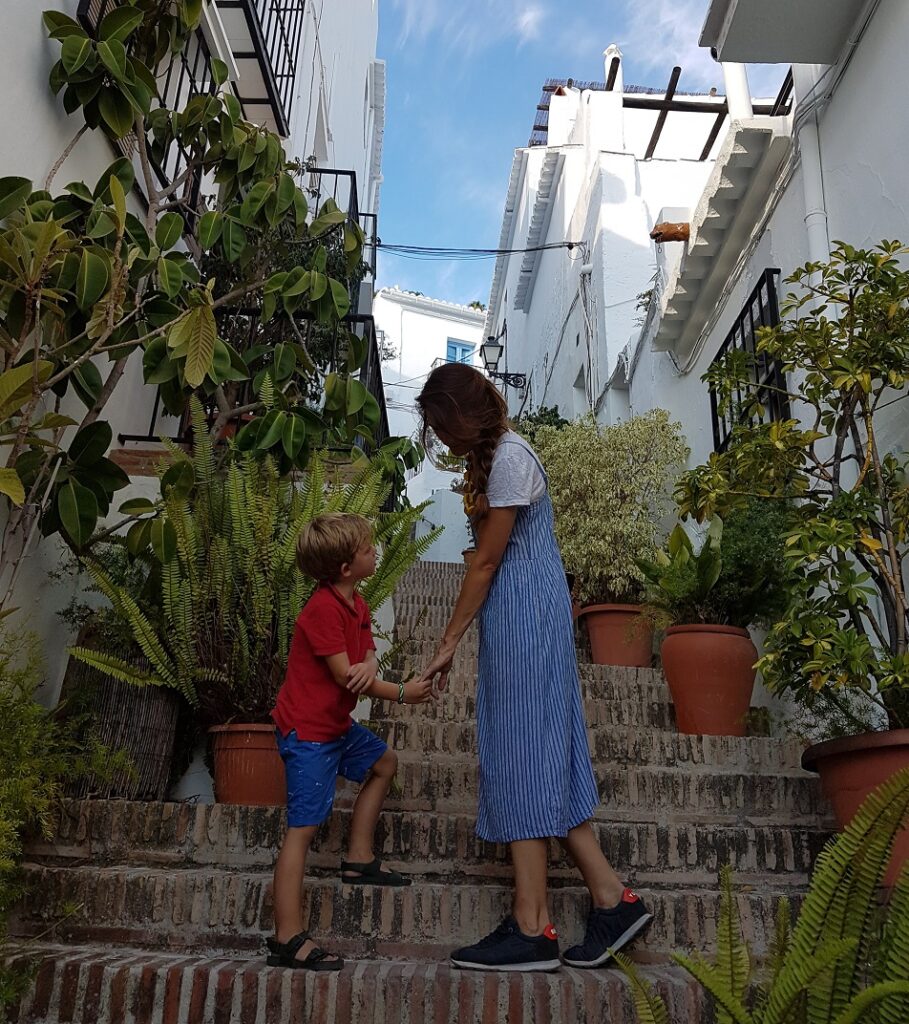 One of the first things you'll notice on your arrival is a prominent fountain, which acts as a roundabout, at the entrance to the town. On closer inspection you'll see that the fountain has three sides, each with a symbol representing the Muslim, Christian and Jewish religions. Frigiliana hosts the annual Festival of 3 Culturas which celebrates the unique heritage of Andalucia (see below under Festivals for more information).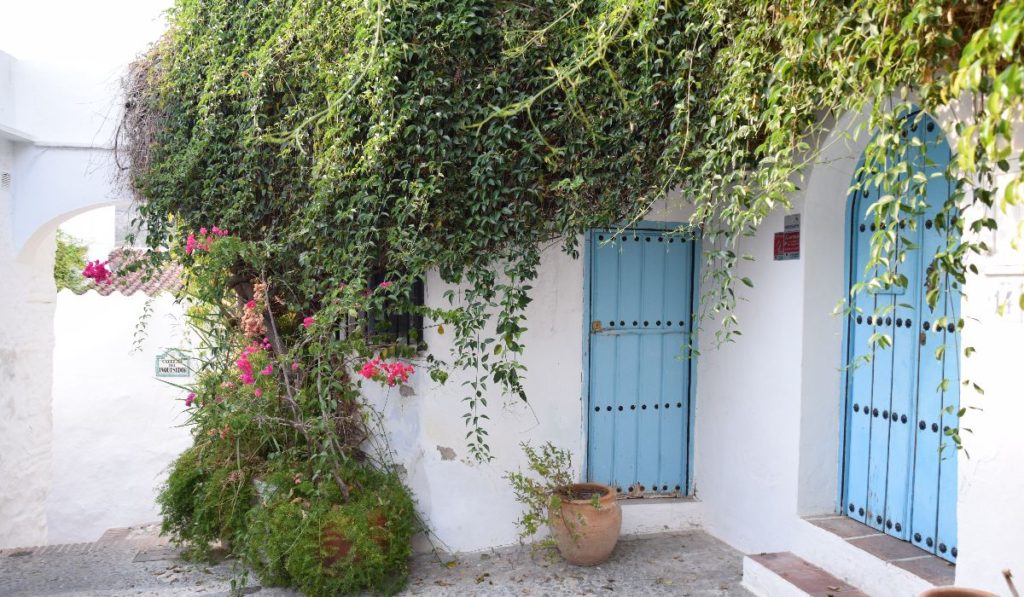 Once you've entered the village, the very best thing to do in Frigiliana is just wander. The sometimes steep, narrow, cobbled streets wind up and down in a beautiful maze, and with each turn a new view or flower-filled square is discovered. Doors and windows, large and small painted in vibrant Mediterranean colours pop from the whitewashed walls.
The barrio alto, or 'barribarto' as the locals call it, is the oldest quarter of the village. To get in amongst the charming plant-filled streets that make Frigiliana one of the most popular villages in the Axarquia, take Calle El Zacatín and make the climb up.

Eat Some Traditional Andalucian Tapas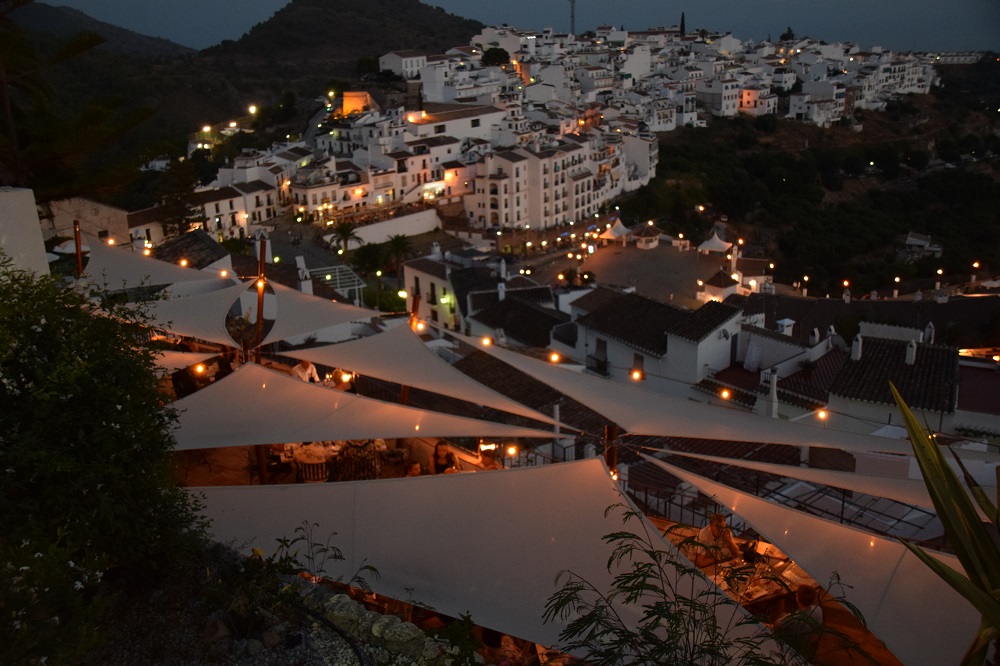 As we've mentioned, finding good value, good quality traditional fare in Frigiliana (as with any other place lucky enough to have a high tourism footfall) can be a challenge, but as many locals live here there are some great restaurants – it's just about finding them.
A few recommendations from us are…
El Jardin: The spectacular views over Frigiliana (see picture above), the mountains and out to sea are the real selling point of El Jardin. However, this restaurant doesn't rely on its location alone, the international take on Spanish food is very good indeed and service is friendly and prompt.
Details: Calle Santo Cristo, +34 952 53 31 85; Opening times: Tues – Sat 12.00 – 22.30; Kitchen 12.00-15.30 and 19.00-22.30, Sunday 12.00-16.00.
La Bodeguilla: This casual dining restaurant is centrally located, has a terrace, is family run and gets consistently good reviews for authenticity and price. It offers the most typical of Andaluz dishes and is a great option if you're new to southern Spain.
Details: Calle Chorruelo 7, +34 952 53 41 16; Opening times: Mon-Sat all day.
Visit the Church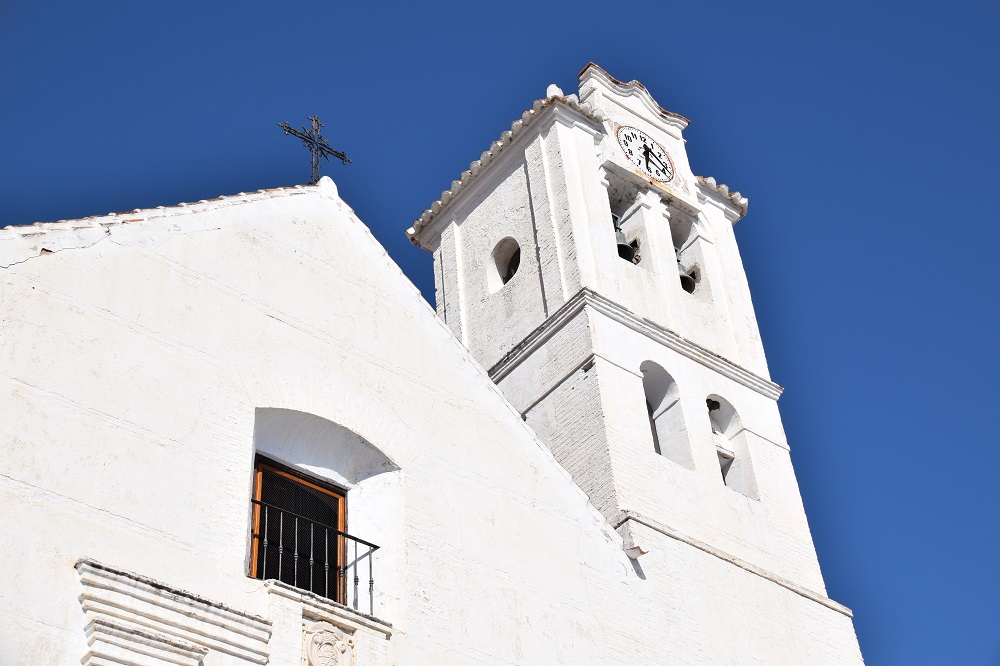 When in the Axarquia, the churches of each town and village are often worth a visit and the Church of San Antonio de Padua, on Plaza de Iglesia, is no exception. Built in the 17th century, it has a three-tier tower, simple brick facade and beautiful carved wooden door. A quirky feature in the church are the heads of saints (contrary to popular opinion, they're not embalmed) under the statue of the crucifixion.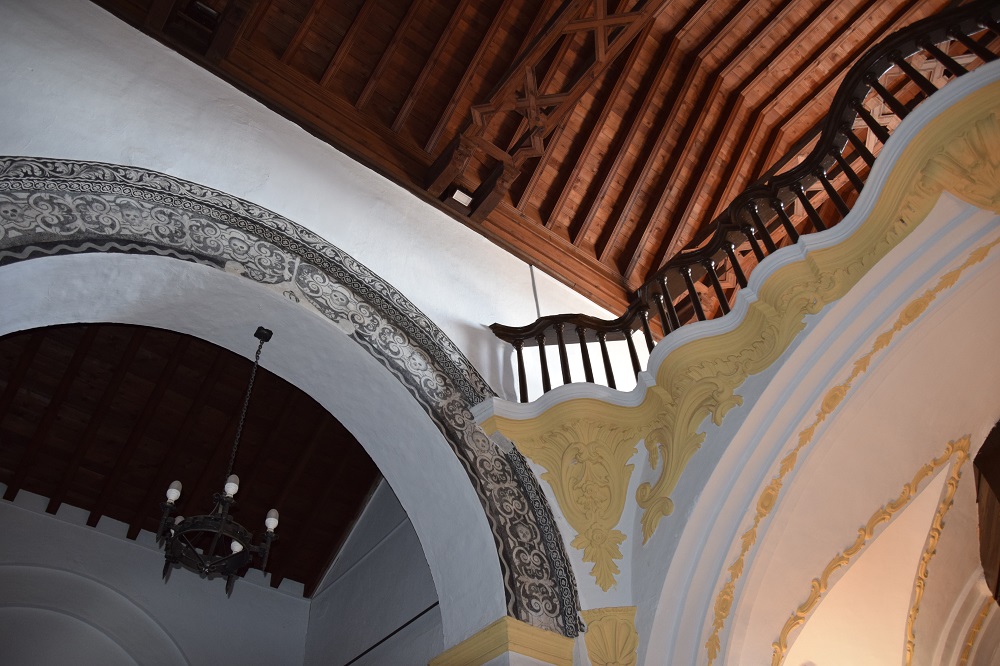 Shop, Shop, Shop!
Last on our list, Frigiliana's many beautiful buildings are home to some great shopping opportunities. Mixed among some tourist shops, which provide any souvenir you could possibly need to take home with you, are many unique craft shops. From jewellery designers to artisan chocolate makers to a fantastic traditional barbershop and wonderful art gallery, Frigiliana can keep you reaching for your wallet all day long.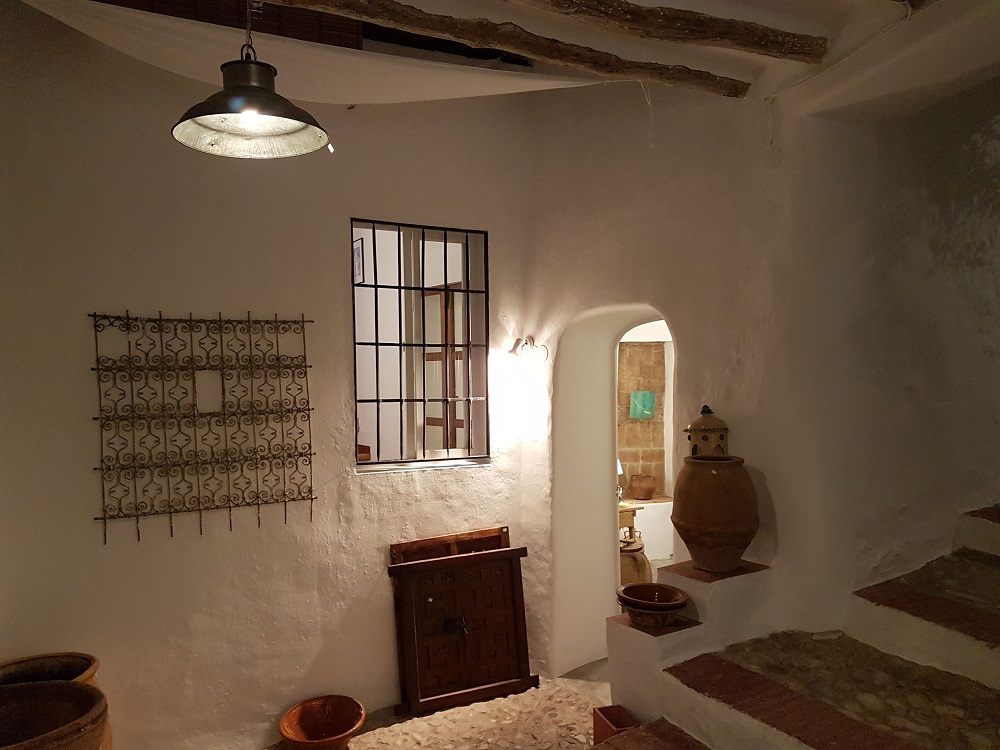 Almagra: This art gallery and antique objet shop is housed within the most beautiful building. Explore the house itself as well as the pottery, fine art and sculpture on display. Calle Real 66.
Festivals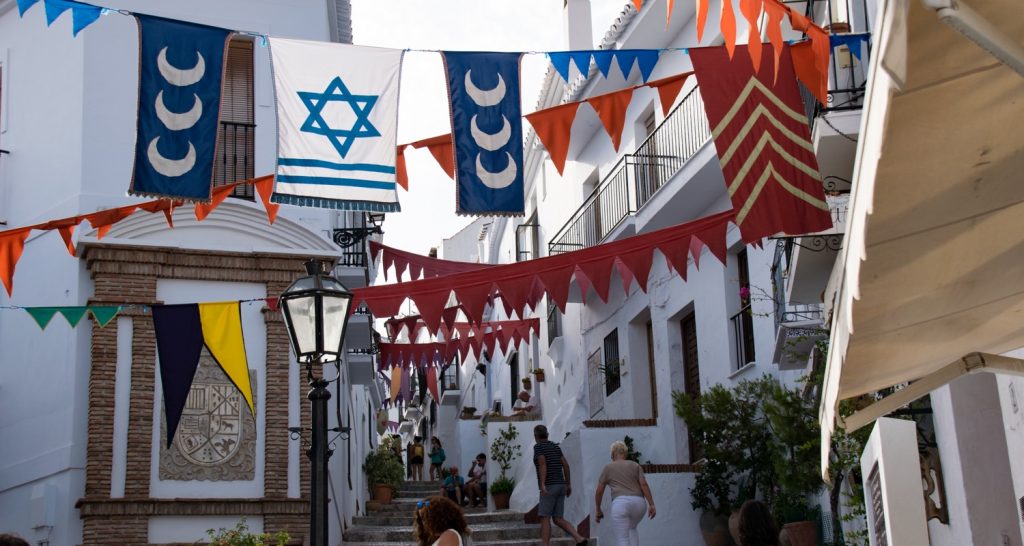 Feria de San Antonio: Frigiliana's five-day annual feria is held in honour of their patron saint San Antonio de Padua. It's around 13th June and the whole town let their hair down with eating, drinking and dancing. There's a daytime feria and a nighttime feria – during daytime feria you'll see flamenco dresses, horses, dance troupes and contest (from beauty to decoration). Nighttime feria is more about live music and letting your hair down.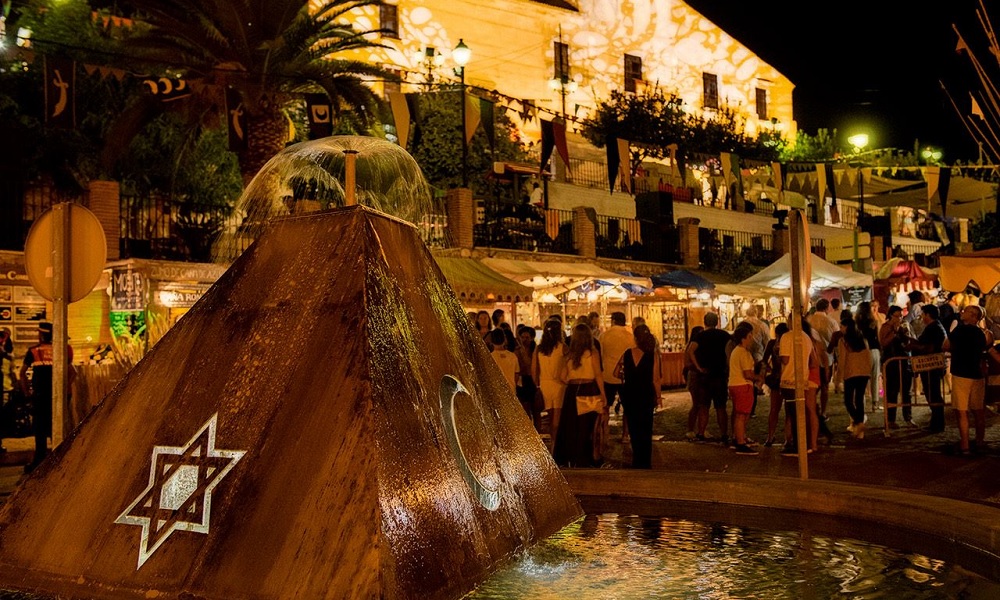 Festival de 3 Culturas: The festival is held usually the last weekend of August and has food and artisan stalls, live music and dance, children's entertainers and craft workshops. It's one of the best festivals in the Axarquia, and the village never looks better than when it's in full festival swing. It's a great event for all ages.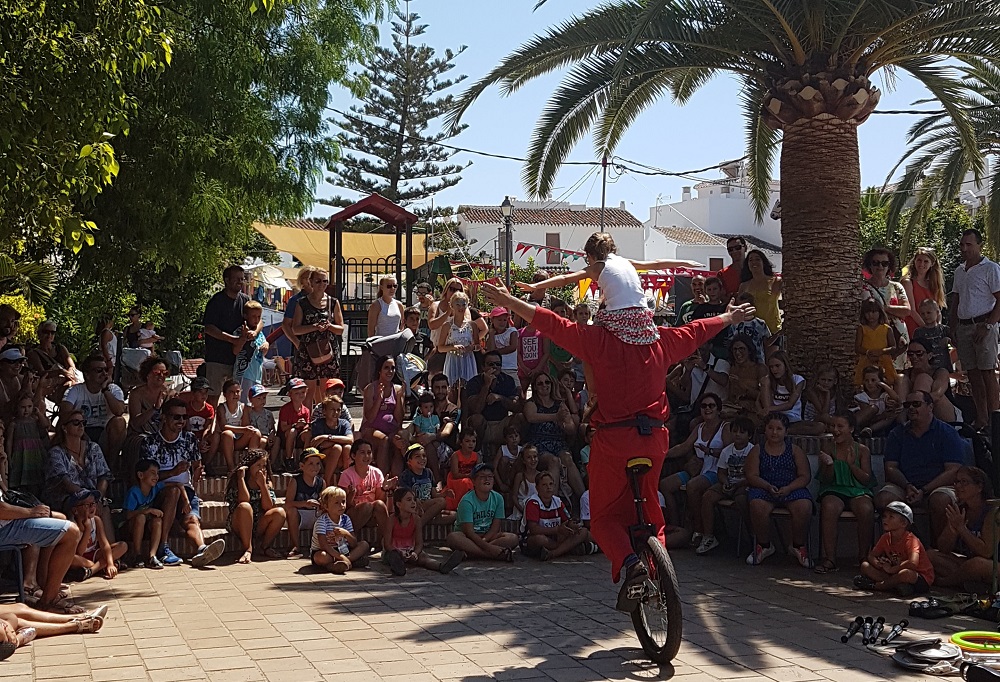 Getting To and From Frigiliana from Velez-Malaga
By Car
If you choose to come by car, head south of Velez and get onto the A7 towards Nerja and Motril. Drive for 20kms and take exit 292 for the N340a to Nerja and Frigiliana. At the roundabout take the 4th exit, signposted Frigiliana, or MA-5105. Follow this winding road up for 4km until you get to Frigiliana.
Take the 3rd exit at the roundabout on the edge of town, staying on the MA-5105. There's free parking along this road on the approach to the old town, look out for spots on your left. If you prefer to park your car closer to the town, the underground carpark right in the centre of town is very reasonably priced (around €1.75 for 2 hours).
By Public Transport
Velez – Nerja
There's no direct bus from Velez to Frigiliana, instead you'll need to go to Nerja and then make your way to the town. Direct buses to Nerja from Velez depart at 9:00, 10:00, 10:40, 11:30 and 17:15. If you wanted to travel around those times you'd need to go to Torre del Mar and connect from there. The direct bus should cost around €2.20 and take an hour.
Nerja – Frigiliana: When you get to Nerja there are regular buses up to Frigiliana at 07:20, 09:45, 11:00, 12:00, 13:30, 15:00, 16:00, 19:00 and 20:30.
Getting Back
Frigiliana – Nerja: The regular buses heading back down into Nerja run from 07:00, 08:00, 10:30, 11:30, 12:45, 13:45, 15:30, 16:30, 19:30, 21:00.
Nerja – Velez: The latest direct bus back to Velez is at 16:15 which is not great for those wanting to stay later. Another alternative is to take a later bus to Torre del Mar and then change for a bus to Velez.
If you go for this option then the evening buses from Nerja to Torre del Mar run at 18:10, 18:40, 19:40, 20:15, 21:10 and 21:45. They take between 25-40mins depending on which ones you get, more information on Alsa.es.
So there you have it, our guide to the perfect day in Frigiliana. What are you waiting for?