White Villages Cycling Route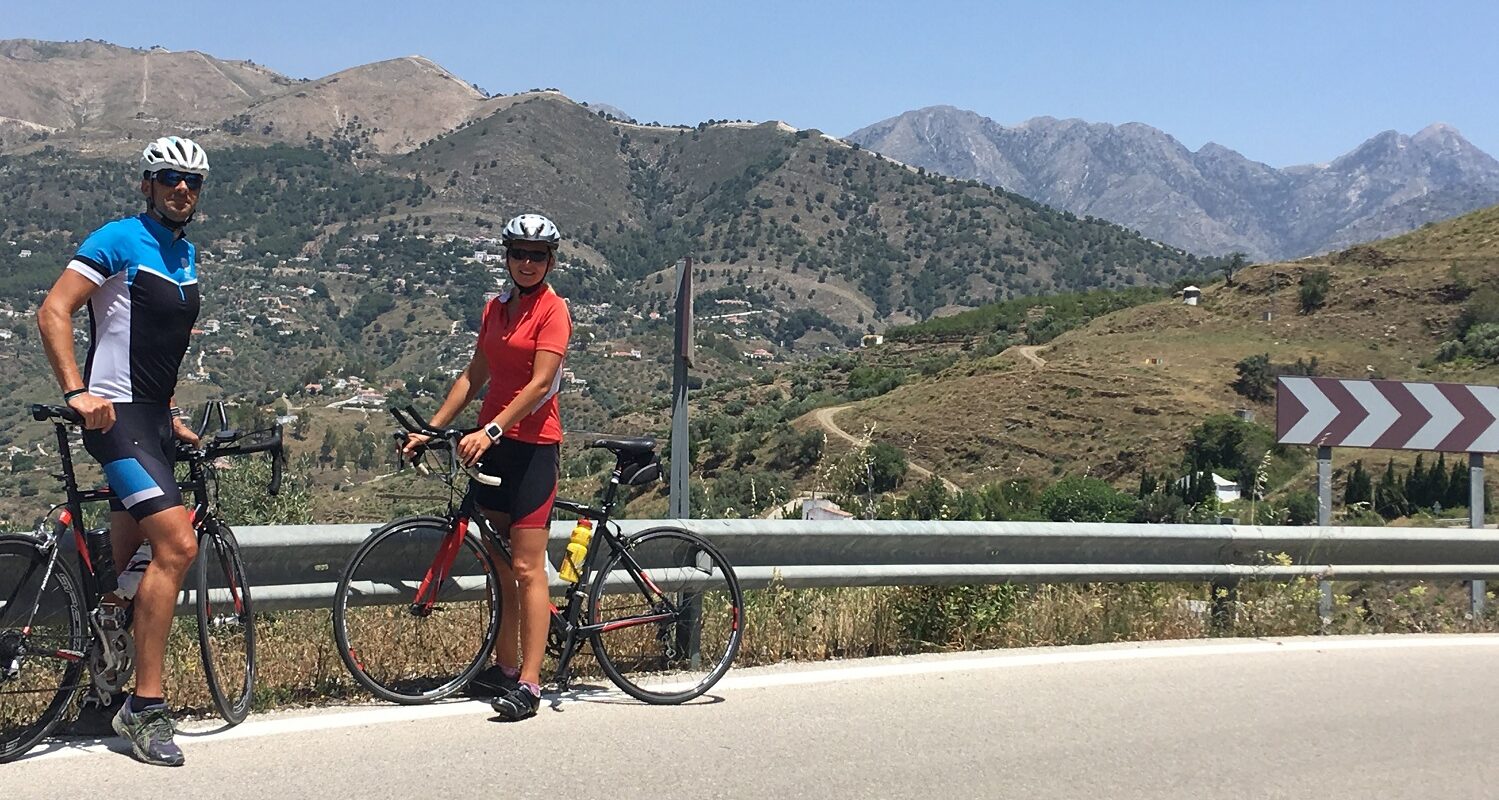 Velez-Malaga – Canillas de Aceituno – Salares – Competa – Torrox – Velez-Malaga
Weaving its way up from Velez-Malaga, the Ruta de Mudejar passes through five quaint white villages: Canillas de Aceituno; Sedella; Salares; Archez; and Arenas, in the foothills of the Almijaras.
Dating back to Moorish times, each village has its own unique charm, with architecture and features that feel like stepping back in time.
Passing through vineyards with bodegas and shops selling local produce, panoramic views abound. Starting out with the Montes de Malaga and Antequera, you're soon rewarded with jaw-dropping vistas of the Axarquia's most imposing mountains: Maroma, El Cielo, El Almendron, El Lucero, and more.
After cycling from village to village, you'll take a long, sweeping descent towards the sparkling Mediterranean. And from here, it's a fast and flat stretch back to Velez-Malaga.
Quench your thirst or refuel at eateries in Canillas de Aceituno and Competa. Or watch the sunset over a drink and tapas at a beachside chiringuito (bar) overlooking the Mediterranean.
NB: This route takes in three of the five villages, with the option to include Archez. You can cut the route shorter in order to do the full set, taking a right towards Arenas after Archez and then descending into Velez-Malaga. This will shave 13km off your total mileage, so it's around the 60km mark.
Ride Summary
Distance – 72.90km
Elevation – 1,659m
Route: https://www.strava.com/routes/11213318
Relive: Check out our route
Velez Malaga to Canillas de Aceituno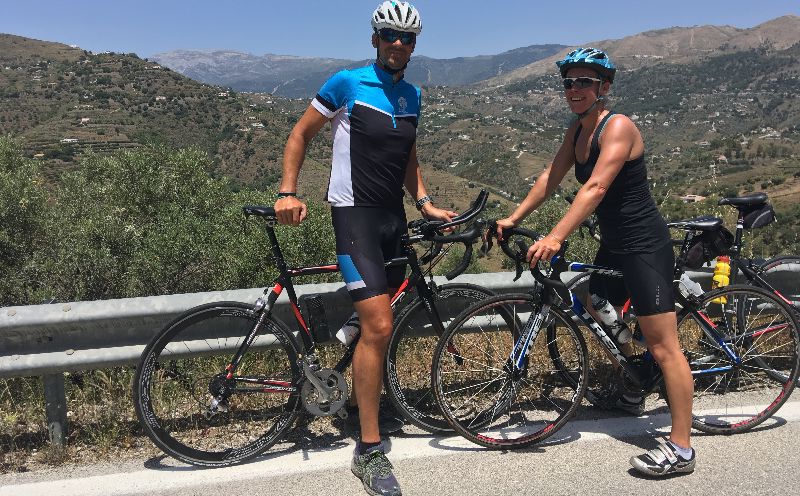 Starting off in Velez-Malaga, take the A7205 – a reasonably busy road running through the town and away from the coast (depending on which way you're going). It's not so pretty in the town, but the scenery rapidly starts to soften and green as you cycle north.
The region's tropical fruit bounty is evident as you go through Trapiche, which is scattered with places where you can buy mangos, papaya and avocados as well as the lesser known plum-like loquat (nispero) and succulent custard apples (cherimoya).
Soon enough, you are surrounded by the source: fruit groves with improbable trees laden with mangos.
The road climbs gently – warming the legs and preparing you for the climb to come.
Approximately 8km after leaving the town, you'll reach a heavily signposted junction for the MA125 (Ruta de Mudejar). Take this right turn, and gird your loins for a steady 7km ascent at an average of 7.2%.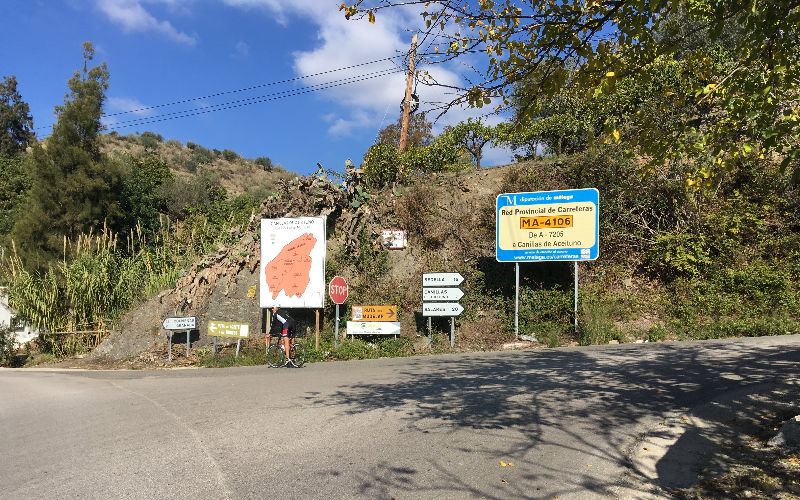 You'll start to climb straight away. The road loops around the hill, sustaining a decent gradient for enough time to get the heart pumping. In the meantime, don't forget to look round for incredible views across the Malaga mountains and to Antequera with the Indian's head on the horizon: his (or her) chin held proudly aloft.
Soon you'll start to wind your way up the valley, which is surrounded by rolling hills. And once you hit the 4-5km mark, the road levels out into a short plateau with breathtaking views of Canillas de Aceituno nestling beneath the mighty Maroma.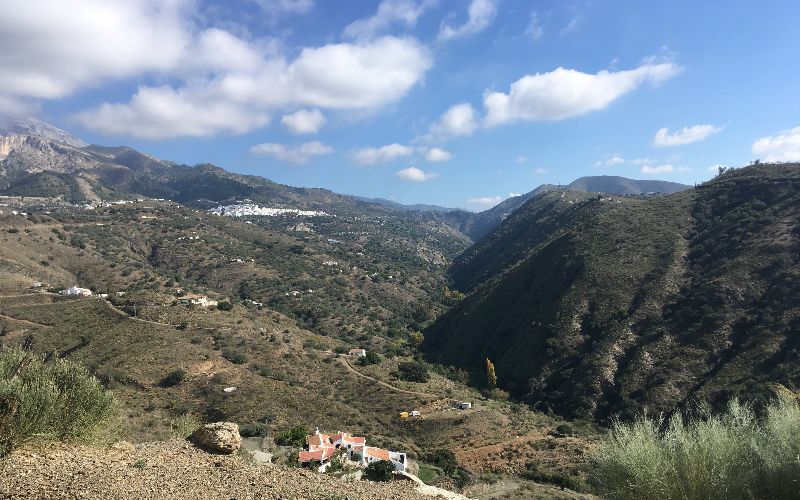 After catching your breath, you'll continue to ascend, cycling along a long ridge into the village.
On the day we cycled this route (mid-November), the mountain was shrouded in cloud but the skies were clear. In stark contrast to the arid plants in the valley below, the alpine scenery was green and moist – no doubt due to the mountains being those extra degrees cooler.
On that note: make sure you pack something warm (a windproof mac) when cycling during the winter months. When the sun shines, it's warm: hot even. But in the shade it cools down considerably. And if you've worked up a sweat on the ascent, you may develop a chill as you make your way along the higher passes.
Canillas de Aceituno to Competa
A Mecca for hiking: You'll see walkers in Canillas de Aceituno during the warmer months (shoulder seasons) – bravely attempting Maroma (or one of its foothills) via the network of paths that criss-cross its flanks.
You'll find plenty of places for meals, snacks and drinks where you can refuel and enjoy the view. We found an artisan bakery tucked down a side street where a señora lovingly prepared us a warm sandwich (bocadillo 'caliente'). So we sampled a few of her local pastries (sold by the kg). Purely to show our appreciation of course. If you'd like to eat more formally there are three great restaurants: Bodegon de Juan Maria, Restaurante La Sociedad and La Maroma Asador.
We filled our water bottles at the local fountain (in the handily named Calle del Fuente) and took a short pitstop in the busy plaza before getting back on the road.
Don't be fooled: the climbing isn't over yet. Despite reaching a 618m elevation, there's more to come.
Coming out of Canillas de Aceituno, turn left onto the MA126 – a beautiful winding road, which gently weaves through the mountains, passing through the smaller white villages of Sedella and Salares.
Along the way, you'll see plenty more walking trails going up Maroma. And the mountain itself revels in showing off its breathtaking beauty at a range of different angles.
Eventually, the road becomes the MA127 before turning into the MA4108. Not that it's easy to tell. But just in case you have a detailed map!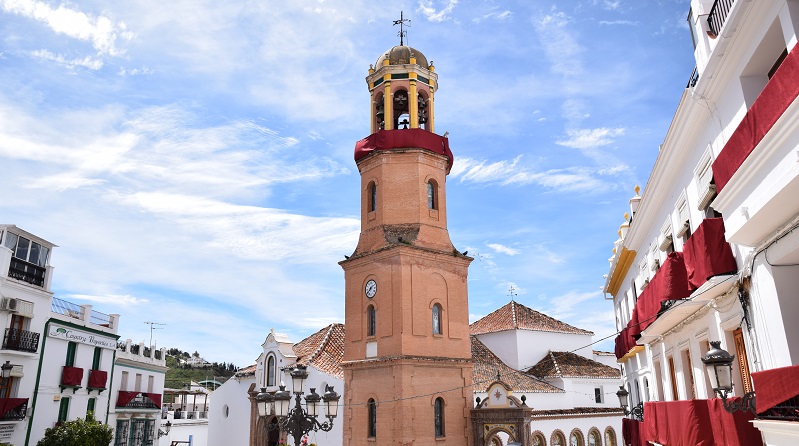 Next stop: Canillas de Albaida, and before reaching here, you have a few options:
Take the sign-posted road towards Canillas de Albaida before swooshing towards Competa.
Descend sharply into the valley towards Archez before a steep (and frankly irritating) ascent back towards Competa (or Canillas de Albaida).
We opted for the former and were rewarded with beautiful panoramic views of the village before a short, sharp descent with almost 360 hairpins into a shallow gorge with a river running through it.
Avoiding descents is not an option in this area!
Once you reach the foot of the valley, ready yourself for 1km of brutal climbing into Canillas de Albaida. Then, once you've reached the village (and taken a breather), you can pick up the A7207 towards Competa. From here, it's another rolling road with stunning views and plenty of time to catch your breath between gentle climbs.
If you choose option one (above), Archez has various watering holes and a bustling restaurant next to the Rio de Algorobbo where you can fuel up and build motivation for the short sharp climb to Competa.
Competa to Velez Malaga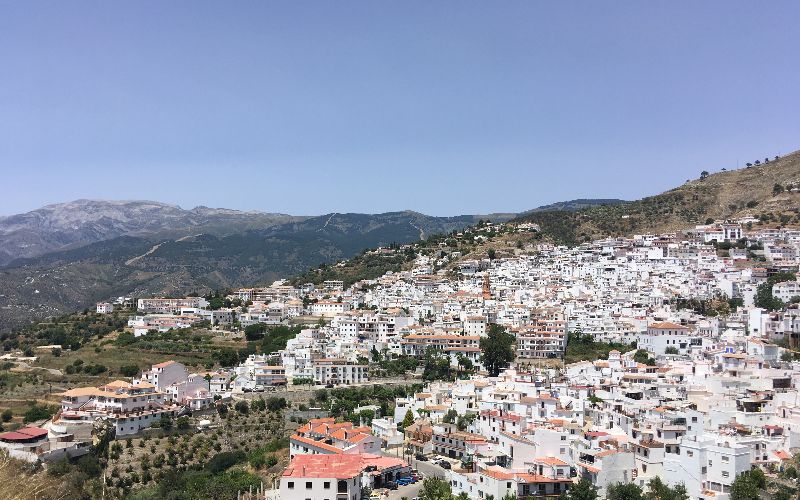 Competa is one of the better-known white villages with winding streets and bustling plazas lined with cafes and restaurants. Another favourite for hikers, it's also famous for its sweet wine: not really my bag, but worth sampling if you fancy a sugar hit.
As you come out of Competa – take a left onto the A7207 and cycle up to the viewing point looking over the village. Stopping here, there's a decorative 'mirador' where you can take your last appreciative look at Maroma's grandeur, before descending towards Torrox.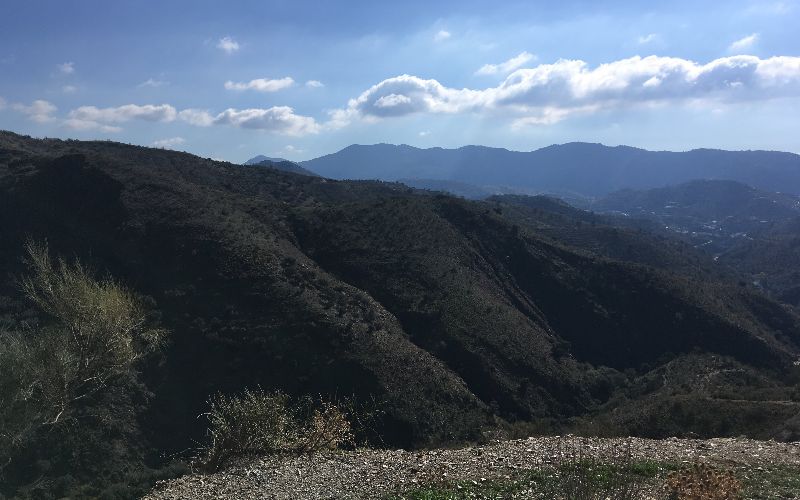 Now the easy part: a long descent into a dramatic valley with El Fuerte, Lucero and Navachica dominating the skyline. Soon, you'll start to see the Mediterranean shimmering on the horizon and, after one short mellow climb; you can enjoy 10km of sweeping downhill towards Torrox Costa.
Not seen enough white vilalges? Stop off at Torrox Pueblo when you reach the roundabout to the village (go left on the MA5105 instead of right on the A7207).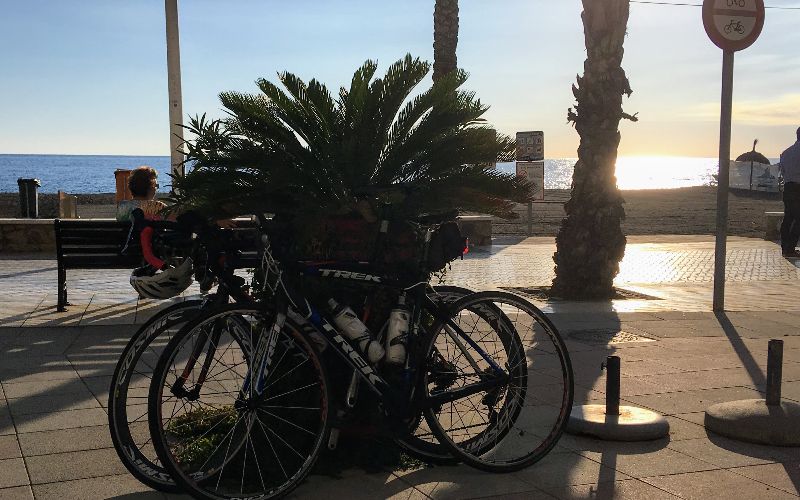 Alternatively, head towards the sea, bypassing a few kilometres of uninspiring roads and countryside.
On reaching the seafront, you've got 9km of flat, fast riding on the N340, going through Torrox Costa, El Morche and Mezquitilla before turning inland towards Velez-Malaga.
The road is relatively uninspiring, but take one of the left turns towards the seafront and you'll see promenades, lined with chiringuitos and bars – perfect for a celebratory sundowner.
Where to stay? If you decide to have a cycling break and do all four routes, accommodation choices in the Axarquia region are varied, check out our pick of hotels, holiday rentals and B&Bs. We also have some more information on the white villages of the Axarquia here.
About the Author: I'm Sal – cycling nerd and lover of road bikes, mountain bikes, city bikes, the works. I got into cycling to avoid commuting on the overcrowded Tube. It was (and still is) the best way to get around London. Our rekindled love affair inspired a move to the green 'Cycle City' of Bristol to take up road and mountain biking. And now, I take my shiny steeds far and wide, so I can explore as many mountains, coastlines and cities as I possibly can.