Hiking La Maroma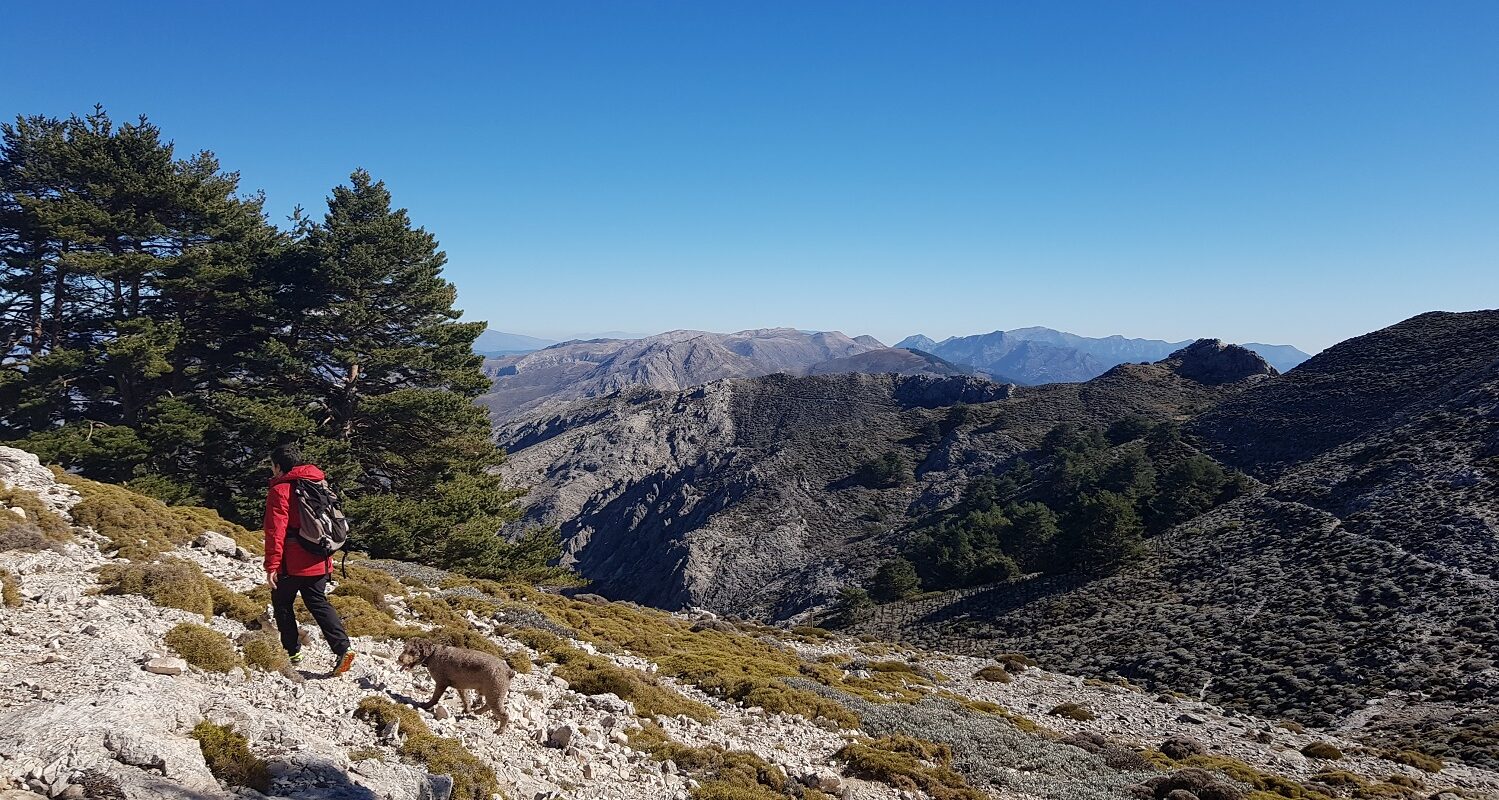 When visiting the Axarquia it's hard to ignore the beautiful mountain sitting over the region – La Maroma. Because of its ever presence, visitors and residents (whether they're avid hikers or not) feel compelled to take on the 2069m climb.
Part of the Sierra de Tejeda mountain range La Maroma is one of the most accessible mountain hikes in Andalucia. 148th highest in the whole of Spain and 120th in mainland Spain, La Maroma is a great introduction to mountain hiking.
The views are reward enough but the experience of conquering her with whatever challenge you set yourself is something you'll remember forever.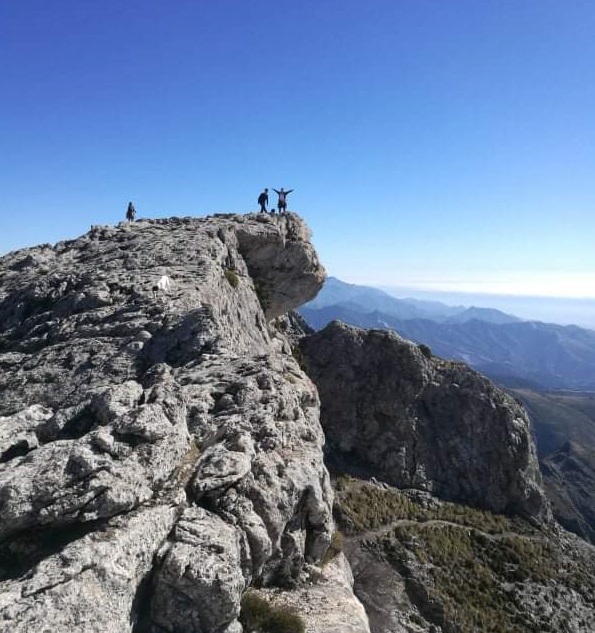 Three Main Hiking Routes to La Maroma's Summit
There are several hiking routes to the top of the highest mountain in Malaga province. Here are three:
El Robledal – approaches La Maroma from the north side and is the most attractive route.
Canillas de Aceituno (from the town hall) – this approaches La Maroma from the south and east face. It's the longest of the routes.
Sedella – there are two routes from Sedella, one where you drive most of the way, then have a short scramble to the top. The other is the hardest route of all. We haven't explored this yet.
The El Robledal Hike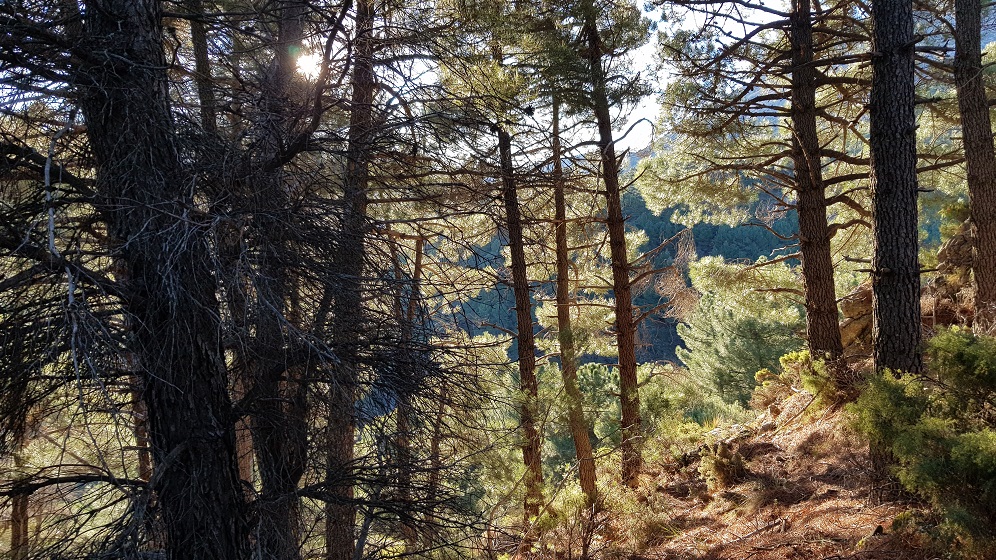 We're going to describe El Robledal – Alhama de Granada to La Maroma. The most attractive and easiest route, you come at La Maroma from Granada province through pine and holm oak forests.
How to Get to the Starting Point:
From Velez-Malaga take the A356 towards Alhama de Granada. Take a right onto the A7204 towards La Vinuela and follow this road until Puente de Manuel where the road turns into the A-402. Snake up to Ventas de Zafarraya, carry on through the village on the Carretera A-402km towards Alhama de Granada until you see a restaurant/hotel (Hotel Restaurante Los Caños de la Alcaiceria) on a bend.
Full Address of the Hotel:
Hotel Restaurante Los Caños de la Alcaiceria
Carretera A-402Km.
35 Los Caños de la Alcaiceria,
Alhama de Granada
Granada, 18120
Beside this hotel there's a forestry road to the right. Take this road and follow it for 5km. You'll finally come upon a picnic area and information board about the walk.
Coordinates: – 36°55'43.7″N 3°59'47.4″W
Distance: 17km round trip
Time it takes: Depends how fit you are – some people run it! 4-8 hours round route. It took us 7 hours.
Set off time: 8.30 in January.
Return: 15.30 Including 3/4 hour of lunch and 4 short breaks en route.
Setting off in a picturesque pine holm oak forest, where sap is collected for resins and paints, you'd be forgiven for thinking you're in Scotland. This is the Camino de los Barracones. Walk about 1/2km and there's a fork in the road with a wooded sign stating La Maroma left. Follow this.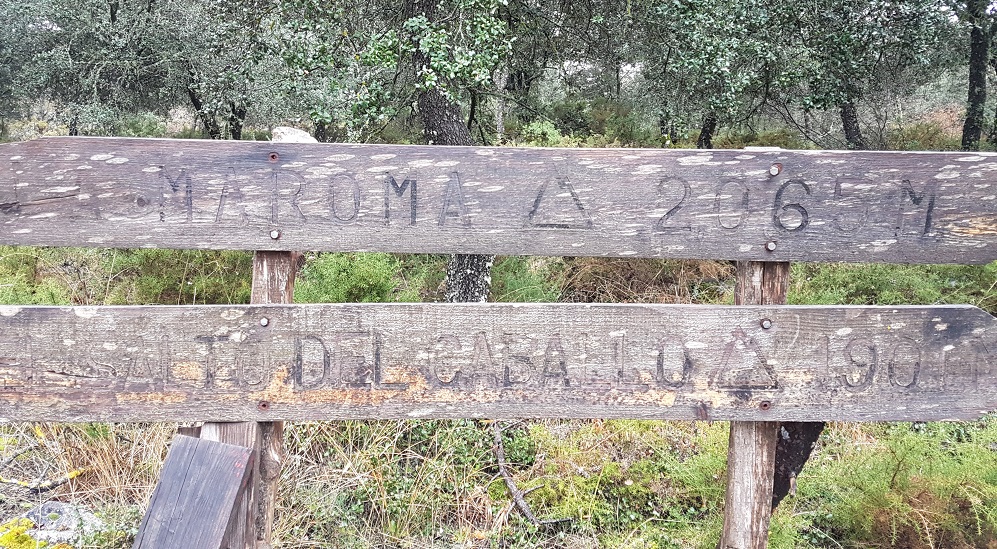 The path changes into rock and you start to get a glimpse of views. Sometimes it's not completely clear which way to go, but more often than not the path is pretty well beaten.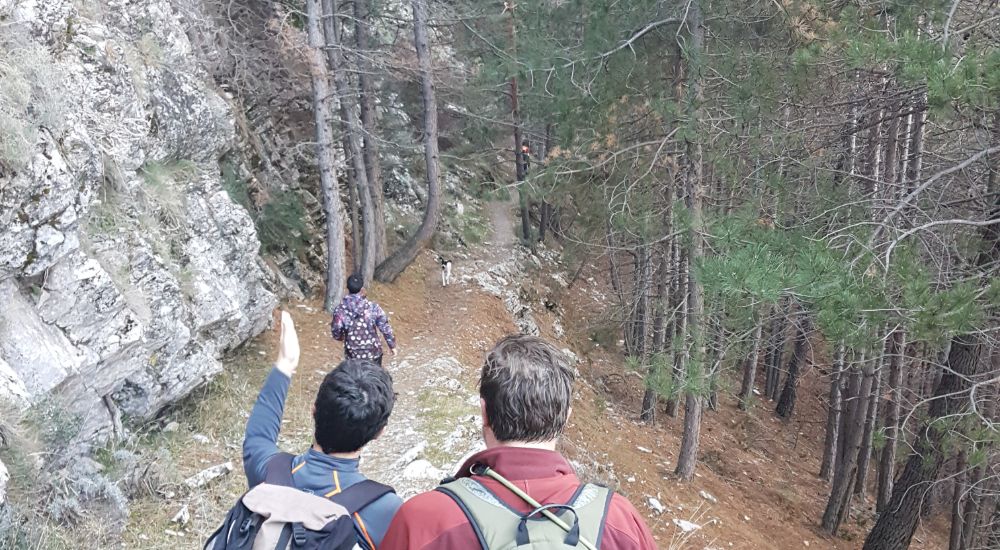 The path starts to narrow. This was used to steer sheep and goats through so they could be counted higher up the mountain. As a result, it's called the Contadero (the counter).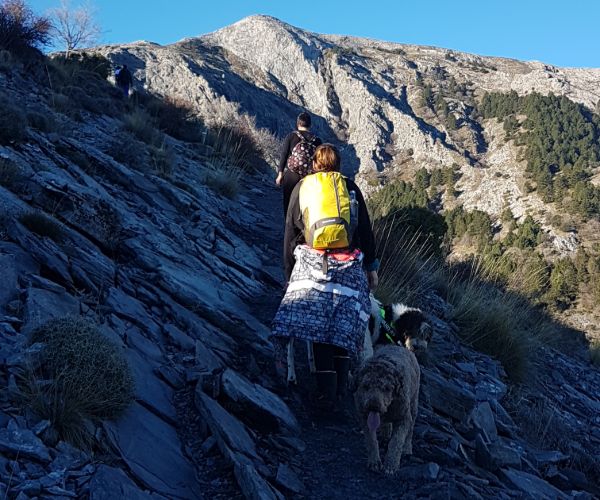 This is where the climb really begins – in the shadow of the mountain. There are pockets of ice and snow during winter months along this part, particularly.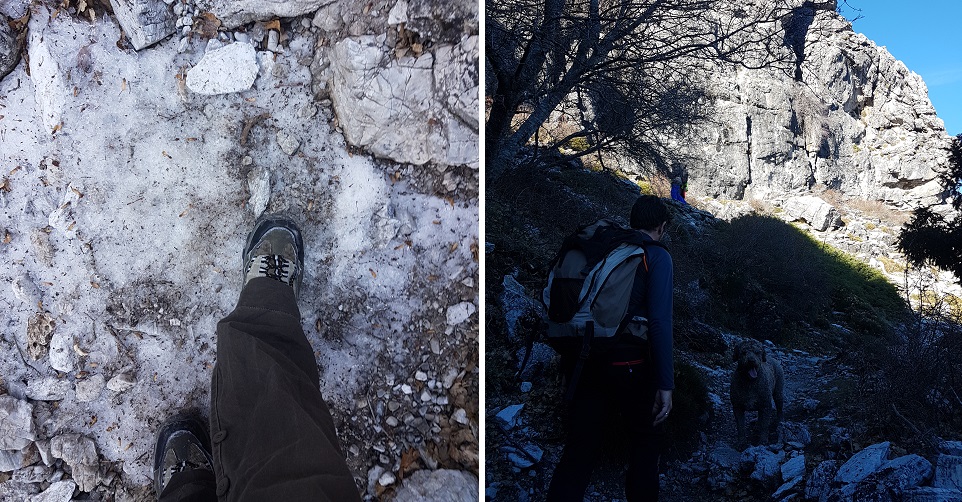 The path is marked by directional posts and cairns. It's a largely straightforward route, but there are a couple of points where a guide would be handy.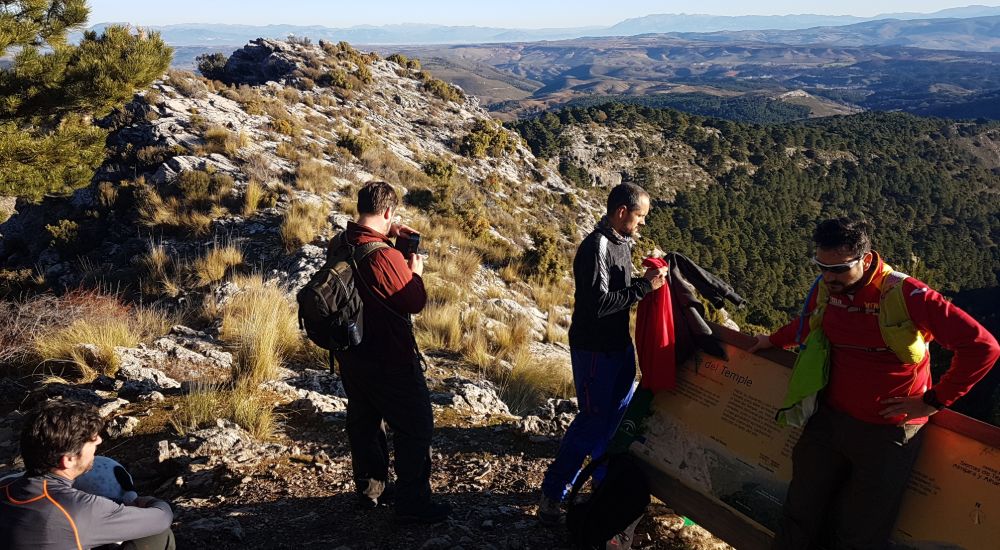 We went with a group of friends who had climbed up La Maroma more than 20 times. We'd recommend going with a guide, as you can then just relax and enjoy the views.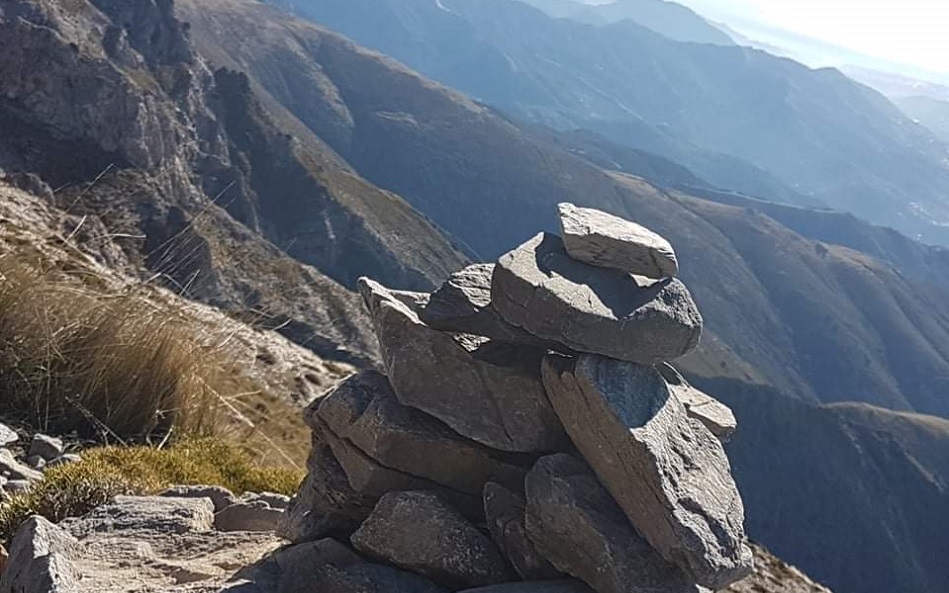 On reaching the first peak you're rewarded with panoramic views across Granada province and Malaga. You're not quite at the summit yet, but there are only a few kilometres to go.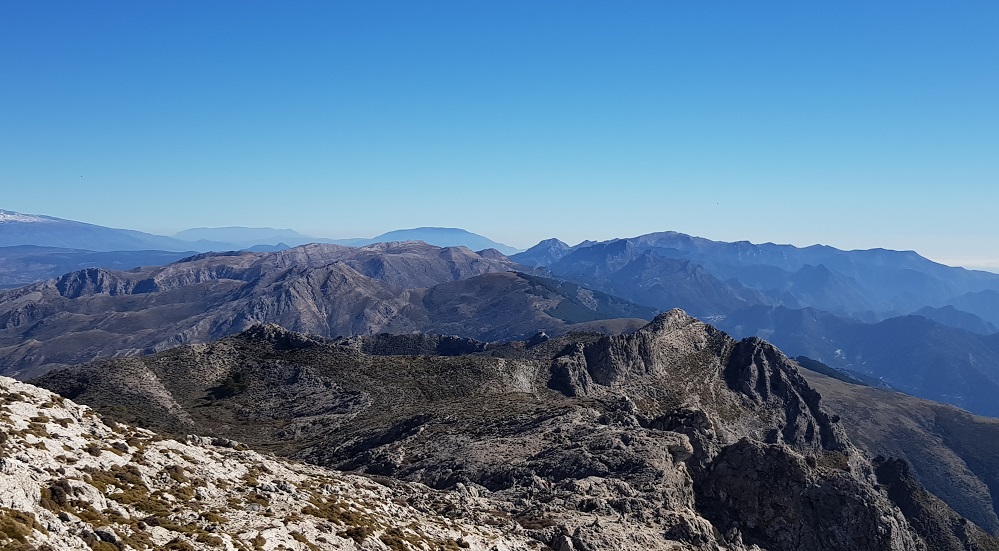 At the top there's a plateau with windbreaks made out of rocks. We didn't need them for our lunch break, as there was very little wind on our beautiful day.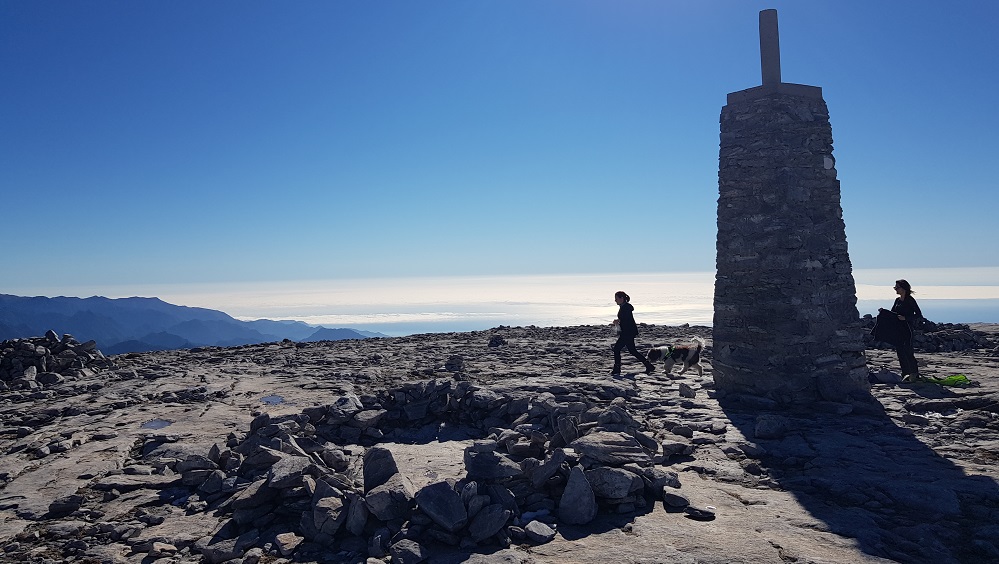 The views to the south stretch over Lake Vinuela to Malaga bay, the villages of the Axarquia, out across the Mediterranean Sea and over to Morocco.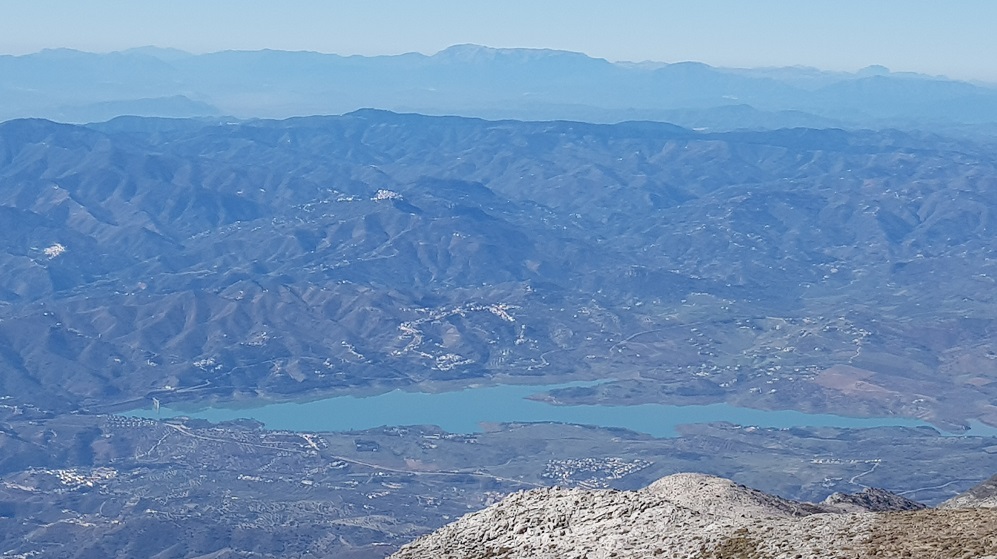 Just off the south side there's a huge hole which is fenced off. The hole is incredibly deep, and it's said that this is where the ice came from in pre-refrigeration days when it was brought down from La Maroma to the surrounding villages.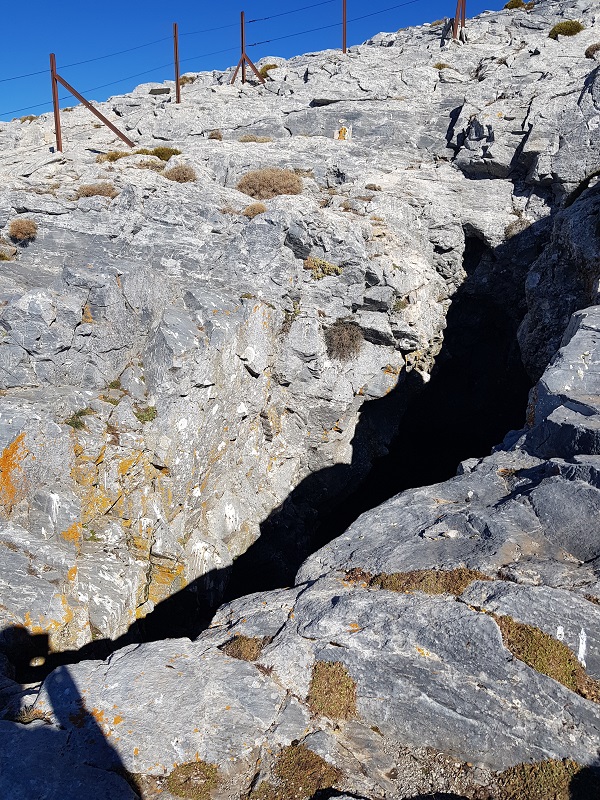 La Maroma means 'the rope', a name that came from the rope the ice-collectors used when cutting out ice from this ancient and very deep vertical cave at the mountain's summit. The mind boggles at the thought of people lowering themselves into it with little more than a rope.
Climbing La Maroma in the Summer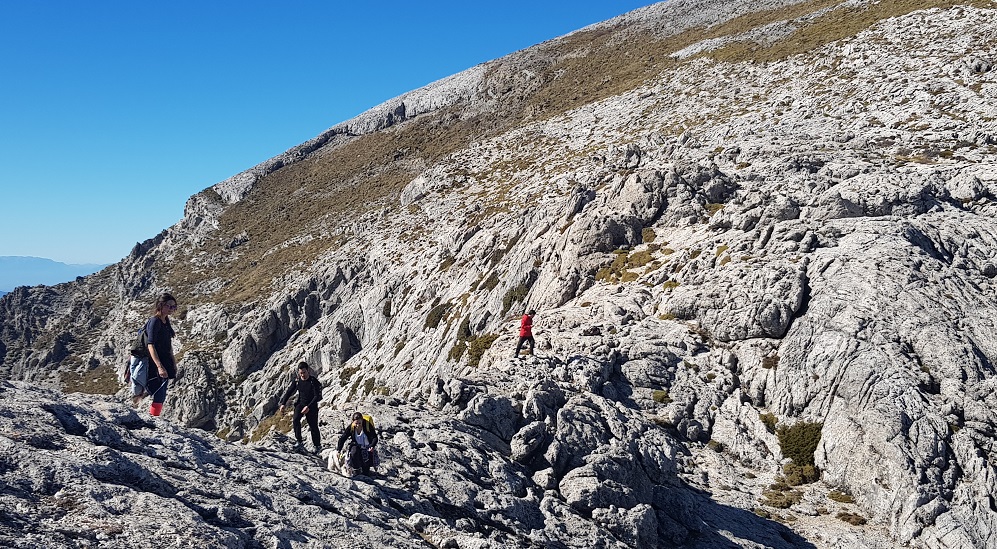 It's not advisable to climb La Maroma in the summer during the day (see Moonlit Hiking below). However, it's not unheard of – there's always a crazy northern European or two on holiday who want to conquer La Maroma in August. Setting off before dawn is necessary so by the hottest part of the day you're finished.
Moonlit Hiking
During the summer there are moonlit walks where groups set off at 10pm, arrive at the summit at around 1am, bed down to sleep then set off on the descent at 6am. The temperature drops significantly at the summit, so windbreaks are necessary as well as good quality sleeping bags and lots of thermals.
Top Tips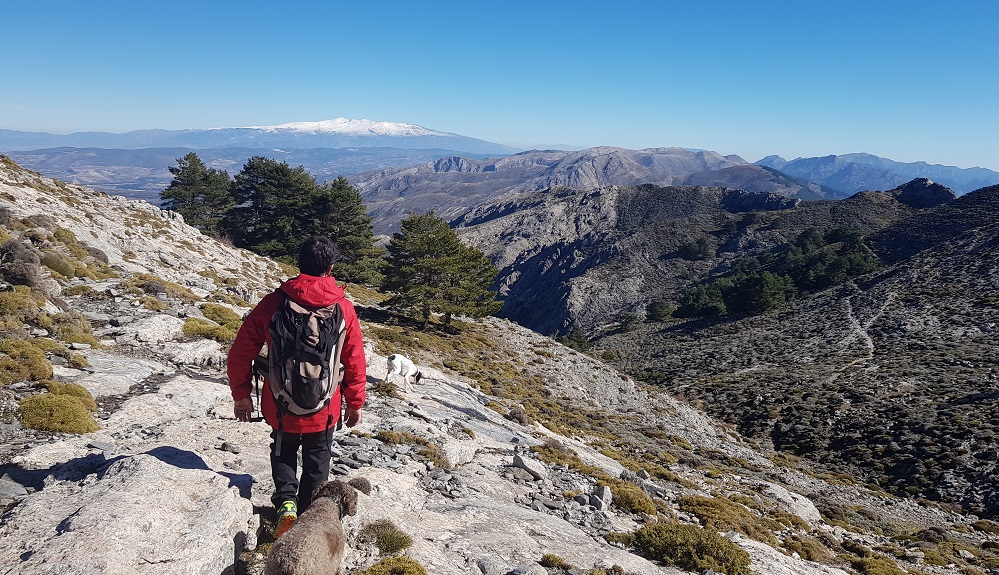 We would advise taking a guide or going with someone who's been before. It's not impossible to do without a guide, but it's certainly more enjoyable.
Take at least 2 litres of water per person; there are very few opportunities to drink out of natural springs.
Set off early if you're making the climb during October to May; it's not exactly busy on the hike but there are other hikers. The earlier you set off the quieter it is. During June, July, August and September due to the summer heat it's best to do a moonlit walk (see above).
The temperatures vary greatly, and wind chill factor needs to be taken into account when at the top. Layer up.
Locals love to go up when there's snow; it's often at its busiest when there's been a dusting (or more) of snow.
Eating – Grab a breakfast or late lunch at Hotel Restaurante Los Caños de la Alcaiceria (see address above). It has a huge open fire, home-cooked hearty Andalucian cuisine and is very accommodating with muddy shoes.
Careful now – this mountain hiking thing can become quite addictive.
Planning a hike up La Maroma, but looking for something (a little) less daunting – while still no less spectacular? Check out our guide to the fabulous La Torrecilla.