La Torrecilla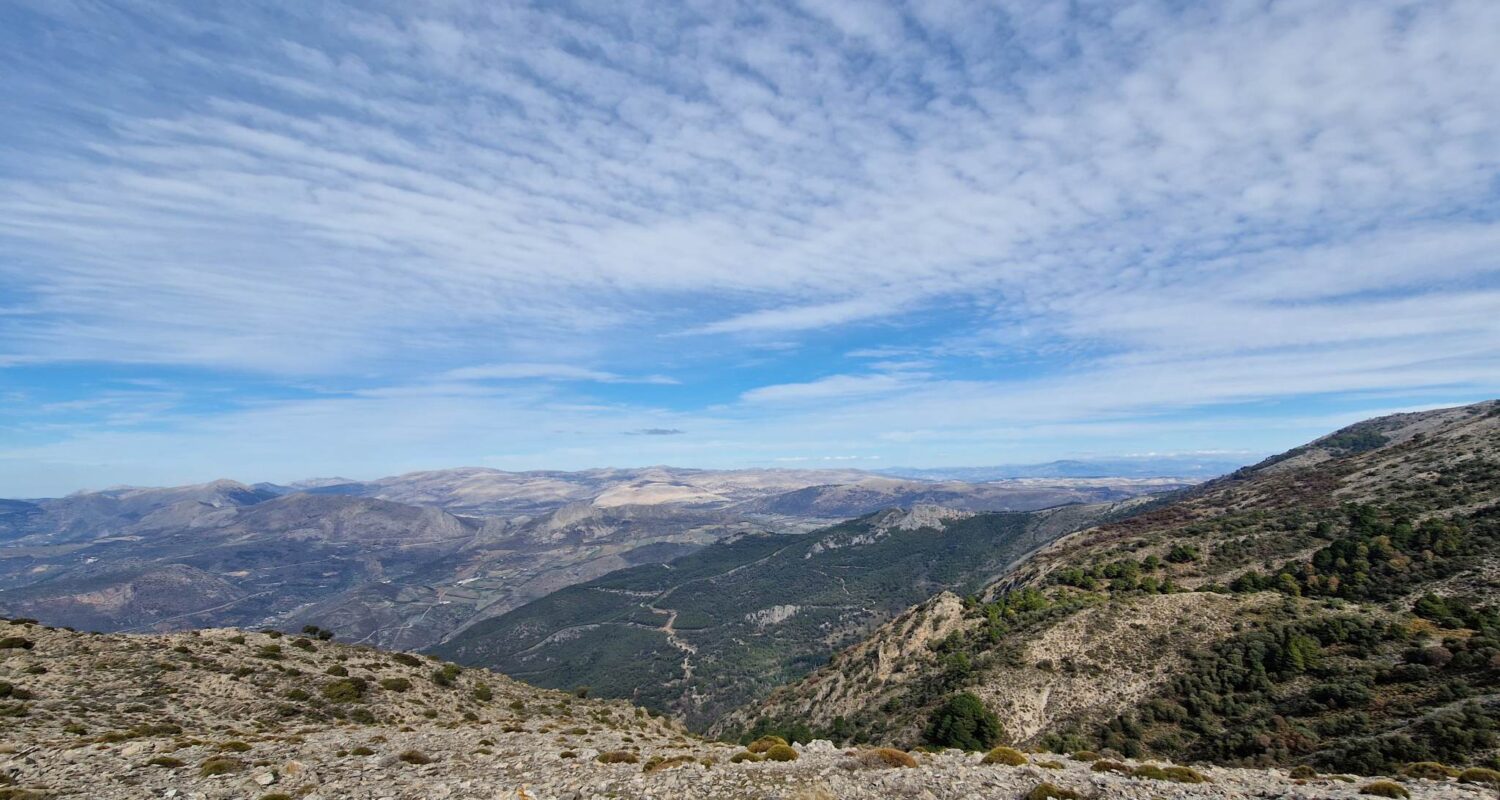 What is the mountain that rises up above Alcaucin? La Maroma, we hear you say. But is it?
Our resident Axarquia mountain expert, Gary Miles, writes:
When I first started writing about hiking in the Axarquia, I wrestled with the concept of how to distinguish a peak that was essentially a part of a larger peak and a peak that was an individual peak in its own right.
That's to say which peaks can I ignore as being part of a larger peak and which peaks must have routes described for them?
For the Munros of Scotland they used a mathematical formula known as Naismith's rule (which I have no intention of going into here).
I've simply decided on my own subjective rule which says: is it worth a route of its own?
So, for this reason I can categorically state that the mountain that rises above Alcaucin is, in fact, La Torrecilla.
La Torrecilla – Vital Statistics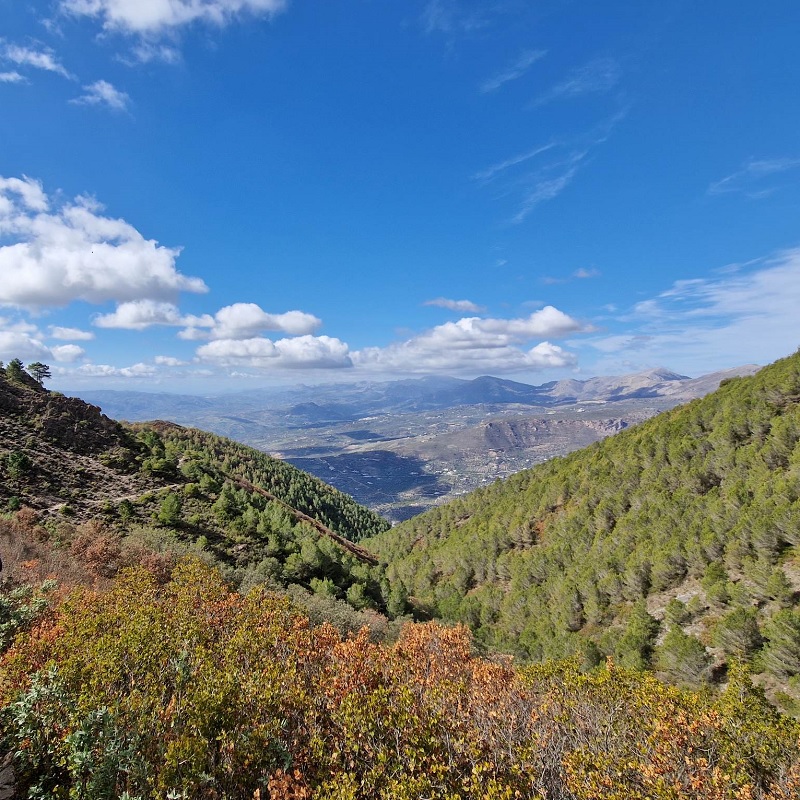 At a tad over 5,000 ft, and an absolutely lovely walk, La Torrecilla clearly deserves a place on the list of the Axarquia's best peaks.
Route type: Linear
Coordinates: Map IGN 1040-III 1:25,000
Height: 5,001 feet / 1,524 metres
Distance: 12km
Time taken: 4.5 hours
Difficulty: Grade 2
Waypoint 1: Car Park – 401240 4085095
As you drive into Alcaucin you'll see a sign for the national park on your left near some rubbish bins.
Turn left at the bins and follow the road for about 1.5km driving through villas until you emerge at the edge of the national park where there's a large sign erected by the Junta.
To the right of this there's a small sign that directs you to some bungalows. The road passes a row of small holiday apartments.
Go a further 250m and park next to the small picnic area overlooking Alcaucin.
Walk south for a further 120m until you turn east, off the main path, up the hill and into the forest.
Waypoint 2: Forest Path – 401166 4085006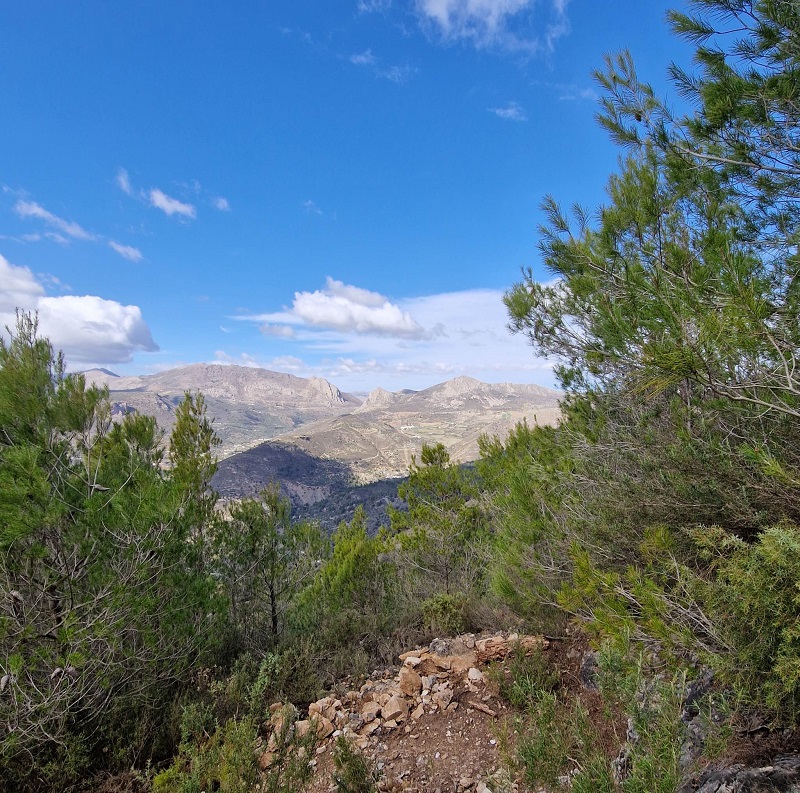 The path is easy to distinguish, as it's regularly used for cycle races. It wends its way uphill in an easterly direction for about 600m until you arrive at…
Waypoint 3: La Terraza – 401489 4084811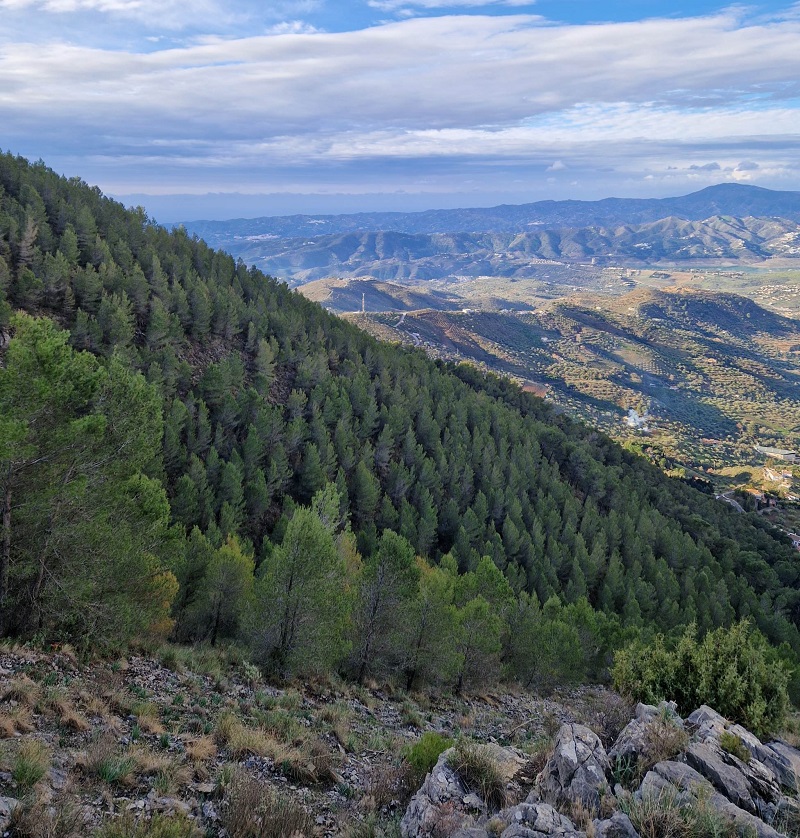 I have no idea why, but all the way up the hill here someone has constructed a large terrace or patio made of stone overlooking Alcaucin and Lake Viñuela beyond.
The path continues up the hill for a further 400m until you arrive at…
Waypoint 4: The Monolith – 401755 4084863
A large stone planted on its end marks the path. It begins to zigzag more frequently here.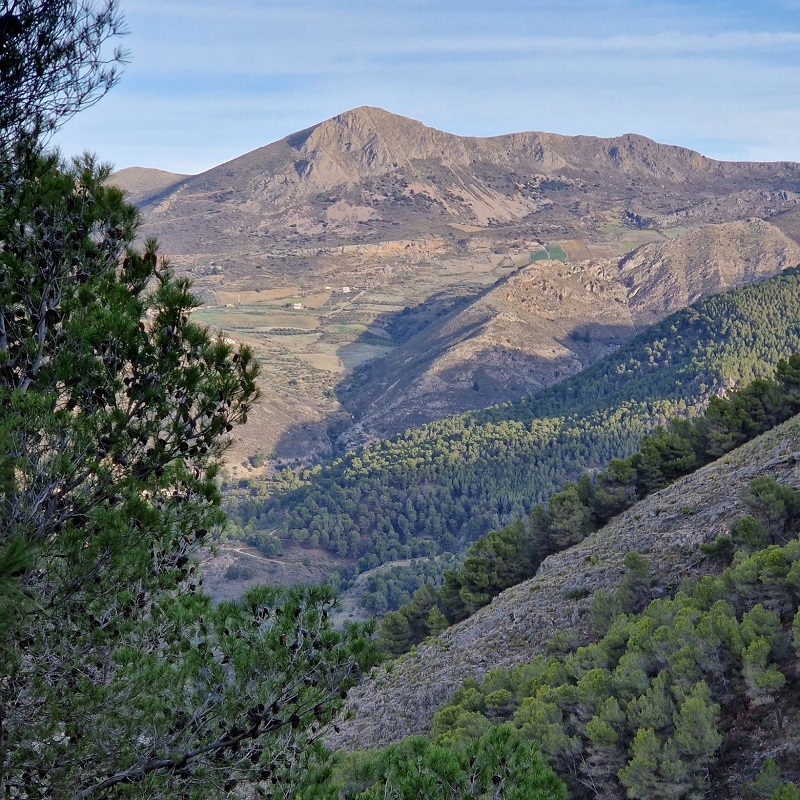 Follow the path east for 500m until you arrive at…
Waypoint 5: Junction – 401827 4084560
A small path joins our path from the left here. Continue on the left fork for 350m until you cross…
Waypoint 6: The Fire Break – 402052 4084717
A large fire break cuts across the path. The path now swings around the wall of the valley onto the ridge to the north.
Follow the path for 1km until you meet…
Waypoint 7: Camino Junction – 402313 4085027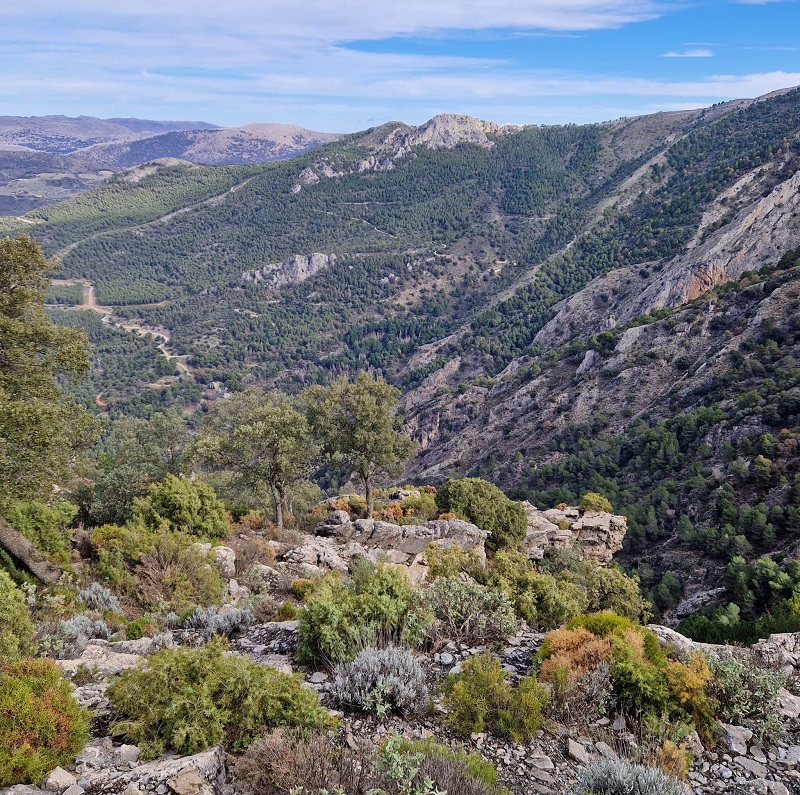 Here we join a well used camino zigzagging its way along the ridge. Continue along the camino for 500m until you arrive at…
Waypoint 8: Fork in Camino – 402696 4085345
Take the right fork and continue for 350m on up to…
Waypoint 9: Stump – 402885 4085135
Here there's a huge stump of a dead tree. The path from here loosely follows the fire break on up the ridge. Be careful – in some places the path can be easily lost.
In 800m in a southeasterly direction the path is interrupted by…
Waypoint 10: Sink Hole – 403349 4084566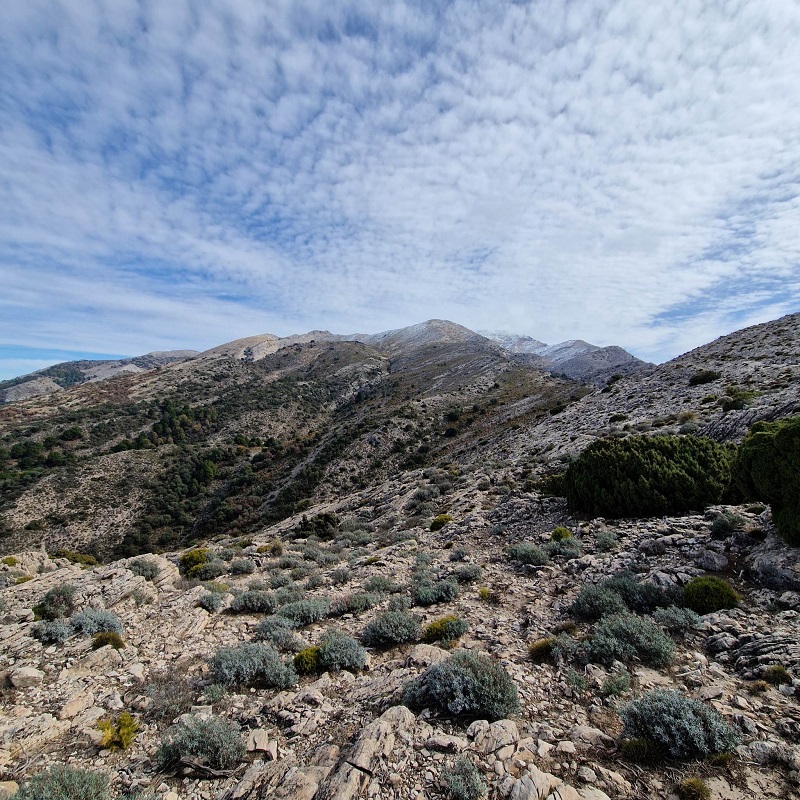 The hills here are peppered with holes in the ground. Some say the holes on Maroma eventually lead down to the caves in Nerja. I don't know if that's true. But here there's a large hole – please don't fall in it.
We're now close to the summit. Continue along the path for 150m until you arrive at…
Waypoint 11: Summit – 403473 4084477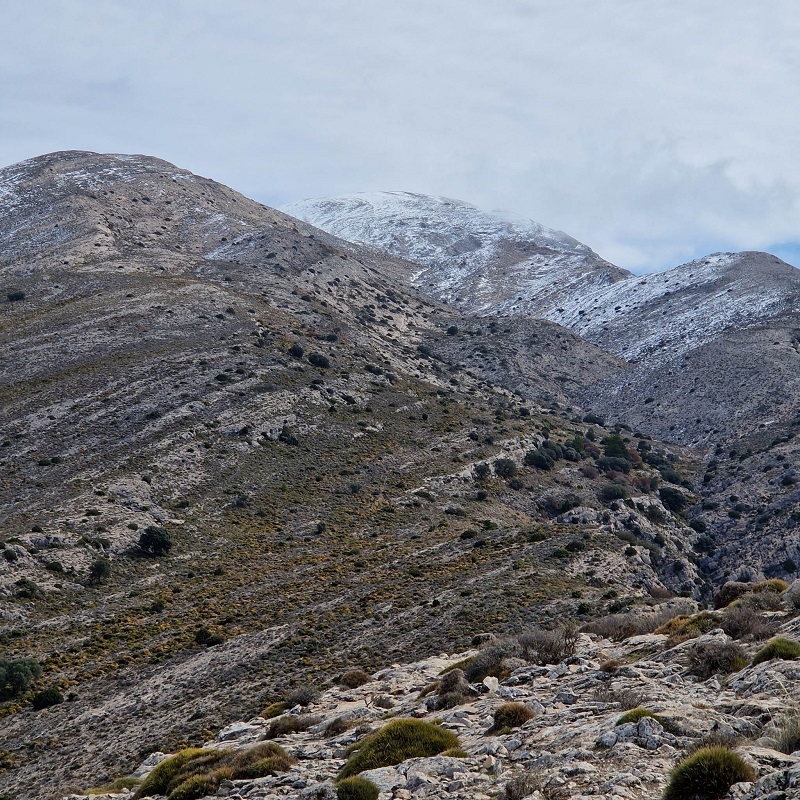 The peak is actually part of a ridge that stretches east towards the summit of La Maroma.
The descent is simply the ascent in reverse.
Looking to tackle more great Axarquia peaks? See our guide to the big one – La Maroma.
Want to get out there and climb La Torrecilla? We've also put together a route on Wikiloc.