What's On February 2022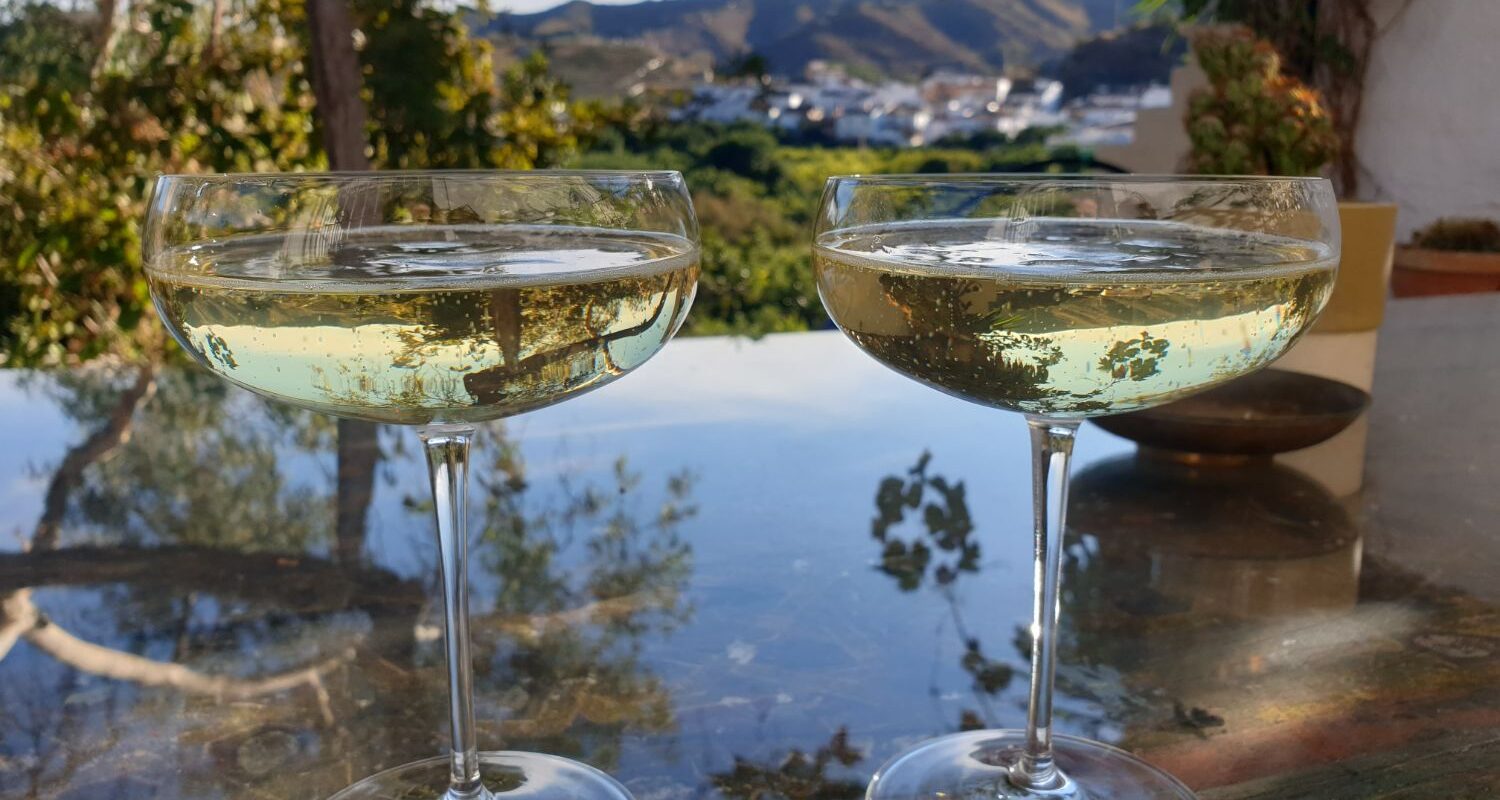 For those who participated in dry January, cheers! February in the Axarquia brings us almond blossom, olive harvesting and the social calendar springs back into action. We look forward to warmer and longer days with exciting events for this year. Let's make February a month of discovery…
Carnival Parade Velez-Malaga – 19th February
From Cruz de Cordero to Plaza de las Carmelitas at 17.00hrs there's a parade with music.
What is it? Carnival marks the last celebration before Lent begins. The 40 days of Lent are supposed to be pensive and mournful in the Catholic calendar, so carnival is the last party before this period that sees us going into Spring. Marking the last day before lent Andalucians hit the street in fancy dress and celebrate.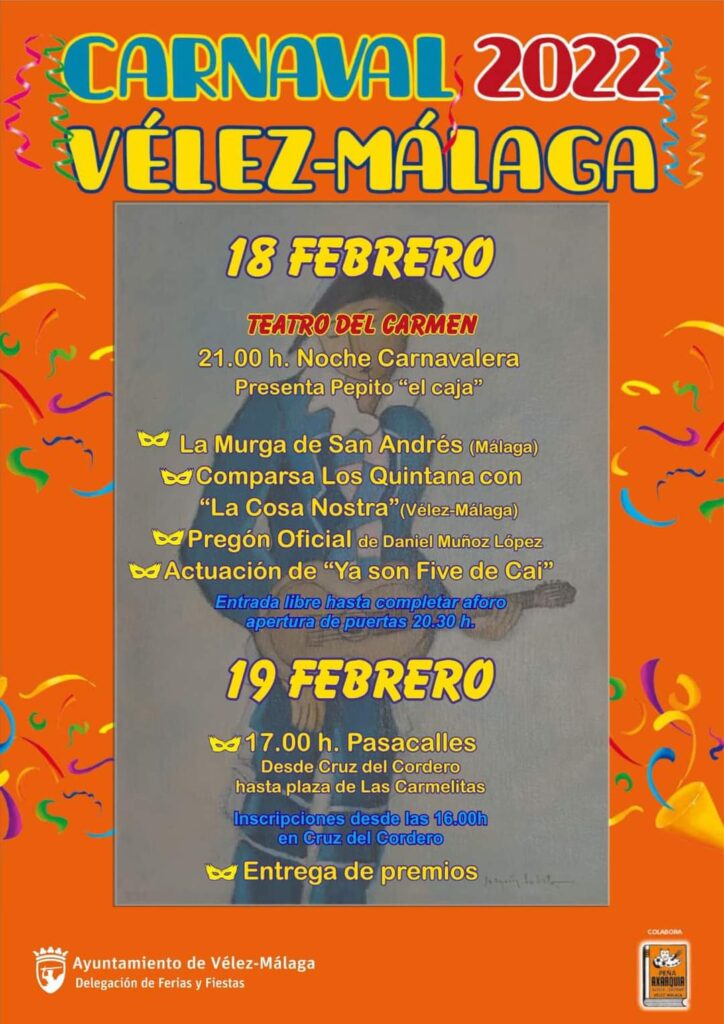 ---
Benagalbon Feria 2022 from 2nd February – 6th February
Benagalbón celebrates its patron saint festivities in honor of the Virgen de la Candelaria from February 2 to 6 with a program of activities and musical performances, children's, humor, and the traditional lunch for the elderly, etc.
Carnival, Nerja – 24th – 27th February
Nerja's carnival celebrations are at the end of February. The last day isn't to be missed with fireworks display in Balcon de Europa and typical Andalucian high spirits.
However, the highlight of the weekend is the burial of the sardine (Entierro del Chanque) on 27th February. There's a funeral procession from Plaza de Espana at 16.30hrs to Calahonda beach where the sardine is blown up!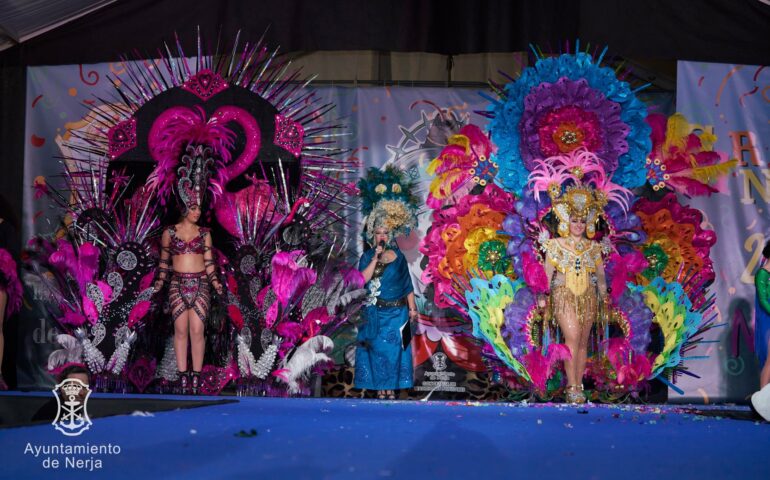 Music Festival – Cueva del Tesoro 2022
This year's line up are:-
Saturday 12TH February – Coro Gospel 'Verso Libre'
Saturday 19th February – Marina Rojas
Saturday 26th February – Daniel Martínez
Sunday 27th February Tamara Jerez
The concerts will begin at 8:00 p.m. with free admission until full capacity is reached. Tickets can be reserved via the Cueva del Tesoro
Avda. Picasso 21.
952 406 162.
cuevadeltesoro@rincondelavictoria.es
Theatre – Teatro del Carmen, Velez-Malaga
12th February – Childrens Theatre: 'Nueva fábula universal de Los Tres Cerditos y el Lobo Feroz' (The Three Little Pigs and The Big Bad Wolf).
Starts at 18.00hrs. Buy tickets at El Posito, Plaza de Consititucion
19th February –  Zarzuela 'El Barbero de Sevilla' (The Barber of Seville).
Starts at 20.00hrs. Buy tickets at El Posito, Plaza de Consititucion
26th February: 'La Coartada' (critically acclaimed theatre).
20.00hrs. Buy tickets at El Posito, Plaza de Consititucion
Flamenco
Saturday February 5th returning with the popular CARMEN CAMACHO in Rincón del Arte, Torrox.
Evening Entertainment
Where? Cafe Pianista del Carmen, Plaza de Carmen, Velez-Malaga.
What?
Café Filosófico with Antonio Sanchez – 18 February from 18.00hrs
Language Exchange every Thursday from 19.30hrs
Chess evenings every Wednesday from 19.00hrs
Check their Facebook Page.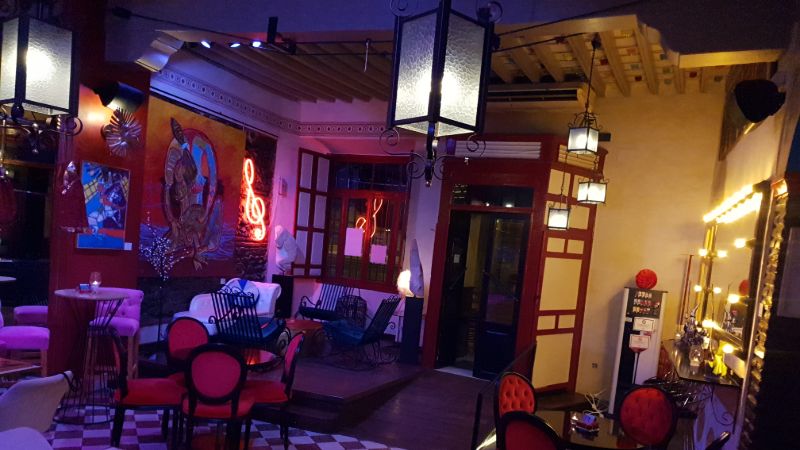 Live Music
5th February from 19.30hrs at Bar Amsterdam, Torrox Costa.
Performance from a lovely lady with a golden voice Eliza Handley.
Bar El Camarote, Caleta de Velez
Saturday 5th February at 13.30hrs – MANUELA NELOM & BROWN SUGAR
Saturday 12th February at 13.30hrs – KIKE BLUES BAND
Saturday 19th February at 13.30hrs – REVIVAL LIVE BAND
Saturday 26th February at 13.30hrs – VICKY & THE BOTTOMLESS
Excursion AXARQUÍA ANDALUSÍ
12th February from 9.00 – 16.30hrs, departures from Velez-Malaga and Torre del Mar.
Discover the Axarquia through a visits to the Arenas farmhouse, the Bentomiz fortress, Daimalos, Corumbela and Árchez. This tour includes nature, history, culture and heritage. 
You can reserve your place by writing to sharqandalus@gmail.com indicating EXCURSIONBENTOMIZ in the subject line and including your name and contact telephone number. You can also contact by phone or WhatsApp at the following number 628 665 670. 
Spanish language only so a great opportunity to practice your language skills.
Tickets 10€ (transport and guide) – Limited places
Theatrical tour MADINAT BALISH
Saturday 5th February at 10.30am – 12.45pm, meet Plaza de la Constitución (Next to the church of San Juan and El Pósito), Vélez-Málaga.
Travel in time with us to the Al Andaluz the Moorish past of Balish (Vélez-Málaga), visit its monuments and interact with its historical characters as you walk through the medieval town.
If you want to join the tour, please contact via email sharqandalus@gmail.com including your full name, phone number and the subject "TOURBALISH ". You can also contact by phone or whatsapp 628 66 56 70.
Spanish language only so a great opportunity to practice your language skills.
Price: 15 euros, under 17 years: 5€ / Under 12 years: free (accompanied)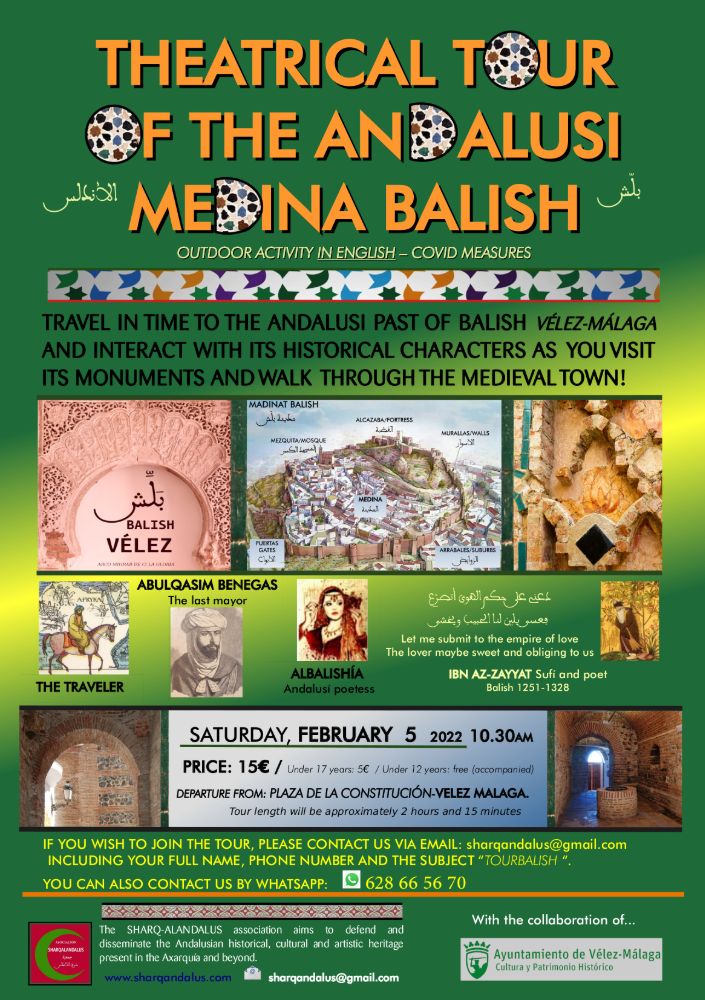 Full Day Retreat in Frigiliana
Sunday 6th February – Pilates, Singing Bowls & Macramé Full Day Retreat at 10.30am – 3.30pm.
Join this full day Retreat in the beautiful & tranquil countryside of Frigliana.
Its an opportunity to tune in to your soul with the beautiful collaboration of Pilates, Soundbath & Macramé. The day starts with a Pilates session with Tamara which will get you moving the body, lengthening the muscles and working on the physical and energetic body. The second part of the Retreat will include the laying down in a savasana with Leonie. Your brainwave will lower down whilst listening to the binaural beats of the Tibetan singing bowls. After a nice healthy lunch we will tune into your creative side with a Macramé workshop with Donna. You will learn the basic knots to create a beautiful plant hanger.
Price 75€
If your interested in attending please contact: 608 966 663 or 0783 4857 193.
Mosaic Workshop with Sofia
Saturday 12th February at 12.00pm in Velez-Malaga.
Learn this Mosaic technique to create a 'Fantastic Mosaic Mural' to show off at your home. You will learn the mesh technique which is great to make small or large scale projects. You can make it in your home and transfer it to another location its so versatile.
The Workshop is suitable for all levels. So don't delay, come and join this exciting event. It will start you off on your Mosaic journey or enhance your current skills.
Cost: 40€ for all materials, refreshments and a glass of Cava.
Contact: Sofia on 643 154 495 or Donna on 608 966 663 to reserve your place.
Choir Coral Coraxalia
Coraxalia International Choir welcomes new singers for 2022.
They rehearse, Thursdays, 17:30 – 20:00  in the Casa Hermandad de la Cofradía de los Estudiantes, Plaza de los Sastres, Vélez-Málaga, near San Juan Church and Casa Cervantes. 
For more information please contact 657 951 755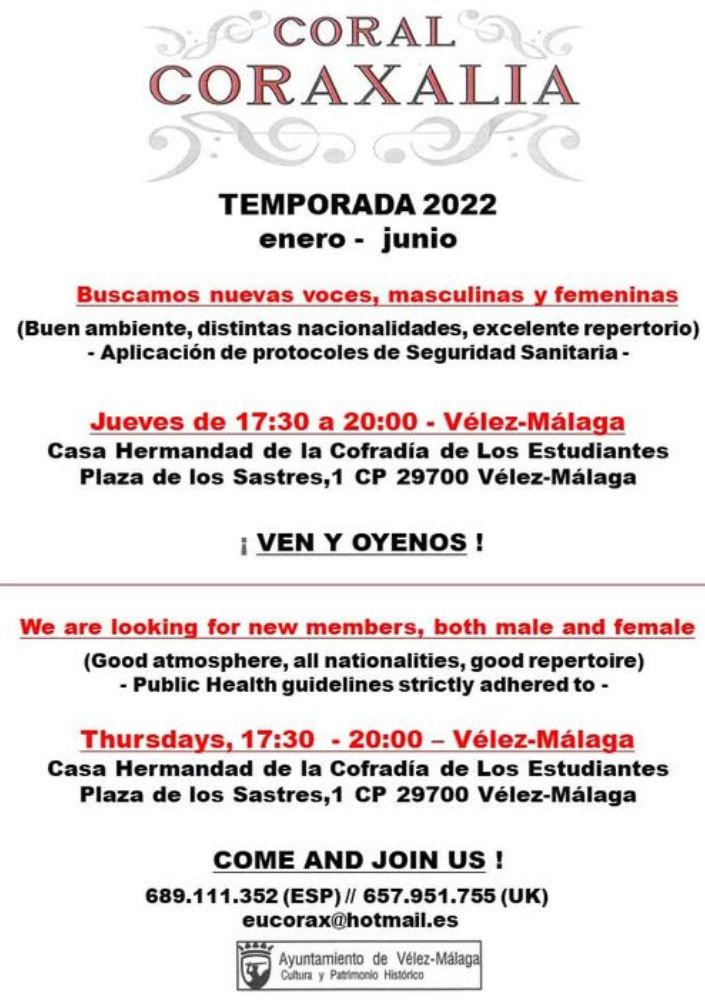 For more information on what's on in the area, keep checking our Facebook page.