Guitar Festival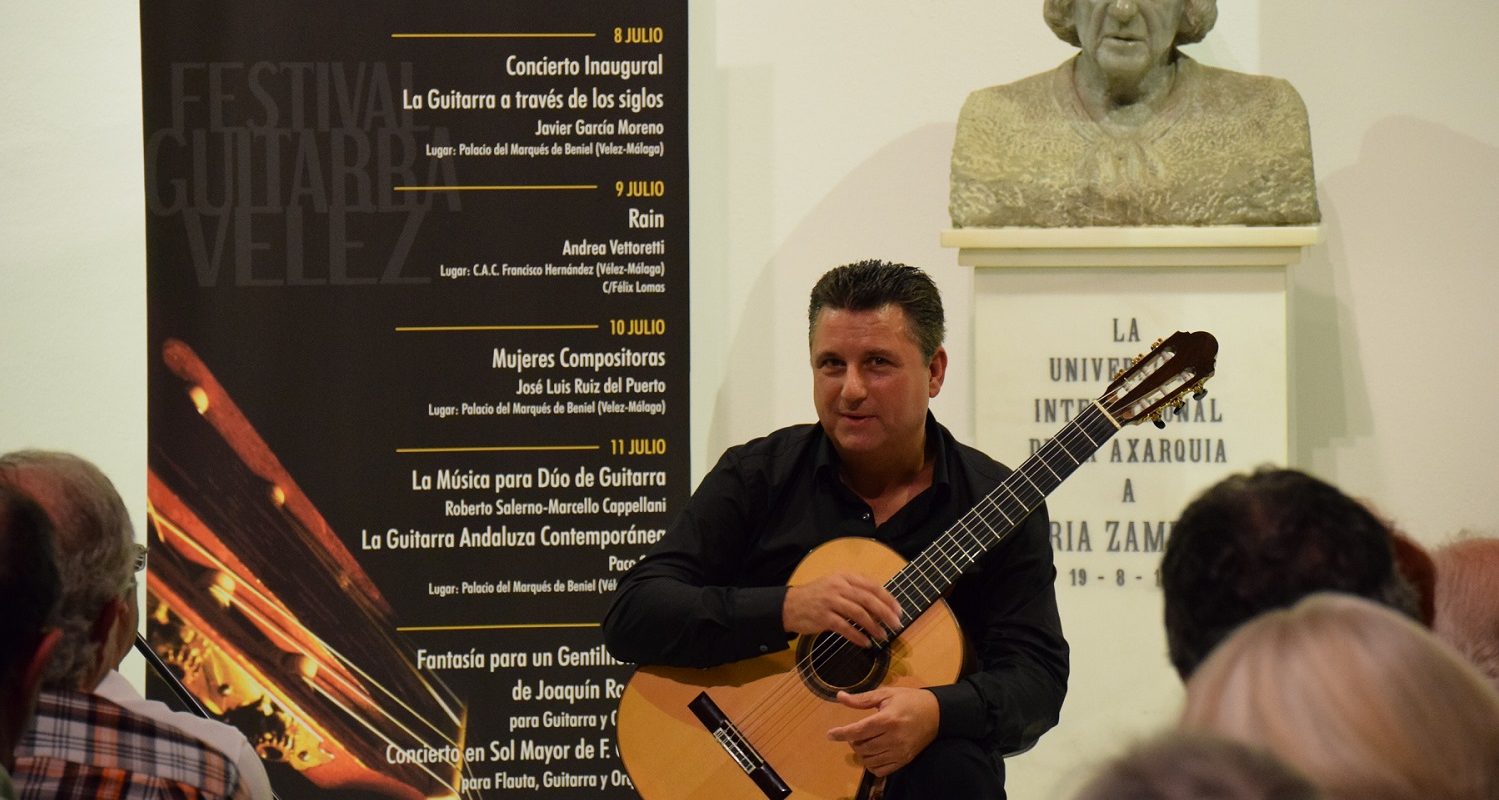 For an entire week during July (exact timings seemingly change each year but it's invariably from mid-late July), both Spanish and international guitarists descend on Velez-Malaga to test their string plucking skills during the classical guitar festival.
Experience Wonderful Music Throughout Velez
Although the official events takes part in the Palacio de Beniel and the Teatro del Carmen, in true Spanish style, Velez takes this event as an opportunity to have concerts throughout the town. Watch out all over town for various different musical events bursting into life, from solo guitarists playing Flamenco in gritty bars to the jazz at the Centro de Arte Contemporaneo (CAC).
Throughout the week at 21.30hrs you can catch some incredibly talented musicians plying their trade for free – a perfect accompaniment to some mid-summer, late night cervezas.
The 2017 Guitar Festival
Tuesday 11th July, Palacio de Beniel at 21.30hrs: "Música para un salón romántico" Claudi Arimany (flute) and Javier García Moreno (guitar)
Wednesday 12th July, Palacio de Beniel at 21.30hrs: "Cien años entre las cuerdas" José Luis Ruiz del Puerto (guitar)
"Aromas de Andalucía" Hermanos Cuenca (guitar and piano)
Thursday 13th July, Palacio de Beniel at 21.30hrs: "Historias de sueños" Christian Lavernier (guitar)
"Como yo soy" José Luis Lastres Escalona (flamenco guitar)
Friday 14th July, Palacio de Beniel at 21.30hrs: "Napulitanata" Ciro Carbone
"Flamencos en New York" Pedro Navarro-Ensamble (guitar)
Saturday 15th July, Teatro del Carmen at 21.30hrs: "La gran música de cine" Symphonic Orchestra of the Province of Malaga directed by Salvador Vázquez. Solo guitarist: Roberto Fabbri.

If you'd like to stay in Velez for the guitar festival, check out our pick of the town's best hotels.