Getting Here & Public Transport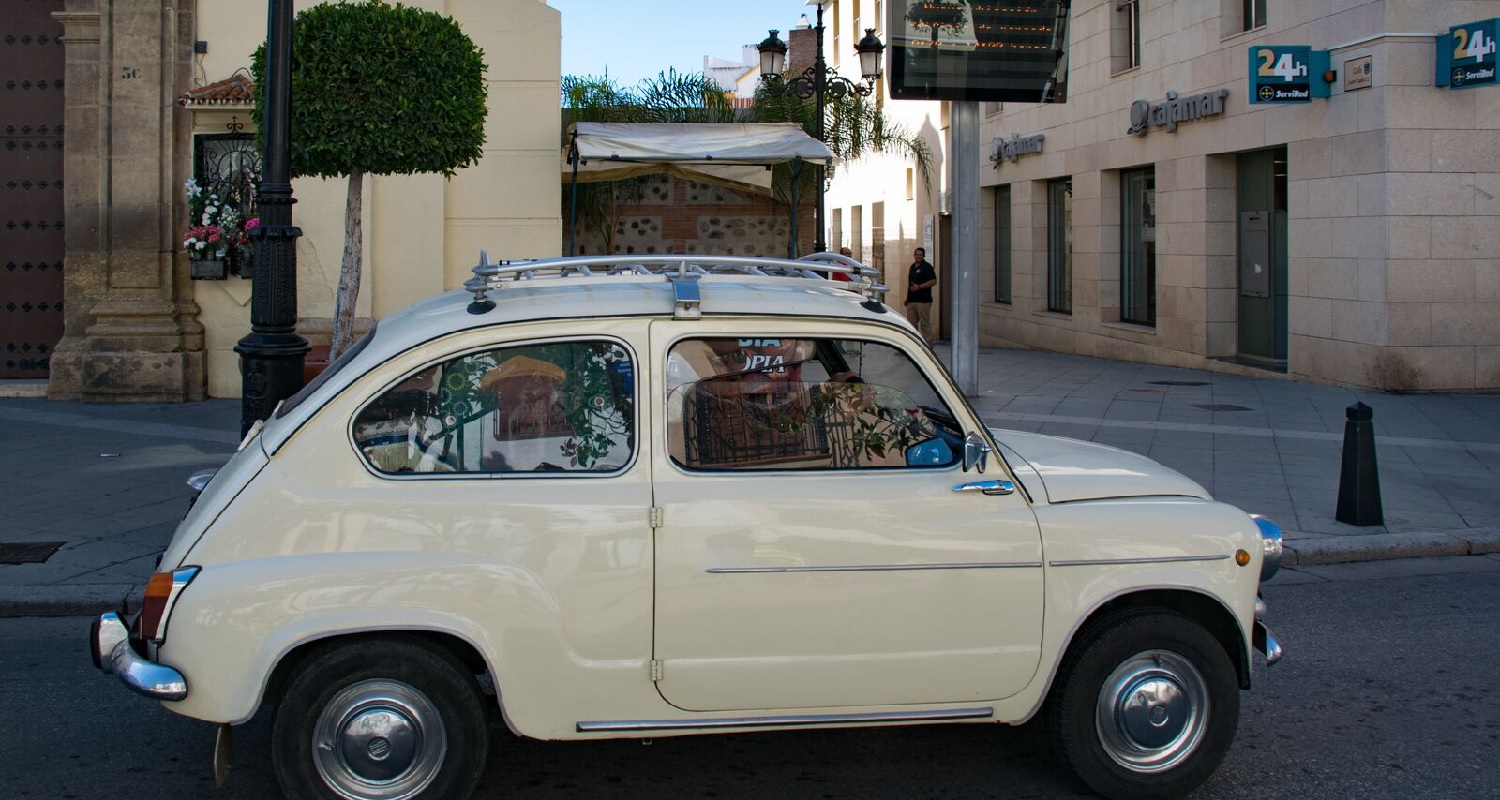 Situated less than an hour to the east of Malaga airport, well connected by public transport and within easy driving distance of a number of surrounding villages, towns and cities, one of Velez-Malaga's strongest suits is its accessibility.
By Car
From Malaga, Malaga Airport & the South
Staying in Malaga, or flying into Malaga airport? The drive to Velez could not be easier. Jump in your car and head east. Either from the airport or the city centre, you're likely to find yourself on the MA-20 road without having to do much navigating of your own. Once on this road, follow it through Malaga city until it becomes the A7. In around 40 minutes this road will take you all the way to the turning for Velez-Malaga (exit 272).
Loop down taking the left at the roundabout from the motorway and take the first exit at the roundabout that presents itself. At the end of this short road you'll come to another, larger roundabout. It should be signposted for Velez-Malaga by this point. Take the 3rd exit onto Avenida Vivar Tellez, which is the main street up to Velez.
Check where to park, here.
Journey time from the airport: 45 mins
Journey time from Malaga city centre: 40 mins
If you'd like to hire a car to visit Velez-Malaga and the Axarquia we have asked our favourite car hire company to offer 15% off our users, Click here for your discount: – Helle Hollis Car Hire
From Viñuela & the North
If you're renting a villa around Lake Viñuela, a day trip to Velez could not be easier. Head south and eventually the road will become the A-356. Follow signs for either Velez-Malaga or Torre del Mar and the journey will take you through Trapiche before arriving in Velez.
Journey time from Viñuela: 25 mins
By Public Transport
Taxis
Taxis are readily available around this area but can be an expensive mode of transport, especially if you're on your own. All taxis should be metered and will cost around 10€ per 5km (e.g. Nerja to Velez-Malaga will cost upwards of 50€).
The following options focus on bus and train:
From Malaga Airport
From the airport you need to get to the Maria Zambrano bus and train station. To get there you have three options: bus, train or taxi.
The bus takes 25 minutes and costs 3€. They leave every 30 minutes throughout the day and 60 minutes at night. The first bus is at 06.57 and the last is at 23:57. However, the latest bus you can get in order to then catch a connecting bus to Velez is at 22:12.
The train is an easy 2 minute walk from arrivals with trains leaving every 20 minutes; it takes 9 minutes to the city.
Taxis are easily accessible and will cost around 17.50€ on the meter.
If you've arrived by train exit the train station and head to the bus terminal which is just outside, east of the train station.
The bus journey should cost around 3.50€ and take roughly 1 hour 30 minutes, tickets can be purchased via machines in the terminal, or on the bus, if you have small change. Buses run regularly from 06:22. The last bus to Velez is at 22:52.
From Malaga City
It's easy to come and explore Velez for the day from Malaga. Buses take around an hour and a half and cost 3.50€. The first bus is at 06:26 and the last bus is at 22:52 from Maria Zambrano station. The last return bus from Velez is at 22:15.
From Torre Del Mar
Public bus lines 1, 2 and 3 serve as shuttles between the 2 towns and run from 6.45hrs at Torre del Mar station. The last bus back from Velez is at 22:20 Sunday to Thursday or midnight on Fridays, Saturdays and festival days. The buses stop at many handy places along the way including El Ingenio, supermarkets and the beach. Full fares cost less than 2€ and they generally leave every 30 minutes. Line 1 is slightly faster than the others if you're in a hurry.
From Viñuela
2 buses per day leave Viñuela village at 07:40hrs and 15:20hrs Monday to Friday, and 09:40hrs and 17:25hrs Saturday and Sunday. The fare is 4€ and the journey takes around 30 minutes. The last bus back to Viñuela is 18:15hrs Monday to Friday, 21:00hrs on Saturday and 18:00hrs on Sunday. Bear in mind that if you get the 17:25 bus to Velez and plan to return on the same day, you will have to taxi back.
From Nerja
Buses direct to Velez run at 07:30, 09:00, 10:15, 11:30 and 16:15 at a cost of 2.20€, taking 1 hour.
To get to Velez from Nerja at other times, grab a bus to Torre del Mar (leaving every 30 minutes) starting at 06:30 and finishing at 21:45. They cost 1.80€ and take 40 minutes. From Torre del Mar grab a shuttle bus up to Velez. The last bus back from Torre del Mar is 23:35.
Travelling with Bikes on Public Transport
Bikes aren't allowed on any public transport unless they are boxed up.
Getting FROM Velez-Malaga
To Malaga Airport
Regular buses go from Avenida Vivar Tellez (next to Parque Jurado Lorca). Generally, on Monday-Friday the buses go every 30 minutes, but check on the ALSA website (www.alsa.es) for exact times. Buses often show up around 10 minutes late, so factor this into your journey time. Weekend times can differ so again check the ALSA site. Buses take at least 1 hour and 30 minutes to get to the Maria Zambrano Malaga bus station and cost around 3.50€. Your destination is the last stop on the route.
Express buses from Velez (taking just 1 hour) leave at 06:00, 08:00, 10:00, 15:15, 16:00, 17:00 and 19:00, costing 6€ per person. Be sure to check with the driver that the bus is direct as the slower buses often depart at the same time.
Once at Malaga bus station you have 3 options to the airport: bus, train or taxi.
The public 'A' bus departs to the airport every 20 minutes throughout the day – and 40 minutes at night – and takes 25 minutes, costing around 3€. The first service is at 06:39 and the last is at 23:08.
The train runs every 20 minutes and takes 9 minutes. There are no night trains.
Taxis are available just outside the Maria Zambrano station and cost at least 15€ as there is a minimum charge. The likely final cost on the meter is around 17.50€.
To Malaga
See instructions to Malaga airport. Other stops before Maria Zambrano station may serve your needs better for access to town. The stop at the port gives easy access to the historical centre. The bus will likely take 1 hour 30 minutes for 3.50€, unless you take an express bus for 6€ (see times above). First bus is at 06:00 and the last is at 22:15. The last bus back from Malaga is 22:56.
To Torre del Mar
All buses heading south from Avenida Vivar Tellez will stop in Torre del Mar. Specific shuttle buses lines 1, 2 and 3 run roughly every 30 minutes costing 2€. The first bus leaves Velez at 7.15hrs and the late bus back from Torre Del Mar is 21:40 Sunday to Thursday, and 23:30 on Friday, Saturday and Festivals. The shuttle buses will stop at El Ingenio and supermarkets en route.
To Viñuela
Heading to Viñuela for walking around the lake or exploring the village is easy. Leaving from the station on Avenida Vivar Tellez, 3 buses service Viñuela per day. Buses leave at 08:10, 12:30 and 18:15 Monday to Friday. On Saturdays they leave at 08:10, 13:15 and 21:00, and on Sundays they leave at 08:10, 13:15 and 18:00. They cost 4€ and take 30 minutes.
Bear in mind that the last bus back to Velez is at 15:20 Monday to Friday and 17:25 at weekends, so if you plan to stay later you may have to get a taxi back (around 40€).
To Nerja
Direct buses run to Nerja from Velez at 9:00, 10:00, 10:40, 11:30 and 17:15. They take 1 hour and 5 minutes and cost 2.20€.
Outside of these hours, grab a bus down to Torre del Mar station from Avenida Vivar Tellez. From here there are regular buses to Nerja along the coast. The first bus is at 07:45, costing 1.80€ and taking 40 minutes. The last bus is at 23:35. The last return bus to Velez is at 21:45.