Speciality Food Shops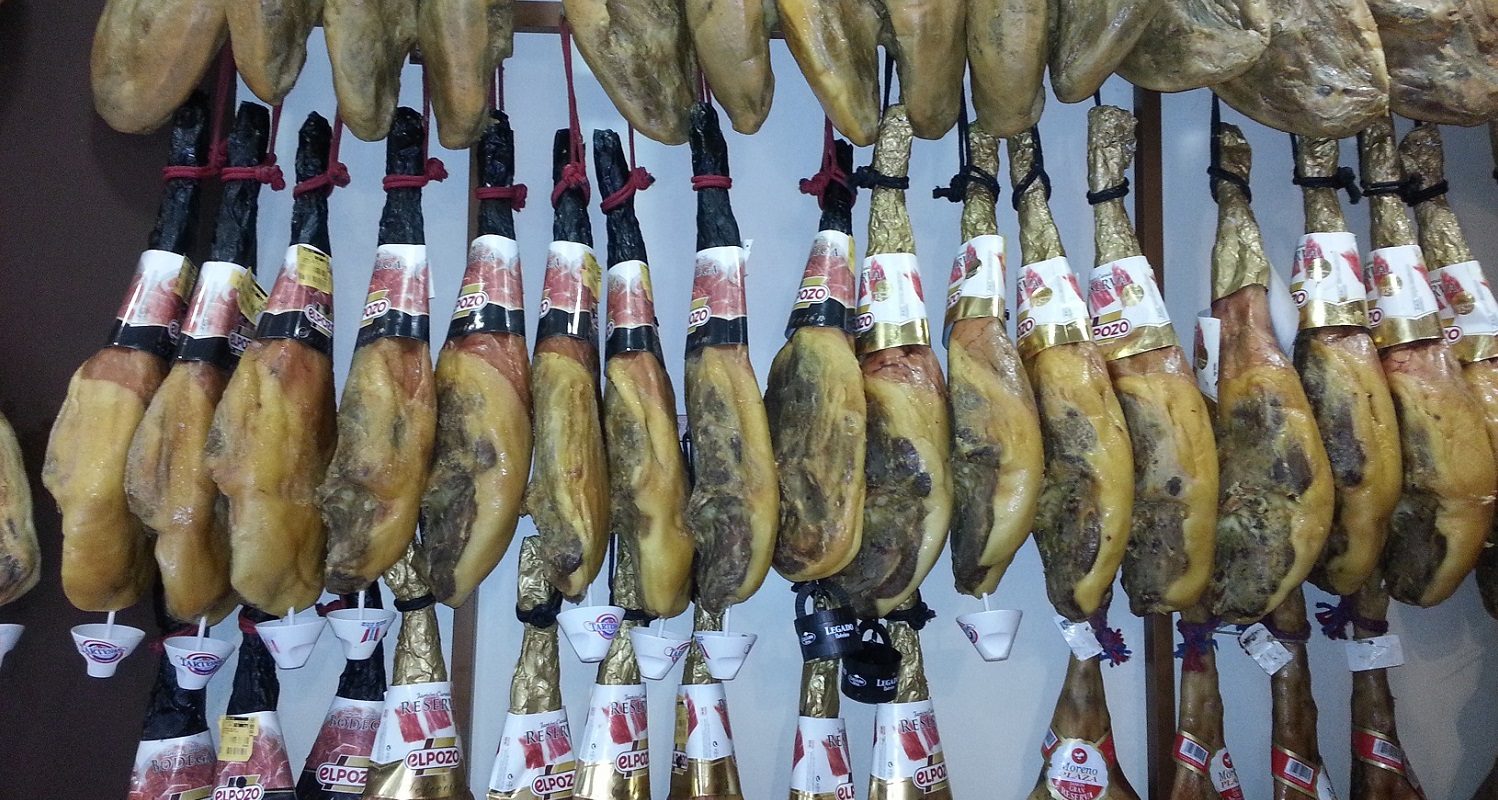 Velez-Malaga has some wonderful independent food shops selling the best produce available in the area. We've pulled together a few of our favourites, each with its own appeal, old fashioned charm and amazing produce.
Grocers
Gaspar
A family run shop in the historic centre of Velez, Gaspar's full of character, in part due to having been open since 1923. It's tucked into the corner of a pretty square (Plaza San Francisco) opposite the imposing Casa Cervantes and a lovely, tinkling fountain. It has all the basics you might need, from food items to household cleaning products, but in true Spanish style, legs of tempting jamon hang from the ceiling. The family still run and work in the shop, adding a personal touch. There's a small but well stocked delicatessen with local produce including cured meats, cheese, patés and their famous Ajobacalao.
Address: 21 Plaza San Francisco. Tel: 952 50 13 95 Open: Mon – Fri 09:00 – 14:00 & 17:30 – 20:45. Sat 09:00 – 14:00.

Fruteria Los Patillas
Fruteria Los Patillas is a fabulous fruit and vegetable shop in the heart of the historic centre. It's packed full of seasonal, almost invariably local, fruit and vegetables. Jamons hang from the ceiling and tins are stacked in every corner. It's very reasonable, and other than the market, the best value in town. They also sell a selection of local bread, eggs and various marinated olives.
Address: Calle Poeta Joaquin Lobato. Open: Mon-Sat 08:30 – 14:30 & 17:00 – 22:00. Sun & Festivals 09:00 – 15:00.
---
Butchers
Jose Martin
Sat on a street corner opposite Convento de San Francisco this busy butchers is very popular with local Veleños. It sells fabulous cuts of chicken, pork and beef with very helpful butchers on hand to make sure the cut is to your liking. They also sell sausages (our particular favourite), local chorizo and morcilla. The morcilla is very popular: this local sausage/black pudding is made with onion and is deliciously soft and flavoursome. If you fancy buying some yourself, make sure you head to the butchers on a Thursday, when they usually take in new deliveries. Eggs are also for sale as well as cooked chickpeas (essential in many of the region's traditional stews). You can also order specific meat, if needed – so that's your Christmas turkey taken care of.
Address: 30 Calle San Francisco. Tel: 952 50 22 84. Open: Mon – Fri 09:00 – 14:00 & 17:30 – 20:00. Sat 09:00 – 14:00.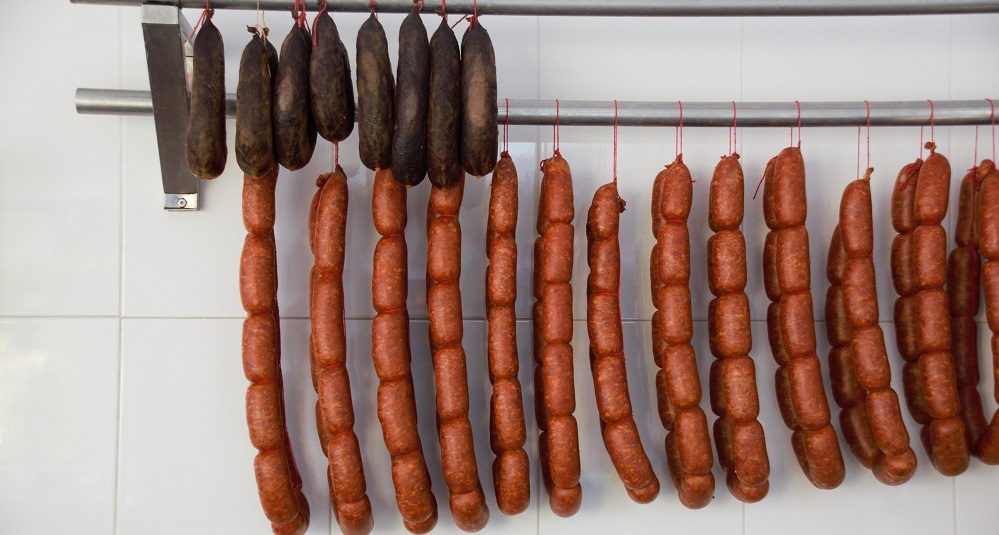 ---
Bakeries
Pasteleria Ortiz
This busy bakery is open all hours (24 hours a day) selling bread, cakes and patisserie. There's a high turnover, so often the bread is still warm. Traditional small baguettes known as Malagueños are delicious and a bargain at just 40 cents each.
Address: 5 Plaza Carmelitas. Tel: 952 50 73 26. Open: 24 hours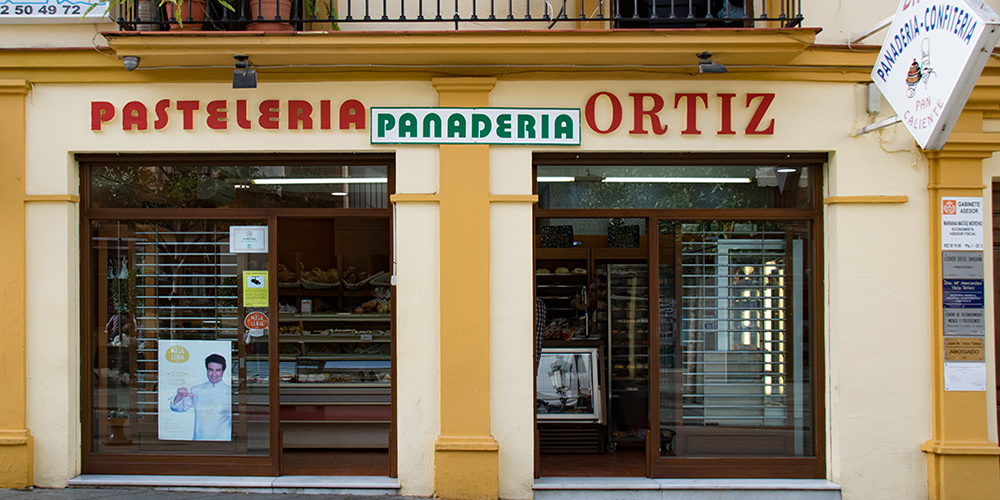 ---
Specialist Produce
La Dehesa
La Dehesa sits on Plaza Carmelitas with wonderful legs of jamon strung from the ceiling, and an array of popular meats and cheeses for sale in the vast cabinets. In terms of cold cuts you could want for little more, as well as popular accompaniments such as membrillo (quince jam) – amazing paired with Manchego cheese. If you're looking to pick up some delicious light bites for a picnic or a dinner party, this is a great spot to visit for quality local produce and service.
Address: Plaza Carmelitas. Open: Mon-Sat 09:00 – 14:00 & 17:00 – 21:00
---
Specialist Services
He may not have a 'food shop' per se, but the service Jose Antonio Ruiz provides is essential to any kitchen – our local 'afilador', or knife sharpener, in Plaza San Francisco is one of the things we love about the historic centre. His shop is tiny and packed full of newspapers to wrap newly sharpened knifes in so his customers can safely carry them home.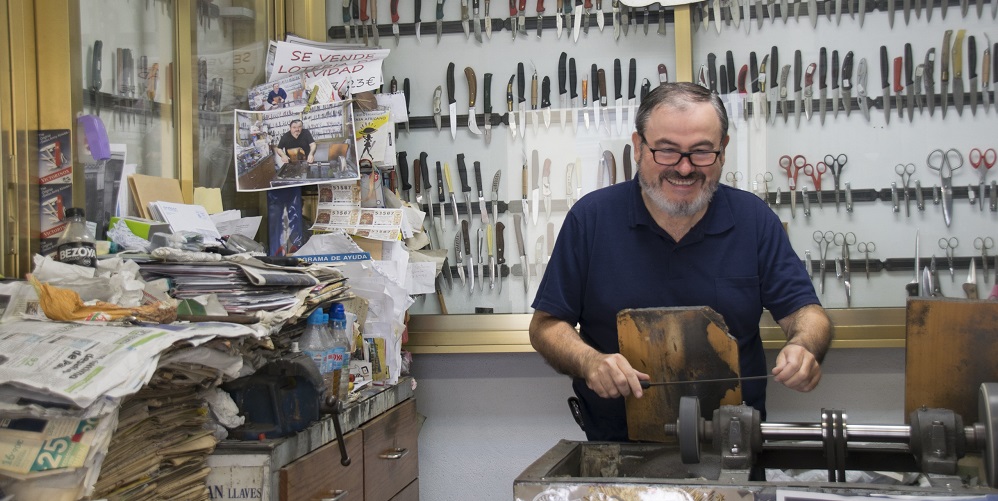 ---
Parking in the Historic Centre of Velez-Malaga
For nearby parking in the historic centre, make your way to the free spots on Plaza la Gloria just off Calle Arroyo San Francisco. Further down Calle Arroyo San Francisco there are two areas, one is up a little hill and the other is paid parking located underneath the San Francisco Market opposite the left turn to Calle Esperanza. For more information, see our full guide to parking in Velez.