What's On December 2021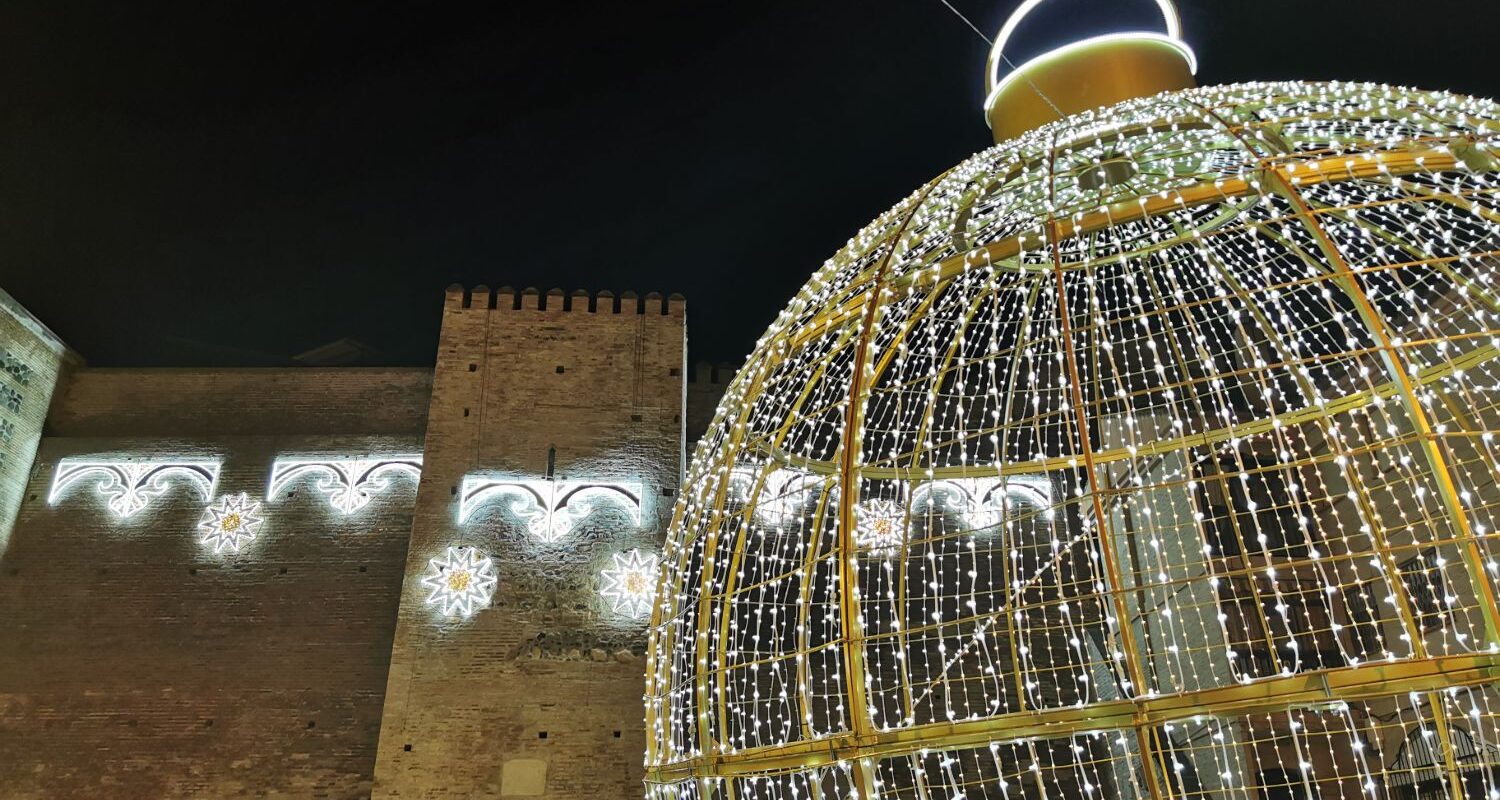 It's the most wonderful time of the year again. December 2021 is here and events are ON!
Here in southern Spain traditionally Nochebuena – 24th December is marked with a family meal. The 25th is a holiday, time for church for those who are Catholic and some gifts are given by Papa Noel but it's a fairly quiet affair. Which can't be said for the night/morning of the 5/6th January when Los Reyes Magos (The Three Kings) visit the children of Spain with presents – the main event. New Year's Eve is brought in with grape eating on each midnight chime and this year Velez has planned a party in one of the main squares to bring in 2022 (see below).
So, get the diaries out and check out what's going on in the Axarquia this festive period…
Various Dates and Events – MVVEL, Velez-Malaga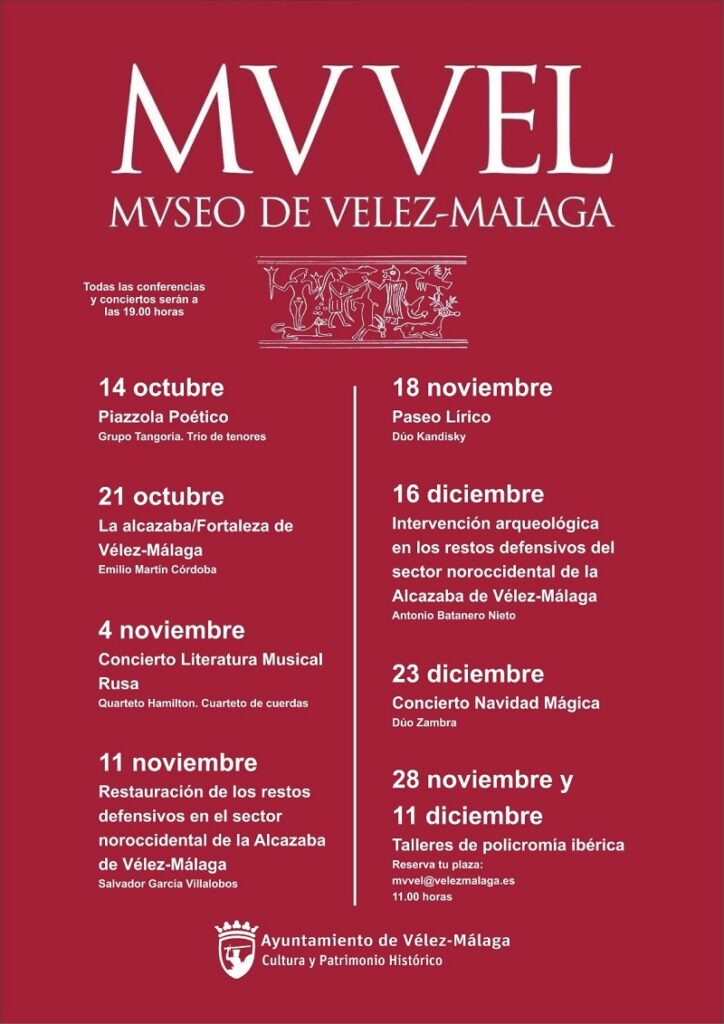 All events are free in this beautiful venue.
MVVEL (Velez-Malaga museum), Calle Dr. Jiménez Poey, 1, 29700 Vélez-Málaga
Various Dates: Christmas Concerts & Activities, Velez-Malaga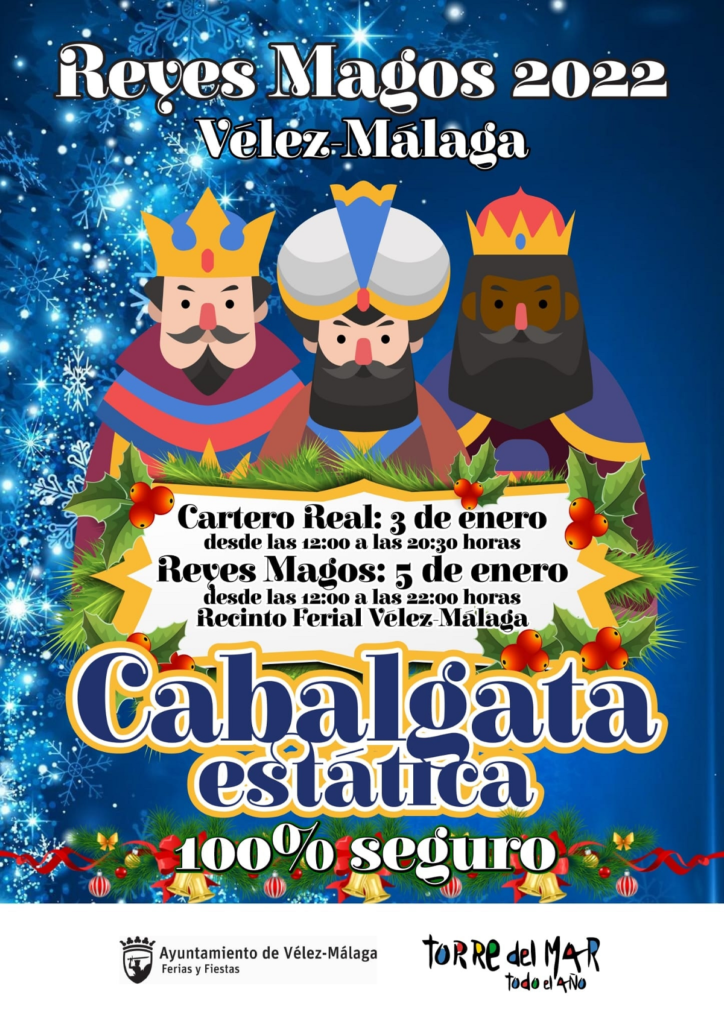 Velez-Malaga town hall have a whole host of Christmas activities going on over December. We'll post each poster on our Facebook and Instagram Stories so watch out. Highlights include:
Mon 6th Dec at 13.00hrs – Zambomba Flamenca – Plaza San Francisco
Fri 10th Dec 20:00hrs – Zambomba Flamenca – Plaza de las Carmelitas
Sun 12th Dec 12:30hrs – Zambomba Flamenca – Plaza San Francisco
Fri 17th Dec at 17:00hrs – Opening of Christmas village – Plaza de las Carmelitas
Fri 17, Sat 18, Sun 19 December –  Free Live Music concerts in Plaza de la Constitucion. Starting at 21.30hrs, 20.00hrs and 18.00hrs respectively
Tue 21st Dec 17:30hrs – Father Christmas and Mrs Claus Welcome Party – Plaza de la Carmelitas
Sun 26th Dec 17.30hrs Christmas Party with snow cannons, Kings, live music and Circus – Plaza de la Carmelitas
Fri 31 Dec 23:30 to 04:00hrs New Years Eve Party with live music and DJ – Plaza de la Carmelitas.
Check out this website for more info: – Velezmalagavivelanavidad.com
Various Dates: Rincon del Arte – NEW Cultural Bar in Torrox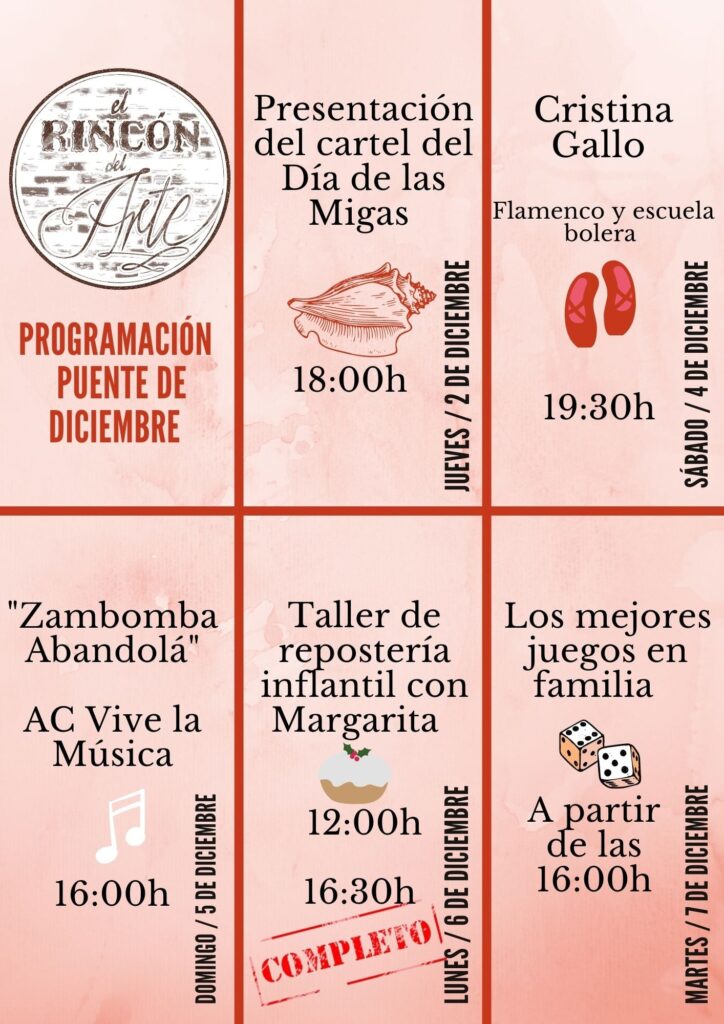 If you haven't visited this place yet, do. It's a gorgeous bar with indoor and outdoor seating. Focus is on live flamenco but from the above there's workshops too.
Where: Plaza de la Hoya, Torrox
Opening Times: Thurs – Sun 16:00 – 03:00hrs
8th December – Wreath workshop, Velez-Malaga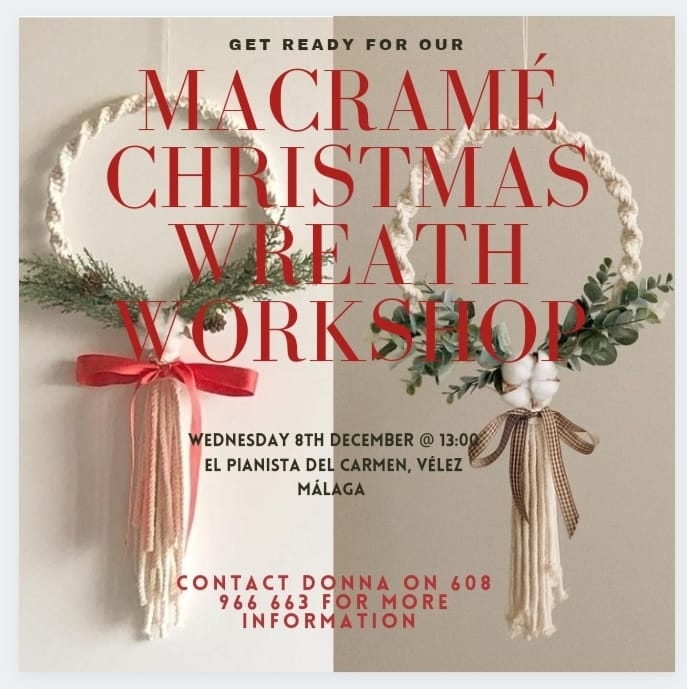 Christmas Market – Sun 19th December, Sciroccos –  Puente de Manuel

The poster is pretty self-explanatory 🙂
Various Dates – Christmas Choir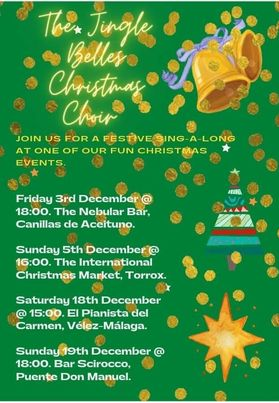 2, 3, 4 December – Puppet Festival, Velez-Malaga

One for the little ones, stories imaginatively recreated through puppetry. Entrance is free but you have to collect tickets from the Posito on Plaza de la Constitucion in Velez-Malaga.
Where: Teatro del Carmen, Velez-Malaga at 18:00hrs on each night
Sun 12 December – Theatre Un Poco Loco, Velez-Malaga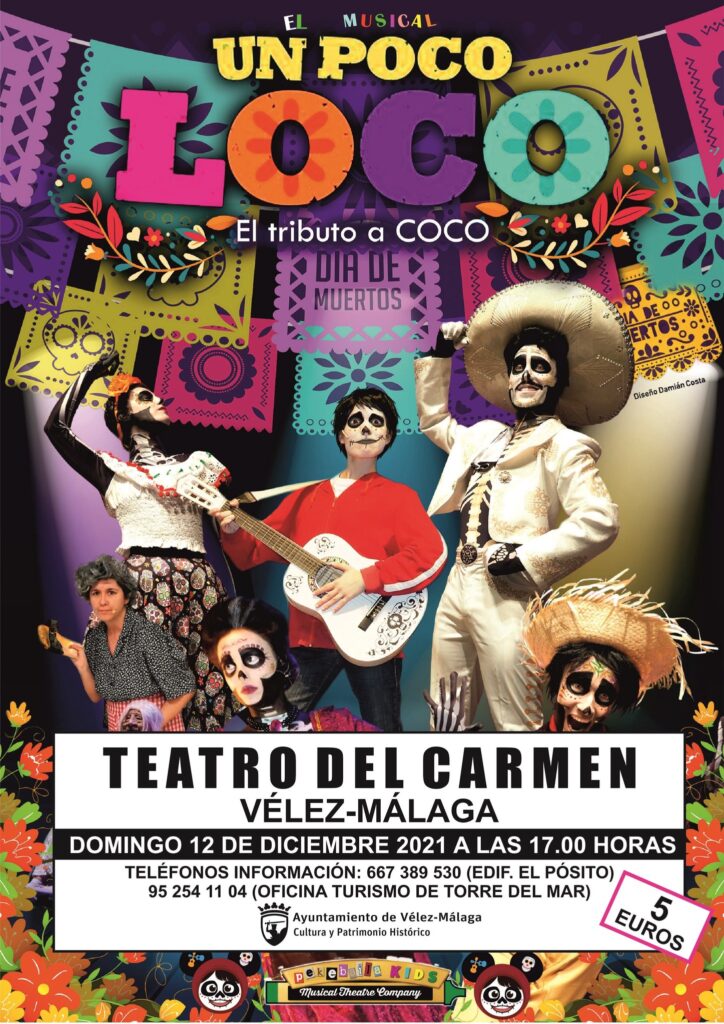 An adaptation of the Disney Pixar movie Coco.
Reservations: 667389530 or 952541104
Cost: 5 Euros
Where: Teatro del Carmen, Velez-Malaga
17 December – Cinema, Velez-Malaga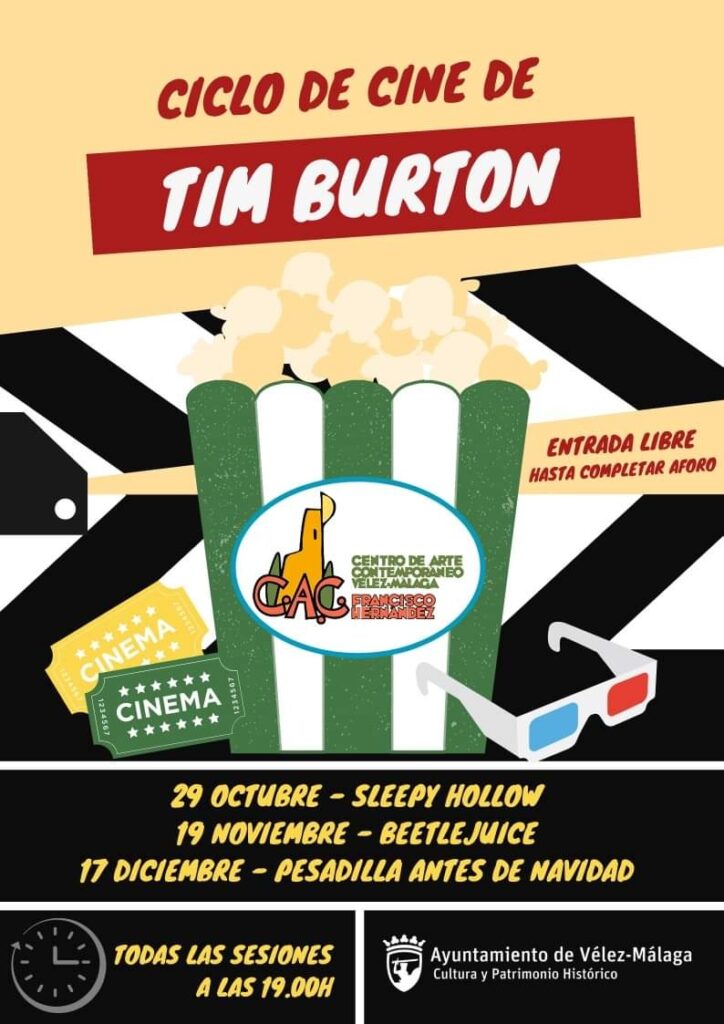 Where: CAC Art Gallery, C. Félix Lomas, 27, 29700, Velez-Malaga
Cost: Free
What: Tim Burton's The Nightmare Before Christmas (Spanish language) at 19.00hrs
Tours of Velez

Check out Plan A and OleTrips for other tours of the Axarquia and beyond.
One for budding musicians…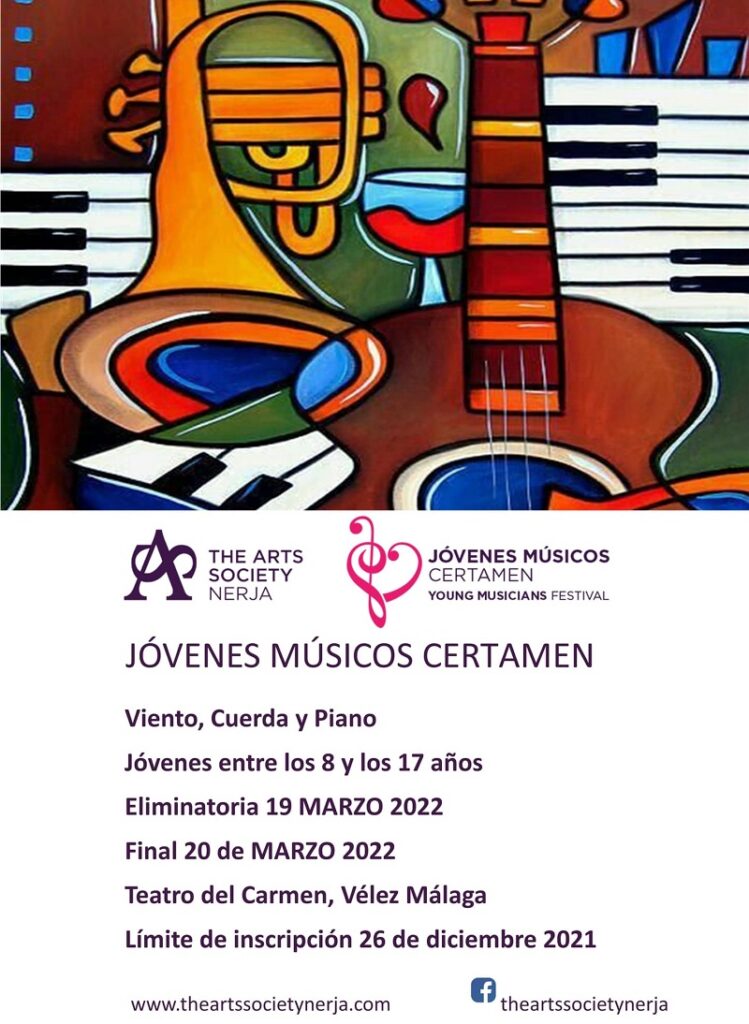 This is a music festival for children on 29 and 20 March 2022 it's for Piano, wind and string instruments with prizes. Inscription before 26th December, here is more information.
There's more coming… I'm sure. As I get sent information about events, I'll add it to the list. Happy Christmas Everyone x